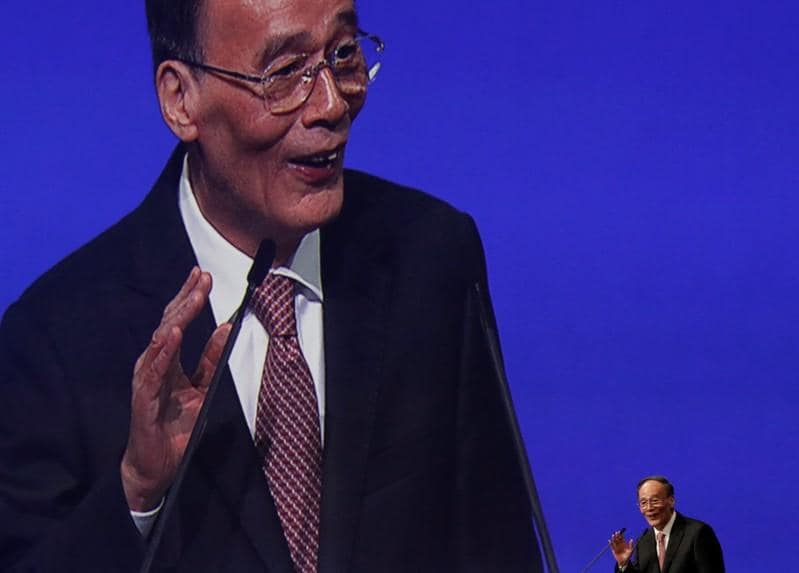 By Denis Pinchuk
ST PETERSBURG, Russia (Reuters) - Chinese Vice President Wang Qishan said on Friday there would be no winners if there was a trade war between China and the United States, but said Beijing had to be ready for any turn of events.
Speaking at an economic forum in St Petersburg, Wang Qishan said there were frequent consultations between the world's two largest economies aimed at tamping down trade tensions which have flared after talk of potential tariffs.
U.S. President Donald Trump has said he is unhappy about what he regards as the excessive nature of his country's trade deficit with China and has cast uncertainty over progress in trade talks with Beijing.
"We need to be restrained and not limited by emotions," Wang Qishan told the forum, according to an instantaneous translation of his remarks into Russian.
"We must avoid a trade war because there won't be any winners in such a war."
He said a mutually beneficial arrangement needed to be found and spoke out against pursuing what he called a zero sum game.
"We can learn a lot from the United States," he said, citing its super power status. "We need to cooperate."
However, despite the conciliatory tone of his comments on the subject, he said Beijing had to be ready for any turn of events.
International Monetary Fund Managing Director Christine Lagarde, speaking at the same event, said U.S. complaints about the size of its trade deficit with China were strange.
She also said that U.S. complaints about alleged Chinese intellectual property violations should be discussed at the World Trade Organization.
(Additional reporting by Katya Golubkova and Christian Lowe; Editing by Andrew Osborn)
This story has not been edited by Firstpost staff and is generated by auto-feed.
Updated Date: May 26, 2018 00:05:34 IST