China's caffeine war: Fast-growing Luckin brews up a threat to Starbucks
By Pei Li and Adam Jourdan BEIJING/SHANGHAI (Reuters) - Qian Zhiya may be Starbucks' worst nightmare. The 42-year-old Chinese entrepreneur says she is betting that her fledgling Luckin Coffee brand will eventually have more cafes in China than Starbucks, and she has Singapore's sovereign wealth fund and other investors bankrolling her plan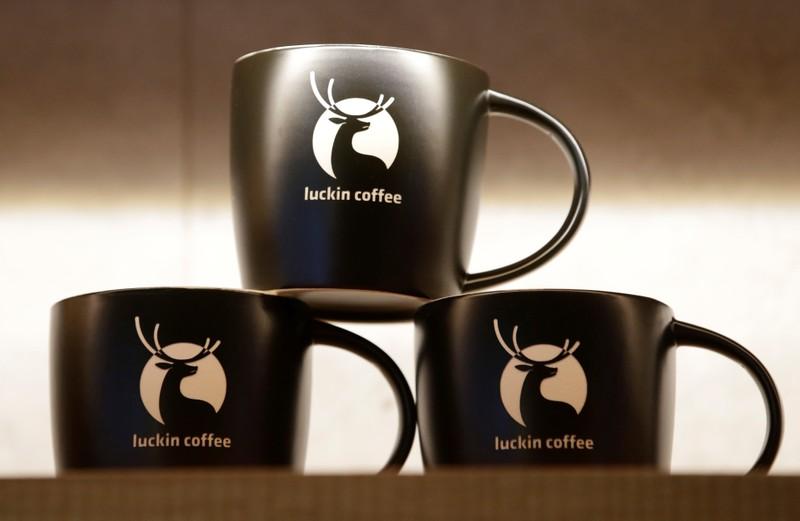 By Pei Li and Adam Jourdan
BEIJING/SHANGHAI (Reuters) - Qian Zhiya may be Starbucks' worst nightmare.
The 42-year-old Chinese entrepreneur says she is betting that her fledgling Luckin Coffee brand will eventually have more cafes in China than Starbucks, and she has Singapore's sovereign wealth fund and other investors bankrolling her plan.
Luckin, which only officially launched in January, has opened more than 660 outlets in 13 Chinese cities thanks to a supercharged growth plan based on cheap delivery, online ordering, big discounts and premium pay for its staff.
Its assault comes at a crucial time for Starbucks, which has 3,400 stores in China – its second biggest market after the U.S. - and plans to almost double that number by 2022.
And the speed of the attack is a warning to other established consumer brands in China that they too could be vulnerable to a start-up's attempt to reinvent a market, brand consultants say.
Starbucks' shares were pummelled in June after it warned same store sales growth in China had plunged to zero or worse last quarter, against 7 percent growth a year earlier. Its fiscal third-quarter results are due out on Thursday.
Starbucks said some new café openings were cannibalising customer visits at nearby stores and it also blamed a drop-off in orders through delivery firms.
While it did not mention increased competition, investors and analysts said it is clear that Luckin does represent a threat.
However, they also point out that Starbucks' brand has been very resilient to challenges from rivals around the world over the years, largely because of the ambience of its stores, its service and the consistent quality of the coffee served.
There is also no sign that Chinese consumers have turned against such a very American brand as a protest over U.S. President Donald Trump's imposition of punitive tariffs on Chinese exports.
BIG PROMOTIONS
Reuters spoke to 30 consumers in Beijing Yintai Center, a shopping mall that has a Starbucks, Costa Coffee and Luckin outlet, among others. Half of those polled said they had tried Luckin; most said they liked it, though more than two-thirds said their top choice remained Starbucks.
The majority drank coffee in-store or bought to take away, with only a small number saying they had coffee delivered, a potential challenge for Luckin's delivery-focused strategy. Taste, convenience and environment were their top three priorities, more than price.
Luckin's customers can order coffee via an app, watch a livestream of their coffee being made, and have it delivered to their door in an average of 18 minutes, the company says. A regular latte, roughly the size of a Starbucks grande, costs 24 yuan plus 6 yuan for delivery (free delivery for orders of more than 35 yuan), but can be half price after promotions. A grande latte at Starbucks costs 31 yuan.
More than half of Luckin's stores are larger "relax" outlets or pick-up stores with some seating. The rest are delivery kitchens.
The speed of Luckin's growth is extraordinary – it took Starbucks about 12 years to open as many stores. In many ways it echoes the way in which some major Chinese technology firms, such as ride hailing platform Didi Chuxing, have burned through cash to grab market share and been valued highly as a result.
Qian, who was previously chief operating officer at Chinese ride hailing firm Ucar, says Luckin's focus now is all about increasing customers.
"I don't have a timeline for profit," Qian told Reuters at the firm's Beijing headquarters as she sipped her third Luckin coffee of the day. "For us, what we care about now is the number of users and if they are coming back to us, whether they recognise us, whether we can take market share."
The firm raised $200 million this month to help fund its expansion, including an undisclosed sum from Singapore government fund GIC, a funding round which Luckin said valued the firm at $1 billion.
"In the future we will have more cafes than Starbucks," she declared.
One of the investors in the latest fundraising said it is the logical time for there to be a shake-up of the coffee world in China.
"This model will appeal to young customers amid the country's consumption upgrade," said David Li, former head of Warburg Pincus Asia Pacific. He led the financing round for Luckin via his new investment firm Centurium Capital.
The use of online ordering and delivery should be enough to unnerve many established brands, said Bruno Lannes, Shanghai-based partner with consultancy Bain & Co.
"It's a big threat, that's why western brands need to pay attention," he said.
"FLASH MOB"
Still, not everyone agrees the internet model translates easily to the coffee business, given the need for costly stores and quality control.
"It remains to be seen if they can really hook consumers in and create a monopoly in the market, like those we see in sectors like cab-hailing," said Liu Xingliang, president of tech consultancy China Internet Data Center.
And some of the consumers Reuters spoke to in the Beijing mall saw hurdles ahead for Luckin.
Liu Xu, 23, an advertising professional, who compares Luckin to a "flash mob" that came out of nowhere, said he tried the firm's coffee out of curiosity but prefers hand-drip single-origin coffee.
And Lian Yiheng, 22, a student, said she was attracted by Luckin's promotions and the convenience of delivery, but felt it needed to improve its selection of coffees and store decoration to lure people in the longer run.
Qian said the plan was to have more sit-in stores and reduce the proportion of delivery-only outlets, which would require higher spending on setting up in better locations and on décor. On the question of quality, she says that it uses select arabica beans from Ethiopia.
Luckin's expansion comes as Starbucks' global rivals, like Canadian chain Tim Hortons, are also pushing hard in China. Tim Hortons plans to open 1,500 outlets in China over the next 10 years, while smaller local chains are also popping up fast.
As China's middle class continues to increase in size and the coffee chains move into many smaller towns and cities, the market is growing at 5-7 percent a year, according to research firm Mintel.
Li Yibei, owner of Double Win Café, which has a chain of eight coffee shops in Shanghai, said Luckin would have an impact on the market, but there was plenty of space left.
"Maybe they will hit Starbucks to some extent, but remember Starbucks has many die-hard fans. Maybe they can grab some followers from them, but I don't think that many," she said.
Starbucks may also soon be moving more formally into online delivery in China. Howard Schultz, Starbucks' departing executive chairman, said in Shanghai this month that he was close friends with Jack Ma, the head of Alibaba Group Holding Ltd, which controls food delivery platform Ele.me., and suggested the two could work together on Starbuck's online delivery in China.
Schultz also said he isn't wasn't worried about the China slowdown.
"The more good coffee and competition that comes into the market, the more the Chinese people will be exposed to good coffee," he said. "Emerging new players that are coming into the market will actually benefit Starbucks."($1 = 6.8142 Chinese yuan renminbi)
(Reporting by Pei Li in BEIJING and Adam Jourdan in SHANGHAI; Additional reporting by Julie Zhu in HONG KONG and BEIJING newsroom)
This story has not been edited by Firstpost staff and is generated by auto-feed.
Find latest and upcoming tech gadgets online on Tech2 Gadgets. Get technology news, gadgets reviews & ratings. Popular gadgets including laptop, tablet and mobile specifications, features, prices, comparison.
World
OTTAWA (Reuters) - Canadian Prime Minister Justin Trudeau on Friday said he will continue to stand up against China's "coercive diplomacy" and its human rights abuses in Hong Kong and Xinjiang after being rebuked by Beijing for similar comments earlier this week. "We will stand up loudly and clearly for human rights all around the world, whether it is talking about the situation faced by the Uighurs, whether it is talking about the very concerning situation in Hong Kong, whether it's calling out China for its coercive diplomacy," Trudeau said in a news conference. (Reporting by Steve Scherer and Julie Gordon, Editing by Franklin Paul)
World
By Caroline Pailliez PARIS (Reuters) - Solene Tissot, a 19-year-old student in Paris, will obey the curfew imposed to fight COVID-19, but she has one request for her country's leaders: don't blame young people for the second wave of the virus. "There's been this kind of assigning guilt to young people," she said on Friday, hours before the new curfew was to come into force in Paris and major French cities. "I reject that." After a lull over the summer, the rates of transmission of coronavirus are going up in many parts of Europe and officials have identified social interactions between young people as a source of the resurgence.
World
By Adrian Portugal and Eloisa Lopez MANILA (Reuters) - Jailed Philippine activist Reina Mae Nasino wanted to hold her three-month-old daughter for the last time before she was laid to rest on Friday but she could not. Heavily armed prison officials guarding her refused to uncuff her despite pleas from her family and human rights supporters, who have decried what they described as inhumane treatment of Nasino and other mothers in Philippine jails.