China slump, commodity costs cause Ford profit drop
By Nick Carey and Ben Klayman DETROIT (Reuters) - Ford Motor Co on Wednesday posted a lower quarterly profit as high commodity costs and a China sales slump partially offset strong demand for pickup trucks and SUVs in North America, but results came in just above analyst estimates. The No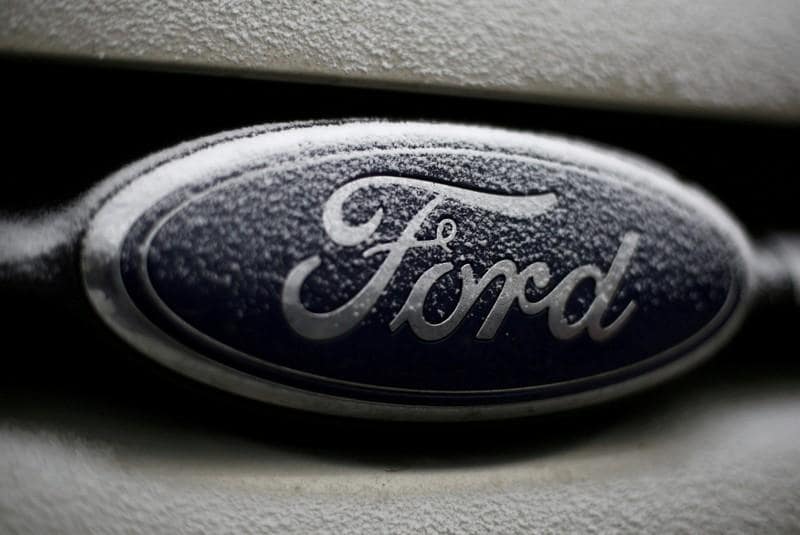 By Nick Carey and Ben Klayman
DETROIT (Reuters) - Ford Motor Co on Wednesday posted a lower quarterly profit as high commodity costs and a China sales slump partially offset strong demand for pickup trucks and SUVs in North America, but results came in just above analyst estimates.
The No. 2 U.S. automaker maintained its full-year earnings forecast. Last quarter, Ford announced a pending restructuring that could lead to pre-tax charges of up to $11 billion and Chief Financial Officer Bob Shanks said that plan remains in place.
Some investors and analysts have been frustrated at a lack of details of those plans and Shanks said the company still has nothing to announce at this time.
"Nothing has changed in terms of providing a lot of details," Shanks said.
Ford's vehicle sales in China fell 43 percent in September from a year earlier and are down 30 percent in the first nine months of the year. Ford blames its weak China business on an aging model lineup that is awaiting an overhaul.
Late Tuesday, Ford named a new chief of its China operations, ending a nine-month search and putting in place an American national born in China.
The automaker has said it would not see a boost in China until it new SUVs begin rolling out there in 2019 and 2020.
Speaking to reporters at Ford's headquarters, CFO Shanks said that industry-wide Chinese vehicle sales would see a slight decline in 2019 versus 2018.
Shanks said Ford welcomed the tentative agreement between the United States, Canada and Mexico on an updated version of the North American Free Trade Agreement, but said the automaker would also like to see tariffs on steel and aluminium addressed as part of the revised treaty.
Hopefully those tariffs "will be eliminated and we'll get more normal economic pricing," Shanks said.
Last month, Chief Executive Jim Hackett said U.S. steel and aluminium tariffs would cost the automaker $1 billion in profit in 2018 and 2019.
Ford said its North American operations managed a pre-tax margin of 8.8 percent in the third quarter, driven the continued shift by consumers to higher-margin pickup trucks and SUVs.
The No. 2 U.S. automaker reported a third-quarter net profit of $993 million, or 25 cents per share, a 36-percent drop from $1.6 billion, or 39 cents per share, in the year earlier quarter.
Excluding one-time items, Ford earned 29 cents per share in the quarter, 1 cent above average analyst estimates, according to Refinitiv.
Revenue for the quarter rose to $37.7 billion from $36.5 billion a year earlier.
Ford shares closed down 4.8 percent at $8.18 ahead of the results.
(Reporting By Nick Carey)
This story has not been edited by Firstpost staff and is generated by auto-feed.
Find latest and upcoming tech gadgets online on Tech2 Gadgets. Get technology news, gadgets reviews & ratings. Popular gadgets including laptop, tablet and mobile specifications, features, prices, comparison.
World
By Jeff Mason WASHINGTON (Reuters) - U.S. President Donald Trump, facing the possibility of a cash crunch, said on Tuesday he would spend "whatever it takes" of his own money to finance his 2020 presidential campaign against Democrat Joe Biden if he had to
World
By Lisandra Paraguassu BRASILIA (Reuters) - Brazilian House Speaker Rodrigo Maia said on Tuesday that lawmakers are currently finalizing the text of a bill targeting those that finance "fake news" attacks on social media sites, adding that it could be voted on by the end of this year. The draft of the Brazilian bill was approved in the Senate on June 30, but the lower house created a working group to suggest modifications. Those changes will be finalized in two weeks, Maia said
World
DUBLIN (Reuters) - Ireland plans to allow the reopening of all pubs on Sept. 21, dropping a ban on bars that do not serve food, a senior minister said on Tuesday.