China dumped steel wheels on U.S. market: Commerce Dept
WASHINGTON (Reuters) - The U.S. Commerce Department has found China unfairly subsidized steel wheels exported to the United States and sold them at prices below fair value, the department announced on Friday in its final determination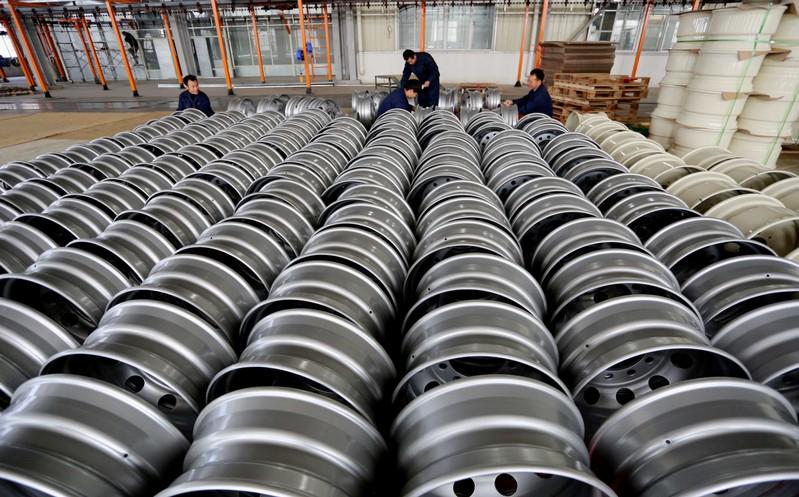 WASHINGTON (Reuters) - The U.S. Commerce Department has found China unfairly subsidized steel wheels exported to the United States and sold them at prices below fair value, the department announced on Friday in its final determination.
If the U.S. International Trade Commission issues a final finding that U.S. producers are being harmed, then tariffs on the products will go into effect for five years.
The United States made its initial determination in October. It opened the investigation after receiving complaints from Accuride Corporation of Evansville, Indiana, and Maxion Wheels Akron LLC of Akron, Ohio.
U.S. imports of steel wheels from China were valued at $388 million in 2017, the Commerce Department said.
The department's finding comes on the eve of the latest trade talks between U.S. and Chinese negotiators seeking to ease eight months of tensions between the globe's two largest economies.
(Reporting by Makini Brice; Editing by David Alexander and Tom Brown)
This story has not been edited by Firstpost staff and is generated by auto-feed.
World
BAGHDAD (Reuters) - Rockets hit near U.S. forces and contractors in Iraq on Wednesday, including an air base north of Baghdad and a military base at Baghdad International Airport, the Iraqi army and security officials said. The army reported at least three rockets hit Balad air base, where U.S
World
By Silvia Ognibene and Silvia Aloisi FLORENCE, Italy (Reuters) -Italian police have arrested a Chinese couple accused of running a leather goods business which exploited immigrant workers it employed to make handbags for a Burberry supplier, according to an arrest warrant seen by Reuters. Tax police in Florence said in a statement that the two Chinese nationals were arrested on Wednesday as part of an investigation into alleged labour exploitation and tax fraud and that restrictive measures had been imposed on two other family members, including a ban on them leaving Italy
World
WASHINGTON (Reuters) - The United States on Wednesday blacklisted four Nicaraguans, including a daughter of President Daniel Ortega, as Washington warned it would continue to use diplomatic and economic tools against members of the leftist government engaged in repression. The U.S. State Department called on Ortega to release detained presidential candidates as well as other civil society and opposition leaders arrested over the past week in what Washington called "an increasing wave of repression." "There are costs for those who are complicit in the regime's repression.