Chile finance minister announces new stimulus to kickstart sputtering economy
By Natalia A.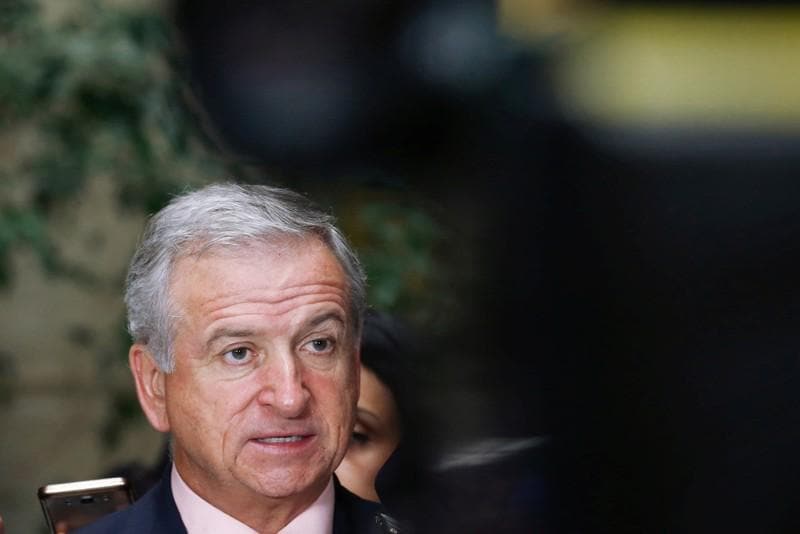 By Natalia A. Ramos Miranda
SANTIAGO (Reuters) - Chile's Finance Minister announced on Monday $600 million in additional stimulus in an effort to kick-start the top copper producer's sputtering economy, which has suffered from a downturn in mining and global trade tensions.
Finance Minister Felipe Larrain said the administration of centre-right President Sebastian Pinera planned to inject the funding, drawn from elsewhere in the country's budget, into road construction, subsidized housing, healthcare and water projects through 2020.
"The trade wars have worsened and Chile is not immune," Larrain told reporters.
Chile, which produces nearly one-third the world's copper, has suffered amid floundering global prices for the red metal. Heavy rains in the country's normally parched northern desert, home to many of its mines, labour strife and a blistering drought in its central agricultural region have also taken their toll.
Larrain said $63 million was earmarked for irrigation projects intended to help ease the pain of drought in central Chile, a region rich in vineyards and other fruit production.
Chilean officials have repeatedly downgraded expectations for growth in 2019, prompting the Pinera administration to implement $3 billion in new stimulus projects over the past several months.
Larrain in July estimated the economy would grow 3.2% in 2019, down from a previous estimate of 3.5% in April.
(Reporting by Natalia Ramos; Writing by Dave Sherwood; Editing by Sandra Maler)
This story has not been edited by Firstpost staff and is generated by auto-feed.
Find latest and upcoming tech gadgets online on Tech2 Gadgets. Get technology news, gadgets reviews & ratings. Popular gadgets including laptop, tablet and mobile specifications, features, prices, comparison.
Business
By Howard Schneider WASHINGTON (Reuters) - A rebounding stock market and massive federal aid payments pushed the net worth of U.S. households back to pre-coronavirus levels in the second quarter, the Federal Reserve reported on Monday, with savings accounts and equity portfolios both rising sharply despite the pandemic
Business
By Rodrigo Campos NEW YORK (Reuters) - Stocks across the world hit their lowest in seven weeks and other risk assets sold off on Monday on concerns over renewed lockdown measures in Europe and Britain, as well as the United States' inability to agree on fiscal stimulus that would support millions of unemployed. Oil prices fell nearly 5%, the dollar rallied and an index of emerging market currencies fell by the most in six months. The MSCI world equity index , which tracks shares in 49 countries, touched its lowest since Aug.
Business
By Rodrigo Campos NEW YORK (Reuters) - Stocks across the world hit their lowest in seven weeks and other risk assets also sold off on Monday on concerns over renewed lockdown measures in Europe and Britain, as well as the United States' inability to agree on fiscal stimulus that would support millions of unemployed. Oil prices fell more than 3%, the dollar rose against a basket of peers and an index of emerging market currencies fell by the most in six months. The MSCI world equity index , which tracks shares in 49 countries, ended at its lowest since Aug