Centre asks states to ensure all bank accounts are linked with Aadhaar
In order to promote digital payment mode, state governments have been requested to ensure that all individual bank accounts are seeded with Aadhaar and mobile numbers
Jammu: The Centre has asked state governments to ensure that all individual bank accounts are seeded with Aadhaar and mobile numbers, Union cabinet secretary Pradeep Kumar Sinha said on Tuesday.
Sinha was speaking during a meeting chaired by him to review the growth of digital payments and status of Aadhaar seeding with Union secretaries and chief secretaries of various states via video conferencing.
He asked the state governments to ensure that target are achieved, officials spokesman said. To promote digital payment mode across the country, the state governments were requested to ensure that all individual bank accounts are seeded with Aadhaar and mobile numbers, he said.
For the purpose, role of district magistrates and banks was highlighted with instructions to monitor on regular basis, the progress, so that this important task is completed by 31 March, the spokesman said.
Emphasis was laid to prioritise holding of digital camps and melas in the districts to achieve the targets of seeding. It was informed that unless individual bank accounts are not seeded with Aadhaar and mobile Number, the government will not be able to transfer entitled benefits through DBT under various schemes to the beneficiaries.
The banks were advised to utilise existing banking channels and other media communication channels to inform the account holders in regard to Aadhaar and mobile number seeding, the spokesman said.
Jammu and Kashmir chief secretary B. R. Sharma, commissioner secretary, IT, Sanjeev Verma and other officers of the state government also participated in the meeting. Sharma briefed the Union cabinet secretary on the progress of Aadhaar enrolment and status of connectivity and reach of internet, mobile and banking in the state.
To fast track completion of Aadhaar enrolment process in J&K, the chief secretary requested the Union cabinet secretary to support the state government in eliminating dark spots viz-a-viz connectivity and to also take up with the Electronics Corporation of India Ltd, the issues regarding re-starting of Aadhaar generation by the vendors for the left out population.
India
His remarks come at a time when dozens of panic-stricken migrant labourers reached Jammu from the Valley to head to their native places in Bihar, Chhattisgarh and other parts of the country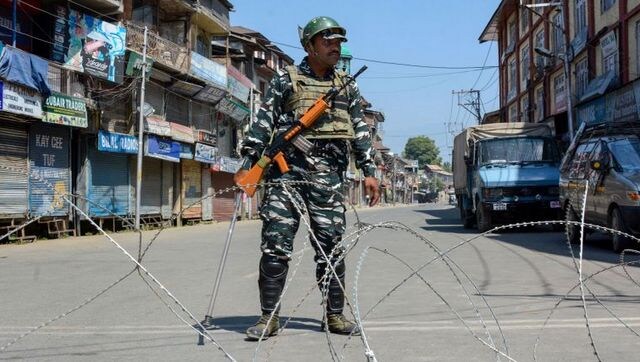 India
The de jure Islamic state created on the soil of India through Article 370 got dismantled, but the de facto Islamic state continues to hold fort.
India
Earlier, three TRF militants, including one involved in the recent killing of a hawker, were killed in an overnight encounter with security forces in the same district