New Delhi: Fair trade watchdog CCI has again directed Coal India Ltd to "cease and desist" from unfair business ways after finding the state-owned miner violated competition norms with respect to dry fuel supply.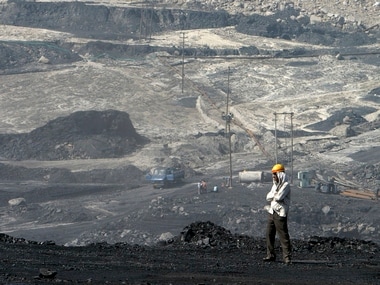 CIL, the country's largest coal producer, has been censured by the Competition Commission earlier also. In December 2013, a penalty of about Rs 1,773 crore was imposed.
In its latest ruling, the Commission said Coal India and Western Coalfields violated competition norms by imposing unfair and discriminatory conditions on the buyer.
The Commission, which keeps a tab on unfair business practices at the market place, has said the opposite parties meted out "differential treatment" with small buyers vis-a-vis power producers.
The complaint was filed by GHCL, which is into the business of soda ash, detergent, chemicals, silicates and host of other basic chemicals.
Besides directing Coal India to "cease and desist" from indulging in unfair business practices, the regulator has asked to remedial steps, as per an order made public today.
According to the Competition Commission of India (CCI), Coal India and its subsidiaries operate independent of market forces and enjoy undisputed dominance in the relevant market.
In its 38-page order dated 16 February, the Commission while agreeing with the findings of its Director General (DG) said that Coal India and Western Coalfields have "imposed unfair and discriminatory conditions relating to quality, sampling & analysis, stones and oversized coal".
The fair trade watchdog noted that since penalty was imposed earlier, it was refraining from doing so again.
"... it is made clear that in the facts and circumstances of the present case, the Commission refrains from imposing any penalty upon the opposite parties as a penalty of Rs 1,773.05 crore was already imposed upon them in the previous batch of informations with respect to inter alia similar issues," the
order said.
The Commission's penalty order, issued in December 2013, has been challenged by CIL at Competition Appellate Tribunal.
Attributing to the DG report, the regulator said the two entities have accepted that there was no provision for testing of quality of coal in the FSA (Fuel Supply Agreement) for the small buyers.
DG is the investigation arm of the Commission.
"The reason for this was cited as the increase in expenses and reduction in target profit. The FSA casts no obligation on the opposite parties to supply the coal of quality and size agreed upon.
"Further, it has come in the DG report that provisions regarding assessment of quality, sampling and analysis have not been provided in the FSA," the order said.
PTI
Find latest and upcoming tech gadgets online on Tech2 Gadgets. Get technology news, gadgets reviews & ratings. Popular gadgets including laptop, tablet and mobile specifications, features, prices, comparison.
Updated Date: Feb 17, 2015 18:29:41 IST