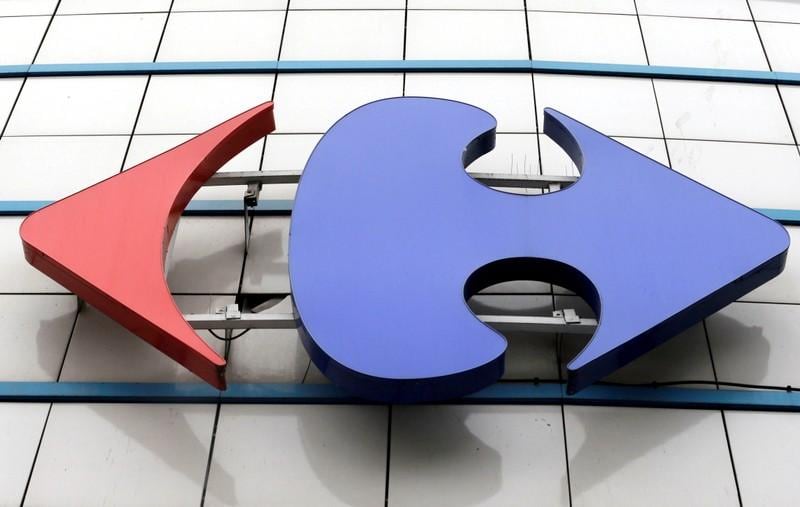 By Dominique Vidalon
PARIS (Reuters) - Carrefour said on Wednesday it was confident its overhaul plan was on track after sales growth accelerated in the third quarter, reflecting improving sales in the core French and Brazilian markets.
Weakness in Spain and Italy amid competitive pressures and tough economic conditions were however a reminder that Europe's largest retailer faced some headwinds on the road to recovery.
Carrefour kept all its targets under its five-year plan and said productivity gains would help it carry out investments while containing capital expenditures at an estimated 1.7-1.8 billion euros this year.
Third-quarter sales came to 21.087 billion euros ($24.33 billion), roughly in line with analyst estimates of 21.1 billion euros in an Inquiry Financial poll for Reuters.
Growth reached 2.1 percent on a like-for-like basis excluding fuel and calendar effects, against 0.9 percent in the previous quarter.
Carrefour is in the midst of a five-year plan to cut costs and jobs, boost E-commerce investment and seek a partnership in China with Tencent in a bid to boost profits and revenues and help it tackle competition from Amazon.
The "Carrefour 2022" plan has been well received by investors as being the right sort of strategy and in July analysts cheered cost savings of 520 million euros achieved in the first half as a sign execution of the plan was on track.
Nevertheless, Carrefour still faces difficulties in France, with competition from the likes of Amazon and pressure from discounting at rivals such as unlisted Leclerc.
Improving the French hypermarket business is a priority for CEO Alexandre Bompard, who last month put digital chief Marie Cheval in charge of the stores.
The group reported on Wednesday that sales at its French hypermarkets were flat in the third quarter following a 1 percent decline in the second quarter.
In Brazil, Carrefour's second-largest market after France, sales growth of 5.1 percent was boosted by a pickup in inflation for food products and the good performance of the Atacadao cash-and-carry stores.
Southern Europe however was however a tough spot. Sales in Italy fell 4.4 percent amid slowing markets while sales in Spain fell 2.7 percent amid competitive pressure.
Carrefour shares have lost 13 percent so far this year, underperforming their European sector. The shares are down 29 percent since Bompard joined in July 2017.
(Reporting by Dominique Vidalon; editing by Leigh Thomas)
This story has not been edited by Firstpost staff and is generated by auto-feed.
Updated Date: Oct 18, 2018 00:05:43 IST