Why killing of three cops in Srinagar hurts Jammu and Kashmir tourism
The state government, according to officials, has been working hard these days to persuade tourists and filmmakers to return to Kashmir Valley.
Srinagar: Even as the Jammu and Kashmir government prepares to massively increase footprint of both local and foreign tourists this year, the daring attacks carried out by unidentified militants on the cops Tuesday could well trample its plans to have a bumper tourist season.
Three personnel of Jammu and Kashmir Police, including an officer, were killed in two attacks in three hours in Zadibal locality and Tengpora area of Srinagar, rattling a lull prevailing over the city for some time now.
Early on Tuesday morning suspected militants struck at two different places in the heart of Srinagar city. The first attack took place in Zadibal locality, where two policemen were shot dead by suspected militants.
According to eye witnesses, two motorcycle borne youths stopped in front of a tea stall near a police post, where two policeman assistant sub-inspector Ghulam Mohammad and head constable Nazir Ahmad, were having tea, when the attackers shot them dead.
As the disturbing pictures of the killed policemen were being ferociously circulated on social networking sites, the news of the death of third policeman came in from Tengpora area of Srinagar, where the assailant even decamped with his service rifle.
The killings come at a time when police in Srinagar have been searching for some missing boys from different areas of Srinagar, sources in Kashmir Police, said.
The state government, according to officials, has been working hard these days to persuade tourists and filmmakers to return to Kashmir Valley, but these attacks are likely to have a bearing on the minds of both local and foreign tourists.
National Conference working president and former chief minister Omar Abdullah termed the killings as "worrying".
Omar asked Mehbooba-led PDP-BJP government to reassure residents of Srinagar and visitors and allay their fears.
Militant outfit Hizb-ul-Mujhadeen called a news agency to take responsibility of the attack. Its operational spokesperson Burhanuddin Wani told the news agency that the attack was carried out by a "special squad of the outfit. Besides, killing three policemen of Special Operation Group, the militants managed to decamp with a rifle of a slain policeman," he said.
The last such attack took place in 2013 when two policemen were shot dead at Hari Singh High Street.
Owing to the promotional activities of the tourism department of state, 92,7815 tourists, including 28,954 foreigners, visited Kashmir in 2015, official data says.
To improve footfall of tourists this summer, Chief Minister Mehbooba Mufti, on Monday sought cooperation from all tourism and business stakeholders. Seeking support in maintaining peace at all costs, the chief minister said the state's tourism and business fraternity have to suffer the brunt when atmosphere of peace is disturbed in the Valley.
But MY Chapri, former chairman of Houseboat Owners Association, told Firstpost that it was surprising for him how at the beginning of every tourist season there is suddenly an attack in Kashmir, "which works well in favour of other tourist destinations" and decreases the number of tourists visiting the state.
"Today's attack could well deter tourists like every attack does from coming to Kashmir. Outsiders have little idea that no tourist has ever been harmed in Kashmir, but still people get scared to come to Kashmir," he said.
"I pray that at least this year we would witness an increase in the number of tourists coming to Kashmir. We are hoping for a revival of tourist industry in Kashmir after the devastating floods. The government is also trying to help," he said.
Mufti who holds the tourism portfolio has been pushing for revival in both the infrastructure and "attitude" of players towards the tourists.
She told a delegation of industry players on Monday that they have to reach out to tourists with open arms, "so that they experience the rich hospitality for which we are famous all over the world."
But no one knew that on the next day the militants would strike in the heart of city and imprint fear not just on just in the minds of locals but tourists too.
State government officials say the attacks were designed to scare away tourists in the peak travel season. However, the attacks happened far away from the tourist spots in the city.
"When the Handwara incident happened we had almost 50 percent booking cancelled. Outside media tends to exaggerate things as everyone is being killed on the streets of Srinagar. Naturally these shootouts also would have an impact on the industry," Javed Burza, president, Kashmir Hotels and Restaurant Owners Federation (KHAROF), told Firstpost.
"We are expecting a tourist season better than then last five years. Hope we there would be no more attacks," he said.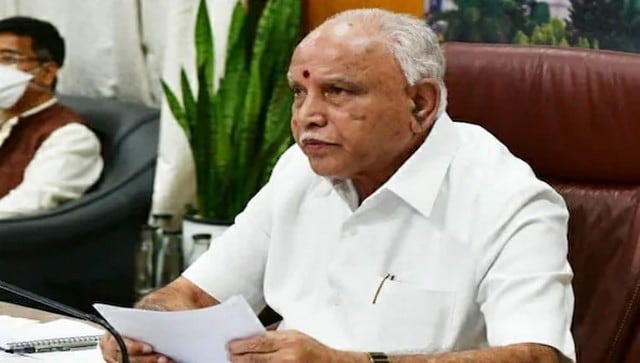 Politics
The 78-year-old Yediyurappa belongs to the older generation of politicians who started their service to the public as a teenager (in his case with the Rashtriya Swayamsevak Sangh) and did not hail from either a political or an affluent family
News & Analysis
Pegasus is a spyware suite sold by Israeli company NSO Group to "vetted government clients". It is used to compromise and conduct surveillance on targeted Windows, Mac computers, and also Android and iOS smartphones
India
As per the Jammu and Kashmir Police, approximately 5 kilograms of explosives have been recovered from the drone.