Building customer relationships in a digital world
The digital revolution has changed business-consumer interaction in a number of ways.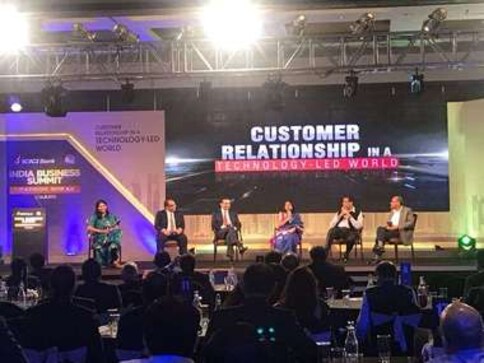 Reminiscing on customer care from just a decade ago brings back the dread and uncertainty of staying on hold for long hours, just to speak to someone who would then give you a timeline (that could be anywhere upwards of three working days) for your issue to be looked at.
Flash forward to 2018, and it's nearly impossible to imagine waiting for more than a handful of minutes for a response, and a few days for a resolution, if that. This is just one of the many ways in which widespread digitisation has changed how users and businesses interact with each other. And they're just going to grow in number, as inventions like 5G connectivity, the Internet of Things (IoT) and blockchain enter the mainstream.
This is why ICICI Bank and CNBC-TV18 joined forces to host thought leaders and titans of industry at the third edition of the 'India Business Summit – Leaders Speak', which took on the subject of building customer relationships in a tech-driven world. Set in the backdrop of India's cultural capital, Kolkata, the event served as the perfect platform for representatives from game-changing enterprises to discuss, debate and deliberate about the future of customer relationship management.
The event started off with a rousing address from Vijay Chandok, Executive Director, ICICI Bank, who laid down a few simple yet essential guidelines for businesses hoping to thrive in the 21st century. Working closely with partners, fostering a culture of sharing and innovation, and setting a common goal for your team to work towards were a few of his invaluable suggestions to the CXOs in the audience
Following this, Latha Venkatesh, Executive Editor at CNBC-TV18, sat down for an engaging discussion with five industry veterans - Sanjiv Goenka – Chairman of the RP-Sanjiv Goenka Group, Emami Group Director Aditya Agarwal, Harshavardhan Neotia of the Ambuja Neotia Group, Paharpur Cooling Towers' MD Gaurav Swarup and Vishakha Mulye, Executive Director, ICICI Bank.
The panel deliberated upon how technology has changed the way we conduct business, something that is perhaps most evident in the banking sector. Just two decades ago, the lending system was dominated by entrepreneurs who came from prominent business families. This was largely because conducting background checks was an expensive affair that involved reaching out to third parties, overcoming geographical constraints, and most of all, taking a leap of faith. That is no longer the case today, as banks can access credit histories, personal details and other vital information about anyone with the click of a button. This has paved the way for financial inclusion, allowing retail lending to become widespread.
B2C isn't the only arm of the sector that has been revolutionised by digitisation, though; corporate banking has also undergone a sea change due to ease of access to information and reduced geographical constraints. ICICI Bank, for instance, is already leveraging technologies like blockchain to facilitate secure transactions across the supply chain for over 250 corporates, showing that the future is now.
But while the digital revolution has changed business-consumer interaction in a number of ways, Emami Group's Aditya Agarwal maintained that the one thing everyone wants is good service, irrespective of whether it comes from humans or machines. This is especially true now since IT is no longer a division functioning in silo within a company, but arguably the backbone of most ventures. It, therefore, serves as an enabler for easier dissemination of information, faster redressal of grievances and, of course, better communication. Echoing this sentiment, Sanjiv Goenka added that technology has become "a means to the end" of providing good customer care. And we couldn't have said it better ourselves!
However, improving support services isn't the only way in which digitisation is enhancing the customer experience. Organisations across the globe are beginning to tap into the potential of big data analytics to tailor their offerings. Most notably, the Emami Group boasts of a research and development wing, where they leverage innovations like eyeball-tracking technology to find out what products pique the most interest.
Product development isn't the only area to be revolutionised by these innovations, though. Even the process of making a sale has changed forever. For Paharpur, it has opened up a world of opportunities by allowing customers to approach the company, instead of sales executives desperately seeking them out. Meanwhile, prospective homeowners have the opportunity to get a comprehensive view of their purchase, even if it is still a work in progress. As Harshavardhan Neotia points out, this is a far cry from the days when real estate buyers had to rely solely on 2D blueprints and the word of the realtor!
After-sale service, meanwhile, is undergoing some drastic changes of its own, owing to the rise of IoT. As Gaurav Swarup notes, while it may take a few years for real-time, remote monitoring and preventative maintenance of consumer durables to become widespread, the potential for higher-level customer support is vast.
But all these advantages haven't come without a fair share of challenges. Take the rise of social media, for instance, which has made it possible for businesses and consumers to reach out to each other around the clock. And while this is indubitably a good thing, it has also led to rising customer expectations when it comes to response and resolution times, highlights the Ambuja Neotia Group chief.
Add to this, ever-growing concerns of data security, data privacy and other ethical issues, and 21st-century entrepreneurs have their work cut out for them. Still, as ICICI Bank's Vishakha Mulye notes, "Constraint is the mother of all innovation."
Some of technology's greatest triumphs were, indeed, born in the face of insurmountable challenges. And taking an out-of-the-box, problem-solving approach towards these issues could be the key that unlocks the next phase for India Inc.
Over its upcoming editions, the ever-enlightening India Business Summit will hit more major cities in the country, taking on the very topics that are shaping the future of the global economy and our lives at large. Boasting of insights from some of the keenest minds in India, it promises to serve as a veritable fount of information for CXOs across the country.
This is a partnered post.
World
Since being posted, the clip has received more than 20,000 views and garnered more than 1,800 likes on Twitter. Many users have showered congratulatory messages for the couple in the comments section
Politics
The leaders of Janwadi Party (Socialist) and Mahan Dal, which were Samajwadi Party allies in the 2022 Uttar Pradesh Assembly polls but had left the alliance after its defeat in the elections, have high praise for the SP chief
India
In the English General News segment, CNN-News18 beat Republic TV, Times Now and India Today Television for the top spot, while in the Hindi General News segment News18 India trumped Aaj Tak and Republic Bharat