Budget and Beyond: 'Agri marketing should be in concurrent list', says Niti Aayog's Ramesh Chand
The farmers' unrest and overall agriculture-related stress has a lot to do with the fact that the markets are not adequately involved.
Firstpost is conducting a series of interviews with key economic policy makers and experts, leading up to Union Budget 2018. In the third part of the series, Ramesh Chand, NITI Aayog's member, agriculture talks with Firstpost columnist Seetha about the state of agriculture and the need for reforms. Click here to read Part 1 and here for Part 2 of the series
Two agriculture economists. One clear message ahead of the budget. Get the pricing and markets right. On Friday, NITI Aayog's member, agriculture, Ramesh Chand, speaking on a Facebook Live interaction for Firstpost emphasised it as well. On Tuesday, Ashok Gulati had said much the same.
Chand, having had to deal with states unwilling to reform markets for three years now, suggests a way out of this. Agriculture may be a State List subject in the Constitution, but why shouldn't states arrive at a consensus to bring agriculture marketing into the Concurrent List, since the Constitution allows inter-state trade in this list? Most agricultural produce, he points out, is not absorbed in the state where it is produced, but in other states, so let there be one national law like in GST (Goods and Services Tax).
The farmers' unrest and overall agriculture-related stress has a lot to do with the fact that the markets are not adequately involved. Chand confirms suspicions that it is the states that are dragging their feet in agri-market reforms. Small reforms can bring big gains, he points out, citing the example of Maharashtra where horticulture has thrived after fruits and vegetables were removed from the Agricultural Produce Marketing Committee (APMC) Act.
Does he accept that eNAM (the electronic national agricultural market that will turn three-years-old soon) is not working as well as it should? Chand is less worried about the infrastructure aspects of eNAM - the electronic trading. A national agriculture market requires far more than online trading, it requires a serious slashing of regulatory undergrowth, which inhibit even seamless intra-state trading, forget about inter-state trade. Getting rid of these regulations is, he feels, low-hanging fruit that will yield rich dividends.
He may be wrong there, though. Cutting regulatory growth may be low-hanging fruit but it may not be easy to pluk because it nurtures and is protected by vested interests with a lot of political muscle that cuts across ideological differences.
Chand is not saying that marketing reforms is a magic pill that will ensure that prices of agricultural goods never go below the minimum support price (MSP), but he feels the issue of depressed prices should be addressed by the centre and the states, with the states doing much of the heavy lifting.
Chand has been a big votary of the price deficiency payment scheme, since before he came to NITI Aayog. It is less costly and more efficient than MSP-based procurement, he argues. Under the procurement system, governments not only have to bear the fiscal burden of procurement but are also saddled with the problem of what to do with the procured stock.
Why not, then, invest in cold storage, supply chains, incentives for the food processing industry? Sure, that's needed, he acknowledges, but that alone will not mean much without regulatory reform. The food processing industry ministry, he points out, has many attractive schemes which find few takers in the corporate sector because of restrictions on buying, storing and trading. The Essential Commodities Act is a big dampener in this area.
Chand is closely watching the Madhya Pradesh pilot on price deficiency payment – Bhavantar Bhugtan Yojana. It has not worked in the case of urad (where prices plummeted much below the MSP) but has performed better in the case of soyabean, a more important crop, he says. One issue that needs to be addressed is the non-linkage of deficiency payment to quality. The payment should be linked to the quality of whatever is being paid for, he feels.
Apart from pushing marketing reforms and tackling the problem of depressed prices, Chand also wants the budget to focus on non-price issues like infrastructure (cold chains, storage facilities, roads) and irrigation.
And in a controversial recommendation, he wants the corporate sector to be incentivised to come into agriculture. Not necessarily into farming, but in marketing, logistics, processing and other related activities. "The share of corporate investment in total investment in agriculture is just 2 percent. The share of corporate spending on agriculture out of their total investment is 0.5 percent." The involvement of the corporate sector will bring huge gains to farmers, he argues.
He's not going to be a very popular person for saying some of what he did, but perhaps some things need saying by someone in authority.
For full coverage of Union Budget 2018, click  here.
(The writer tweets @soorpanakha)
India
Earlier on Sunday, West Bengal CM Mamata Banerjee had written to Prime Minister Narendra Modi seeking exemption from GST and customs duty on donations of oxygen concentrators, cylinders, and COVID-19 drugs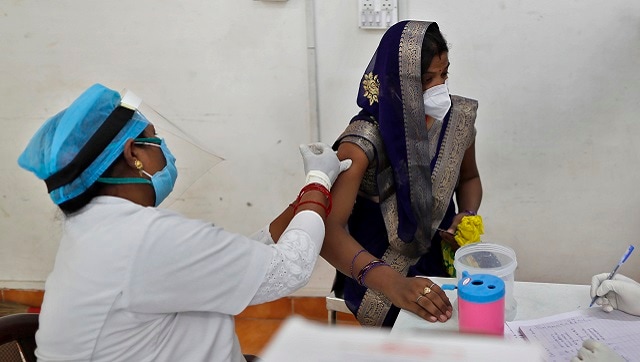 India
This is the third time in three months that the Central Government has widened the intervals between Covishield doses