Budget 2018: India Inc vies for tax cuts as government spend on subsidies set to increase
Any cuts in corporation tax may happen only if GST collections are robust this year and the next.
New Delhi: As the pre-budget consultations of stakeholders begin with the Finance Minister before the mega announcement next month, it comes as no surprise that India Inc again wants to draw the government's attention to high rates of tax on corporate incomes. And wants corporation tax lowered. This appeal comes just when the United States has pledged to reduce tax on corporate earnings to 20 percent and the UK is already following the lower tax practice.
This piece in The Statesman says the US senate has passed a bill which will slash corporation tax from 39 percent to 20 percent, nearly halving the levy.
Should India then remain an outlier in the global landscape where corporation tax rates are progressively coming down to encourage local manufacturing? Or should we be asking ourselves whether there needs to be another "giveaway" to the rich by the government, especially since India's high rates of corporation tax also subsume a host of incentives which substantially bring down the effective rate at which companies pay tax on income?
Last year Prime Minister Narendra Modi had referred to this very phenomenon, when he compared concessions given to the poor and India Inc by saying the former is called 'subsidy' while the latter is termed as 'concession'. Should the debate then be the quantum of subsidies which the government is willing to provide to the country's farmers, other economically backward people versus the concessions it is willing to offer to mega corporates?
Some numbers first. Taxes that corporations pay account for more than a fourth of the government's total tax receipts in a year. In 2016-17, these collections accounted for almost 29 percent of the total tax receipts while Budget estimates for the current fiscal peg it at a little over 28 percent. That means close to 30 paise of every rupee the government earns from various taxes comes from the payments companies make for doing business. Budget estimates of corporation tax collections in FY18 stand at Rs 5.39 lakh crore versus revised estimates of Rs 4.94 lakh crore in FY17. Total tax revenue as per Budget estimates for the current fiscal is Rs 19.11 lakh crore versus Rs 17.03 lakh crore in FY17.
Now, the subsidy math. India spends the largest amount on food subsidy which is estimates at Rs 1.45 lakh crore in the current fiscal as per Budget estimates, the highest in the last four years. Interest subsidies – the money the government spends for loans to farmers, housing for the poor, higher education and other social sector activities – is estimated to rise by over 23 percent this fiscal at Rs 23,204 crore so that total outgo on subsidies for the current fiscal is Rs 2.72 lakh crore versus Rs 2.6 lakh crore. That's an increase of over 4.6 percent.
So what this math shows is that while keeping corporation tax rates high, the government is mopping up more revenue than last year and is also simultaneously spending more on providing subsidy to the needy compared to last fiscal. Which means the 'either or' debate over corporation tax and subsidies is skewed. While the government's stated intention is to move away from certain subsidies and also do away with corporate exemptions, it may perhaps look at offering a lower tax regime to companies to ease their burden of doing business.
Leading business chamber, the Confederation of Indian Industries (CII), has said in its pre-budget memorandum to the FM that reduction in corporation tax rate to 18 percent, including all surcharges and cess, would help India emerge as an attractive business destination and create jobs. According to direct tax experts, the headline rate for corporation tax is 35 percent which becomes 25 percent after a host of exemptions for companies with a turnover of upto Rs 50 crore. But remains more or less near the 30 percent mark for larger companies. What CII has sought is a substantial reduction.
Another apex business chamber, Ficci, has referred to the FM's earlier roadmap of bringing down corporate tax rates to 25 percent saying this promised has not yet been implemented across the board. The chamber stressed on the need to consider the impact of the Dividend Distribution Tax and the Buyback Tax, saying "Together with the basic corporate income tax, this pushes India's overall tax rate for companies well beyond 40 percent, which is quite high."
Girish Vanvari , Partner and Head of Tax at KPMG, pointed out that government's tax collection should anyway be higher on account of GST. "With demonetisation and GST tax collections should go up eventually. This could create headroom for lowering corporation tax rates – which is the need of the hour in order to remain competitive in a world where tax rates are coming down".
But of course, the tax revenue bounty may not come in this fiscal and this alone may tie the government's hands. As this piece in Business Line says lower rate may be extended to companies with a turnover of Rs 100 crore while larger enterprises continue to be taxed at the highest slab.
As this piece in Business Standard explains, an overwhelming 80 percent of the total corporation tax revenue comes from large firms, which means the fiscal math will get affected if the government were to slash the rate by five percentage points, as per the industry's demand. Remember, each percentage point cut in corporation tax rate takes away Rs 17000-18000 crore revenue from the government's coffers.
All said and done, any cuts in corporation tax may happen only if GST collections are robust this year and the next.
For full coverage of Union Budget 2018, click  here.
Sports
Bhavani Devi began her campaign with a confident 15-3 win against Tunisia's Nadia Ben Azizi but bumped into Rio Olympics semi-finalist Frenchwoman Brunet in the next round, which she lost 7-15.
India
Congratulating the people of Telangana, the prime minister said that the temple showcases the outstanding craftsmanship of great Kakatiya dynasty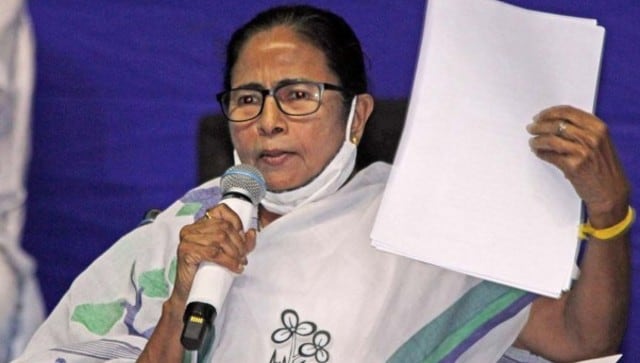 Politics
All this in the backdrop of #AbkiBaarDidiSarkar trending on Twitter, thus further fuelling rumours about a United Front.