Budget 2018: Creating newer education vistas through technology in rural areas big message from Arun Jaitley
For years, Indian rural landscape has been bogged by issues like poverty, lack of learning infrastructure, lack of gender parity etc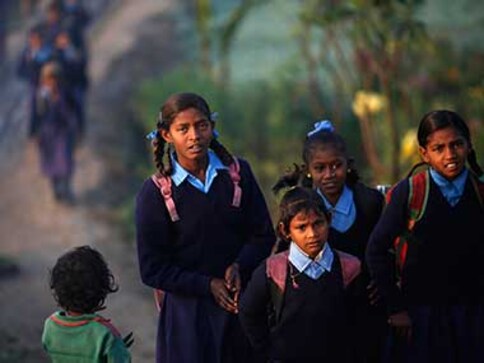 Technology has permeated all aspects of modern life and changed its existential paradigms. Technological tools have also made its mark felt in the field of education and technology can prove to be a key player in removing the problem of illiteracy from the country. It has largely been observed that the impact of technology has been profound across academic campuses in urban India and is yet to touch base in Bharat, rural India. However, before exploring the potential of technology in changing the face of rural education, it is pertinent to understand the problems faced by the rural populace in India.
For years, the Indian rural landscape has been bogged by issues like poverty, lack of learning infrastructure, lack of gender parity, dearth of tech-savviness and lack of access to modern educational tools. Villages in the hinterlands of the country suffer from infrastructural gaps such as lack of electricity and internet connectivity issues which has prevented meritorious students from accessing the benefits of tools like digital classrooms.
Policy-makers will have to grapple with several challenge areas while committing to build a robust digital learning infrastructure. It is here that digital technology can become an empowering tool in making education accessible on a mass scale. The allocation of Rs 10,000 crore in Budget 2018-19 to enhance broadband connectivity across the country's villages for phase two of BharatNet is a strategic initiative that will provide a push to digitization efforts.
The digital learning infrastructure in rural areas will have to be strengthened with an emphasis on creating digital study interfaces. Students need to be provided affordable laptops and tablets for easy access to e-tutorials and online interaction with teachers. Digital teaching modules can help in creating online student forums and virtual classrooms creating a conducive environment for subject discussion and easy reference material. The avenues of rural education can be significantly broadened through developing e-learning technologies.
Use of tools like audio and video conferencing can also go a long way in the dissemination of academic courses to student communities. In order to create a tech-savvy student fraternity, proper training will have to be imparted to teachers to adapt to digital technologies and develop key learning skills. The government should push for creating tailored teacher training programs through online training modules.
E-learning kendras should be set up in the nooks and corners of rural India which will help teachers gain increased access to advanced teaching technologies. This will improve the technological proficiencies of teachers, simplifying the process of imparting of knowledge through digital tools and creating a harmonious student-teacher relationship.
Initiatives like Digital India are a key corollary to changing the educational landscape of India. Digital literacy is the buzzword of a new emerging generation of students and it is broadly expected that the increased application of technology in the Indian education sector will bridge the gap between rural and urban student communities.
Enhanced access to technological tools and social media like Youtube, Facebook and Twitter will open newer vistas of learning for students in rural areas, not only enhancing their employability skills but also positioning India as a knowledge economy.
Mahesh Tejwani is President, Vivekanand Education Society
Explainers
The AUKUS deal could potentially add to the proliferation of ballistic missile and cruise missile capabilities among East Asian countries
Opinion
The relationship between India and Sweden is driven by common economic interest, mutual commitment to global peace, and shared democratic values
Business
The tech industry is seeing women carving their way and proudly crafting the technology scene in the country, by leading the tech bandwagon and breaking stereotypes of the male dominance in the tech industry