Budget 2018: Beyond up and down price arrows, the annual exercise holds little excitement for common Indians
For many, the annual budget exercise has been reduced to arrows going up & arrows going down on fuel, cooking gas, cigarettes, TVs, refrigerators, food etc.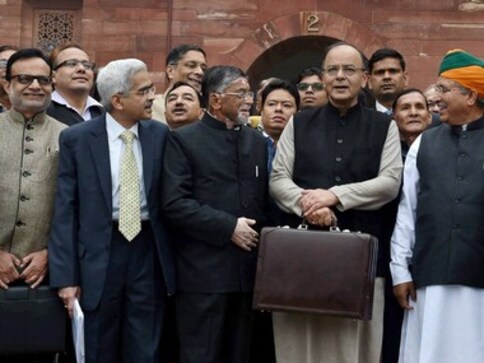 Several days before the annual budget is presented each year in Parliament, everyone gets very excited and there is much anticipation; financial experts are awakened from their slumber and they rivet us with their projections for the year to come. I love it, even though I have no clue what is going on. But then again, I am a great pretender and can look as pondering and wise as anyone.
But I do know that Finance Minister Arun Jaitley will deliver the medium-term fiscal policy statement, the fiscal policy strategy statement and the macroeconomic framework statement under the Fiscal Responsibility and Budget Management Act, 2003 (FRBMA) and there must be people out there to whom this makes perfect sense, but I am not one of them. I would not know a macro statement from a micro one.
For many, this annual exercise has been reduced to arrows going up and arrows going down on fuel, cooking gas, cigarettes, TVs, refrigerators and foodstuffs; with little icons next to these items to give it that graphic feel, allowing the common man to wallow in misery because life is going to cost more. It always does, at least for me.
I do, however, confess that I am totally intimidated by everything else about the budget. After all, they underscore an 'integrated approach' to fiscal operations and what can be more important than that.
Since I have no idea how last year's budget went and no one has told me if the Rs 4,000 crores allocated to education was actually spent on education and whether we actually bought weaponry worth $60 billion for the armed forces, there is nothing to measure the new one against. There is no assessment of the past year's effort so we just canter blindly into the next 'balanced' budget.
There are also so many other budgets to choose from. There is the fiscal deficit budget, which sounds like my monthly condition, but I guess the government also has a credit card and is overdrawn. There is always this unfulfilled desire to meet the deficit but they never do.
Then there is the robust budget, which reminds you of a scene from the movie 'Dangal' and then there is the pro-poor budget, though the poor people really don't get much joy out of it. This budget is quickly shot down by Rahul Gandhi's Congress (or whichever Opposition is in position) as anti-poor and only benefitting the uber-wealthy.
Then there is the rural-oriented budget, with the mandatory focus on the agricultural sector but invariably farmers are unhappy at the end of it. The 'popular' budget never really makes it except for the backing given to it by the government's TV spokesmen on those grotesque TV talk shows. This is quite different from the 'populist budget', which is the label given by anti-government panellists on the same ghastly TV shows.
We also have the inflationary accusation, the equally mandatory boosting of subsidies – although I have no idea what it means, it sounds knowledgeable. And then, there is the call for fiscal consolidation which gives you the impression the cup is broken and can be mended, but the crack is always there.
There is never enough relief on the tax front and nobody is ever happy with this aspect. This is one of the many disappointing budgets because a disappointing budget comes with the territory. In this category feature the 'nothing new' budget, the 'predictable' budget and the 'unimaginative budget'; this last tag indicating a more Steven Spielberg approach should have been taken, like trumpets and clarion calls.
There is also a desire expressed that this budget's provisions will give the economy some much-needed momentum, though we never come to know where that extra push is coming from – it just suffices to say that growth will re-ignite.
In the upcoming budget, to be presented on 1 February in Parliament, Jaitley will have had his traditional halwa and is likely to reiterate the following things, in some fashion or the other:
'India is now open for business'. 'We will continue to hit those who evade taxation'. 'Investment in infrastructure will stimulate growth'. 'The economy is now well on the road to recovery'. 'We will strive to create five million jobs and generate employment opportunity'. 'It is not easy to wipe out the mess created by ten years of Congress rule in three'.
But, I won't be listening. for I'll be too busy looking for my 'up' and 'down' arrows.
Politics
Arjun Ram Meghwal and Rajyavardhan Singh Rathore hit out at the Chief Minister Ashok Gehlot-led Congress government in the state, noting that Koli has been attacked for the fourth time by the "mining and land mafia"
Politics
During the 10 sittings so far, the Rajya Sabha functioned for 11 hours 8 minutes out of the scheduled 51 hours 35 minutes, losing 40 hours 45 minutes due to disruptions and forced disruptions, the RS Secretariat said
Politics
Lok Sabha and Rajya Sabha proceedings have been disrupted mostly due to the Opposition protests and demands of a discussion on price rise and GST rate hike on some food items, since the Monsoon Session began on 18 July