Budget 2018: As agri incomes fall and organised sector wages rise, govt can't wish away farmers' demands
Farmers now also want an agricultural debt relief package, made of matching contributions from the state governments.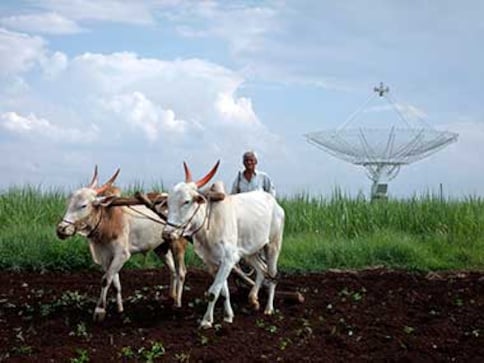 The promise made by Prime Minister Narendra Modi to double farmers' income by 2022 rings hollow today, as farmers say the median farm income remains a measly Rs 1,600 per month. That translates to just a little over Rs 50 a day. The glaring shortfall in farmers' income is further underlined when they point out that after the 7th Pay Commission recommendations have begun to get implemented, the income and perks of the employees in the organized sector have increased "substantially" whereas the real incomes of farmers continue to decline. Is it any wonder then that farmers are now united in seeking income security, goaded by this seeming discrimination between organized sector workers and those who work on agricultural land?
Widening farm distress is evident not just from what farmers' representatives told the Finance Minister Arun Jaitley in a pre-Budget meeting, it is also being seen from the increasing riots due to agrarian crisis. This piece quotes latest data from the National Crime Records Bureau to say 4,837 riots took place across the country in 2016 due to 'agrarian' crisis against 2,683 such incidents in 2015. And that government officials admitted frustrated farmers have shown their anger with major protests reported from Madhya Pradesh, Bihar, UP because of shrinking farm lands, failure of crops, poor irrigation facilities, bad seeds, drought, debts etc.
Not just income security, farmers now also want an agricultural debt relief package, made of matching contributions from the state governments. At least a fourth of the corpus from such a package should be used to provide debt relief from non-institutional loans to tenant farmers, sharecroppers, Adivasi farmers and women farmers who don't have access to institutional loans.
Remember, farm incomes have been depressed for some time due to price and monsoon vagaries but the decline was further accentuated by demonetisation.
Agriculture is a highly cash-intensive economy and withdrawal of 86 percent of the currency without timely replacement disrupted the supply chains in the sector while also affecting private consumption demand. This came about at a time when agricultural produce was at a record high.
This piece quotes Bojja Dasaratha Rami Reddy of the Consortium of Indian Farmers Association as saying, "The median agriculture income is about Rs 1,600 per month. No family can sustain with this even in the remotest part of the country. Hence the farming community of India demands an Income Security Act for farmers, tenant farmers and farm labourers." Reddy had emerged from the pre-Budget consultations with the Finance Minister.
Meanwhile Ajay Vir Jakhar, a farmers' representative who was also part of Wednesday's meeting, submitted a long list of demands to the FM. These included:
1. Allocations to offset impact of central government interventions to mitigate inflation. So for all crops where the Centre intervenes to reduce prices of food (like tomatoes, onions, potatoes etc.), a minimum price must be set.
2. A long term agri exim policy; the centre shouldn't negotiate international trade treaties for agriculture produce without consent of the states.
3. After the 7th Pay Commission, the incomes and perks of the employees in organized sector have increased substantially, whereas the real incomes of farmers continue to decline. Make budgetary allocations to set up the "Farmers' Income Commission" for securing 'income security'. Also, the 15th Finance Commission will offer fiscal incentives to states on certain parameters. The parameters must include aspects of rural economy like farmer incomes and farm productivity.
4. Cost of agriculture inputs has increased with GST and subsequently subsidy component on such inputs has been neutralised due to higher taxation. The subsidy component be therefore increased.
5. Implement the Ramesh Chand committee report on MSP (minimum support price) and ensure procurement of crops at MSP.
6. An Agricultural Debt Relief package is needed with matching contributions from states. At least 25% of this to provide relief from non-institutional loans; double number of farmers receiving loans of up-to Rs 2 lakh at 1 percent interest.
7. Create off-farm jobs.
What Jakhar and other farmers' leaders are saying is being echoed by analysts too. In a note to clients last month, ratings agency Crisil had pointed out that prices for most foodgrains have fallen, reducing farmer profits. For pulses and oilseeds, prices fell even below their MSP and cost of cultivation, resulting in a loss on the margins. For several crops, prices and profit margins have continued to decline in recent months on abundant produce.
So prices of tur or arhar dal – something which agitated the ruling and opposition MPs in the not too distant past – have fallen to almost half in August this year from the peak in July 2016 and profits went "negative in May-July 2017 as prices slid below the cost of cultivation". Prices of moong dal are ruling below MSP, those of urad have also nearly halved. The only saving grace was paddy where prices remained above MSP while those of wheat were flat.
Crisil analysts said that after witnessing double-digit growth over 2009-2013, the hikes in MSPs for various agricultural products have moderated in recent years, from averaging 19.3 percent to just 3.6 percent between 2014 and 2017. This has further depressed market prices and obviously impacts farm incomes greatly.
The Crisil report also spoke of farm loan waivers. "However, this would increase the pressure on the already stretched fiscal deficits of these states. Farm loan waivers are, therefore, a paradox in a year of normal monsoon. We estimate that if other states also announce loan waiver schemes the way Uttar Pradesh, Maharashtra, Karnataka and Punjab did, the collective cost to the exchequer would be Rs 2.5 lakh crore – or 0.5 percent of GDP – per year, assuming the waiver gets equally staggered over three years. The cost could be significantly high for Tamil Nadu, which has the highest outstanding agricultural loans among states. Kerala, Madhya Pradesh and Rajasthan, too, could feel some pressure."
For full coverage of Union Budget 2018, click  here.
India
"Due to the Russia-Ukraine conflict, petrol prices doubled. We had pressure from where to buy the oil but PM Modi and government were of the view that we've to do what is best for our nation and if pressure comes then we should face it," the External Affairs Minister said at Vadodara, Gujarat
Explainers
Faced with an increasingly belligerent China, the Indian Army has increased its firepower by deploying a variety of rockets and artillery, and plans to further acquire diverse weapon systems
India
The five-day conference will see participation of over 550 delegates from 115 countries to discuss issues related to development and strengthening of integrated geospatial information management, its capacities and capabilities