Budget 2018: Arun Jaitley can't treat agriculture as just another sector; it needs targeted policy action
Any set of solutions – and they will have to be a set – will have to address this volatility in growth and by extension, agricultural incomes.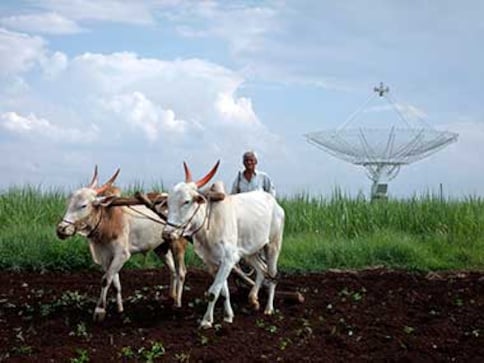 Soon after Independence in 1947, then Prime Minister Jawaharlal Nehru said "everything else can wait, but not agriculture". Prime Minister Narendra Modi faces the same situation today. Five years of sustained rural distress have highlighted both the urgency and the need for the appropriate policy actions. The upcoming Union Budget due on 1 February, 2018 will be the place to start, as finance minister Arun Jaitley has promised at a speech marking the launch of commodity option by the NCDEX a few days ago.
Agriculture in India is a mass of contradictions; nowhere is that more evident than in the rate of agricultural growth, which has been fairly volatile over the last 10 years, ranging from 5.8 percent in 2005-06 (FY06) to 0.4 percent in FY10, and -0.2 percent in FY15.
In 2013, India accounted for 25 percent the world's pulses production, the highest for any one country, 22 percent of global rice production, 13 of wheat production. It also accounted for about 25 percent of all the quantity of cotton produced. India is among the top three agricultural producers in a number of crops.
But productivity – measured as yield or the quantity of produce per hectare – at a shade over 2 tonnes per hectare in FY15, is much lower than in other comparable countries such as Brazil (4.9 tonnes) or China (6.7 tonnes). One explanation has been the size of agricultural land holdings: the FY11 Agricultural Census (the latest year for which figures were available) reported that marginal holdings (less than one hectare) went up from 36 million in 1971 to 91 million in 2011.
Any set of solutions – and they will have to be a set – will have to address this volatility in growth and by extension, agricultural incomes. Four areas come to mind: a) land, water and agricultural inputs; b) credit and crop insurance; c) remunerative pricing, and d) storage and marketing infrastructure.
The 70th round of the National Sample Survey says 70 percent of farming households have less than one hectare of agricultural land; 3.7 percent have between 4 to 10 hectares, and less than half of one percent have more than 10 acres. This has profound implications for the economics of farming, from a mechanisation and irrigation point of view.
Some states have permitted land leasing; about 10 percent of all agricultural land in the country is leased, according to land records from different states, but this varies between states: 34 percent in Andhra Pradesh, about 25 percent in Punjab, and 21 percent in Bihar. Other states ban it: Kerala, Manipur and Jammu & Kashmir, for example. Agriculture being a state subject, this poses challenges.
Roughly 51 percent of the land under crops is irrigated; the rest is dependent on rainfall. Over the past few decades, ground water sources in many states have been overused. In Haryana and Rajasthan, 40-75 percent of the ground water has been over-exploited; the situation is worse in Punjab, where it is 75-90 percent. The Commission for Agricultural Costs and Prices recommended quantitative ceilings on the per hectare use of water, but nobody seems to be listening.
Access to the formal credit system has been an enduring, intractable problems for agriculture. According to some estimates, 40 percent of farmers – there are nearly 240 million people engaged in farming activity – still rely on informal credit from money lenders. Given the rising rural distress, debt forgiveness through loan waiver programmes by states have been an easy solution.
Farm loan waivers have long been a convenient instrument that governments have used to extract maximum political benefits, or confer them on the ruling party's political base (like when are elections are around the corner; we have five big ones in 2018). This time round, it began with Uttar Pradesh, followed by Punjab and then Maharashtra. In 2008, the loan waiver programme was Rs 60,000 crore. So far, the current wave is already almost twice that number; experts say that more are coming.
Media reports on an analysis by the Reserve Bank of India (RBI) in its annual Trends in Money and Banking for 2017 suggest that farmers have not been repaying their loans knowing that the waivers will cover them. In June 2017, they quoted bankers saying that farmers were emptying bank accounts before loan instalments could be debited from them.
Agricultural non-performing assets have been rising for the last five years at least. Research by the Indian Council for Research and International Economic Relations (ICRIER) shows that NPAs fell for just a year when the last big loan waiver programme was announced in 2008, before rising sharply again; they have been rising ever since.
Consider crop insurance too. The Pradhan Mantri Fasal Bima Yojna (PMFBY) is a muddle of fineprint. The PMFBY was designed so that the central government shares part of the premium, subject to conditions. States have to walk a line, no matter what: whether the region is rain-fed or irrigated, irrespective of cropping density, which could range from less than 100 or more than 200 percent. Shouldn't states be allowed to design their own?
Food waste is endemic, and at all levels, and the quantity wasted, both during the harvest and the post-harvest process has only risen in the past five years. The highest losses have been in fruits and vegetables (somewhere between 5 and 15 percent of production in 2015), pulses (between 6.5 to 8.5 percent) and oilseeds (between 5 and 10 percent).
Suggested solutions have ranged from building cold chain infrastructure to mega food parks, but progress on this – which the Ministry of Food Processing launched in 2008 – has been far short both in scale and speed. All of which has implications for pricing, remuneration to farmers, and rural household incomes.
Minimum support pricing (MSP) is a hot potato in political debated around the country, and often the agricultural community isn't even a participant in the public discourse. In a report that sought to assess the efficacy of MSPs, NITI Aayog found that just 10 percent of farmers were even aware about the MSP before the sowing season; 62 percent of farmers came to know about the MSP after sowing the crop.
Niti Aayog has recommended a price deficiency system, wherein farmers are compensated for certain commodities if their prices fall under a specified threshold. This could incentivise farmers to not hold on to stocks till prices become more favourable. Given the huge investment the government has made in the Aadhar system, addresses would reduce stock-holding by farmers who store commodities until prices increase, and also incentivise farmers are paid using direct benefit transfers.
If some of these solutions are implementable, what has been missing? In the first four years of this government's tenure, much attention has been paid to industry and manufacturing. We have a host of missions: Make in India, Swacchh Bharat, Digital India, Startup India, and a host of others.
It's not enough to address the challenges in Indian agriculture on the basis of a mission: It has to be dovetailed with the other missions of Prime Minister Narendra Modi, and with the same fervour and commitment. After all, he did promise to double farmers' incomes by 2022. From all accounts, he is likely to be Prime Minister in 2019 again. For his government, which claims to take the long view, agriculture has become mission-critical. The Union Budget better reflect that.
For full coverage of Union Budget 2018, click here.
World
President Wickremesinghe made the remarks while presenting the government's policy statement during the third session of Parliament. He also thanked Prime Minister Narendra Modi for India's support to his country in the tough times
Explainers
A carbon market could be a gamechanger for India in its fight against climate change. It would go a long way in the country's attempt of achieving net zero greenhouse gas emissions by 2070
India
The broadcast of the address in Hindi and English on Doordarshan will be followed by a broadcast in regional languages by regional channels of Doordarshan