With polls nearing, will UP's farm sector and industry get a boost?
GDP growth rates under Mayawati and Mulayam Singh were better than under Akhilesh.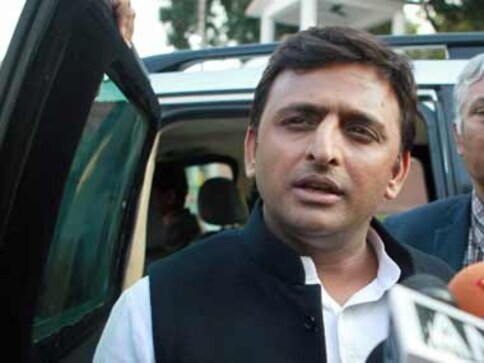 (With elections being announced, many believe that the budget to be announced on 1 February, will contain sops for key sectors. There are two reasons for such sops. First, to counter the unfortunate effects of demonetisation on some sectors. And the second to win over key electoral groups. In this three part series, we explain why the three biggest segments that might benefit could be agriculture, milk cooperatives and milk processing units, and weaver units.)
Election dates have been announced. And all eyes are focused on Uttar Pradesh (UP) which is akin to a mini nation considering its size and population.
And the pain points are many.
For one, the state has not done very well – even under Akhilesh Yadav (see chart).
GDP growth rates under Mayawati and Mulayam Singh were better than under Akhilesh.
Yes, Akhilesh has charm. He has advertised his achievements more aggressively. But in terms of the impact, his measures have had on the UP economy, he hasn't achieved much. And do bear in mind that these are figures that go up to 2015. The effects of demonetisation on the state could have hurt people a lot more.
Voter sentiment will, therefore, depend on how the budget affects the fortunes of the disaffected.
The largest numbers of disaffected people are those working with weaving units, leather units and cattle rearing. In fact, the last two are closely interlinked because the leather units and the milk producers share many common interests.
But more on that later.
What is equally significant to note is that in spite of being such a large state, and with some of the most fertile alluvial plains in the country, the contribution of agriculture to the state's GDP has kept on falling. In fact, most of the farmers from UP and neighbouring Bihar can often been found working in the fields of Punjab, Haryana and Chattisgarh.
Look around Mumbai and other metropolises as well. Most of the drivers, most of the MTNL/BSNL line staff are from UP. Talk to them and you will find that most of them have a farm back in their state. But declining agricultural fortunes have driven them to the city.
Talk to agricultural economists, and you will be told that unless rates of return in agriculture are upped, this migration is bound to continue, even increase. The state needs to find ways to woo its people back. For that it has to make its economy grow. Unfortunately, Akhilesh hasn't been able to do this.
Somehow, the state's policies for agriculture have not been the most beneficial for farmers. Their output is not allowed to have significant value-add through the setting up of food processing plants. Some of the best food processing plants – which take the crop from UP – can be found in neighbouring Haryana. What this means is that Haryana has been more industry-friendly than UP has been.
Add to this the exploitation of sugarcane growers and the story of UP becomes one of rapacious exploitation.
Sadly, even organisations like Mother Dairy – which was originally set up as a division of NDDB (National Dairy Development Board) and later converted into a wholly-owned corporate subsidiary – preferred to source milk through middlemen than through milk cooperatives.
It is only recently that NDDB issued orders that Mother Dairy had to increase the share of its collection from milk cooperatives and not through middlemen. Hence the past has been one where UP's milk producers – often owners of 2-10 cattle – had to sell to middlemen who refused to pay them a decent price. That could be changing. But more on that later.
The declining share of agriculture coupled with the state's inability to woo industry in a big way have combined to leave UP poor. Its people feel exploited. And history often shows that exploited people often prefer to find security in group identities – often based on religion or caste.
If the budget and the state government can address these woes, it could alter the destiny of the people of this large state significantly.
For full coverage of Union Budget 2017 click here.
India
The Prohibition of Child Marriage (Haryana Amendment) Bill, 2020 was enacted following a Supreme Court ruling
India
Sarvesh Sevak hanged himself with a rope in his jail barracks on Sunday, police said
India
According to the Meteorological Department, several places in the two states, including their common capital Chandigarh, received heavy downpour in the 24-hour period According to the Meteorological Department, several places in the two states, including their common capital Chandigarh, received