New Delhi: Faced with an ambitious infrastructure augmentation road map, the Road Transport and Highways Ministry has made a strong pitch for doubling its budget allocation to about Rs 85,000 crore.
The ministry is firming up plans to build 30 kms of roads a day, besides other initiatives like greening of highways, setting of automated driving centres and project 'SMILE'.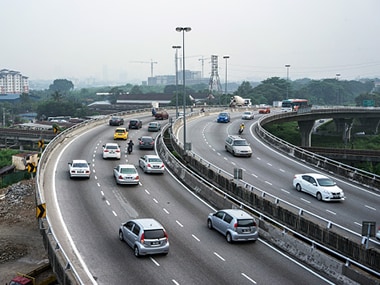 "The ministry has sought about Rs 85,000 crore budgetary allocation for 2016-17, citing the need to fast-track highways projects as per ever-increasing requirements," a source in the Road Transport and Highways Ministry said. The highways sector, one of the focus areas of the Narendra Modi government, saw a 48 per cent increase in outlay at Rs 42,913 crore in the 2015-16 Union Budget.
Out of the allocation for the current fiscal, the ministry has already utilised about 80 per cent of the allocated funds and the rest is likely to be used up by March 31, a Road Ministry official told PTI.
"The ministry has also pitched for additional cess to states, which this year was Rs 3,600 crore, but is likely to increase to Rs 12,500 crore," the source said, adding that for safe highway initiatives, the ministry has sought a provision of Rs 11,000 crore.
Concerned by an alarmingly high 5 lakh annual road accidents in the country, Road Transport and Highways Minister Nitin Gadkari had last week said the government will spend Rs 11,000 crore over 5 years to fix "black" accident spots.
"Road accidents cause an annual loss of Rs 55,000-60,000 crore, which amounts to 3 per cent of GDP. Mostly youth in the age bracket of 22-33 years lose their lives. To deal with such an alarming scenario, 726 black spots have been identified across the country, which will be fixed," Gadkari had said.
The Ministry has also sought a budgetary allocation of Rs 500 crore for the automated driving licence project. According to the minister, not just 30 per cent of driving licences in the country are "bogus", but shortage of drivers in India is at 22 per cent.
The government is "committed" to addressing all these issues and will set up 3,000 driving, vehicle fitness and pollution certification centres across the country where licences will be issued only after computerised tests.
The ministry also wants Rs 250 crore for implementation of cashless insurance for road accident victims, besides Rs 50 crore for research and development.
While tabling the Budget for 2015-16, Finance Minister Arun Jaitley had said, "It is no secret that the major slippage in the last decade has been on the infrastructure front. Our infrastructure does not match our growth ambitions.
I have, therefore, increased outlays for... the roads." The increased provisions have been made for the development of national highways, including projects relating to expressways and six-laning of crowded stretches of the Golden Quadrilateral and two-laning of highways works under the National Highways Development Project.
Prime Minister Narendra Modi recently laid the foundation stone of several key projects, including the Delhi-Meerut Expressway to be built at a cost of Rs 7,566 crore. He also kicked off another three important highway projects worth Rs 10,166 crore to decongest Delhi, including eastern and western peripheral expressways.
The government also has plans to build several green expressways, in addition to the existing expressways, including the Delhi-Dehradun stretch.
Also, a 1,000-km highway at a cost of Rs 11,000 crore to link Chardham and a 1,000-km highway project to connect the Buddha Circuit in Uttar Pradesh and Bihar are in the works. At the same time, the government is working on speeding up the road building pace, which is 18 km a day at present, to 30
km by March.
PTI
Firstpost is now on WhatsApp. For the latest analysis, commentary and news updates, sign up for our WhatsApp services. Just go to Firstpost.com/Whatsapp and hit the Subscribe button.
Updated Date: Feb 13, 2016 13:19:00 IST