By C. Sasidhar
'Make in India' has been poised as one of the most ambitious programs launched by our Honorable Prime Minister, pledging lower barriers to doing business and promoting foreign investment, thereby transforming Asia's third largest economy into a manufacturing powerhouse like China.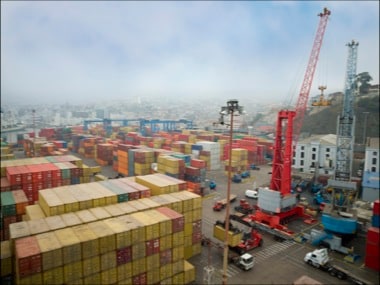 However to support the 'Make in India' campaign, India needs enhanced infrastructure facilities which includes effective and efficient connectivity between ports, better road and rail connectivity between ports and plants and initiatives from the government to create more facilities to enable the seamless inward and outward movement of goods. In an economy, for any manufacturing or trade activity to breed and grow, robust backing of equally efficient infrastructure and logistics sector plays an extremely critical role.
Ports are economic multipliers, as they induce factors in development of an area thus providing space for industrial clusters. Thus ports create a kind of value chain of interrelated activities of the hinterland that are mutually supportive and continuously growing. In developing countries, the lack of proper infrastructure, including ports, can mean the difference between sustainable progress and persistent under-development.
In November 2015, India was re-elected un-opposed to the Council of the International Maritime Organization (IMO). It was also highlighted by the Govt of India delegates that India's Overseas Maritime Trade which is currently about 600 Million Tonnes Per Annum is expected to be quadrupled to about 2200 Million Tonnes by the Year 2020 which clearly revealed that Indian Maritime Trade is observing an upward graph and is steadily progressing. Therefore, to meet the requirements of the trade, the country's infrastructure along with the capacity of the existing Ports have to be increased and many more new Ports have to be constructed.
Until 28 June 2015, the construction of the port was exempted from the payment of Service Tax. However, in the General Budget of 2015-2016, the Union Government, Department of Revenue, withdrew the exemption resulting in levy of Service Tax on the construction of Ports (Infrastructure).
In accordance with the vision of the Government of India, and as a part of 'Ease of Doing Business', the existing provisions relating to levy of service tax on construction of Port should be revisited and preferably the exemptions which were available prior to 01 March 2015, should be restored which will surely help investors to review the sector with more significance from the business investment perspective.
The transport sector, especially roads, rail and ports would all benefit from the positive economic outlook facilitated by enhanced investment in infrastructure, focus on improving rural India, ease of doing business, Make in India related impetus and a more predictable tax environment.
Encouraging coastal shipping through subsidies to manufacturers/exporters will not only decongest the roads but also promote energy saving and cost efficiency in transportation. The Union Government had evolved the SAGARMALA concept with a clear focus on port infrastructure enhancement, setting up of new ports and efficient evacuation to and from the hinterland.
The SAGARMALA concept was an extremely encouraging move and we are extremely bullish that projects of similar nature would be key to revolutionising the Maritime trade in India. Also considering the fact that construction of ports is a very expensive proposition with long gestation periods, payment of Service Tax @ 14.5% would be an additional expenditure discouraging project developers in undertaking construction activities at ports and hence the same should be revised.
Project financing and fast tracking of all the pre-approved major projects will be highly appreciated by the industry as it will directly benefit the logistics industry and hence the economy at large. Addressing the key regulatory challenges including lack of policies to push development in coastal shipping, inland waterways and ports and thereby developing these modes to leverage their full potential will be crucial in enhancing the readiness of the logistics sector thus building a more resilient economy.
The writer is Managing Director of Krishnapatnam Port Company. His views are personal.
Firstpost is now on WhatsApp. For the latest analysis, commentary and news updates, sign up for our WhatsApp services. Just go to Firstpost.com/Whatsapp and hit the Subscribe button.
Updated Date: Feb 22, 2016 17:04:00 IST