British tanker Stena Impero free to leave - Iran ambassador to UK
DUBAI (Reuters) - The detained British-flagged tanker Stena Impero is 'free to leave,' Iran's ambassador to the United Kingdom, Hamid Baeidinejad, said on Twitter on Monday.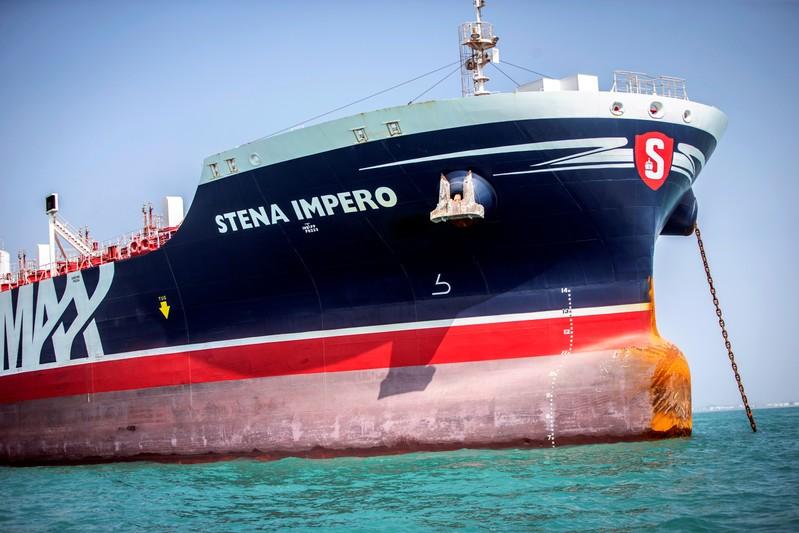 DUBAI (Reuters) - The detained British-flagged tanker Stena Impero is "free to leave," Iran's ambassador to the United Kingdom, Hamid Baeidinejad, said on Twitter on Monday.
"The British-flagged tanker 'Stena Impero', pursuant to the completion of the judicial and legal process, is now free to leave," he wrote.
The seizure on July 19 of the ship, two weeks after Britain detained an Iranian tanker off Gibraltar, ratcheted up tensions in the region in the wake of attacks on other merchant vessels that Washington blamed on Tehran.
Iran denied responsibility for those attacks, which took place along a vital international oil shipping route.
An Iranian government spokesman said on Monday that all legal steps had been completed for the release of the detained tanker but that he did not know when the vessel would be released, Iranian media reported.
"The legal work and administrative procedures for the release of the English tanker have been completed but I have no information on the time of the release," said government spokesman Ali Rabiei, according to semi-official news agency ILNA.
The semi-official Fars news agency quoted Rabiei as saying: "The legal work for the oil tanker is over ... and the oil tanker can move, and the decisions indicate the end of the detention." He did not elaborate.
Relations between the United States, its allies and Iran have been gradually more strained since Washington withdrew last year from a global pact aimed at reining in Tehran's nuclear programme and imposed sanctions on it aimed at shutting down Iranian oil exports.
(Reporting by Dubai newsroom and Babak Dehghanpisheh in Geneva; Editing by Hugh Lawson and David Evans)
This story has not been edited by Firstpost staff and is generated by auto-feed.
Find latest and upcoming tech gadgets online on Tech2 Gadgets. Get technology news, gadgets reviews & ratings. Popular gadgets including laptop, tablet and mobile specifications, features, prices, comparison.
World
By Carl O'Donnell and Jonathan Allen NEW YORK (Reuters) - The governors of New York and Florida sought to accelerate the slower-than-expected rollout of coronavirus vaccines by warning hospitals on Monday that they would reduce future allocations to those that fail to dispense shots quickly enough. In New York, hospitals must administer vaccines within a week of receiving them or face a fine and loss of future supplies, Governor Andrew Cuomo said. "I don't want the vaccine in a fridge or a freezer, I want it in somebody's arm," the governor said
World
By Michael Holden LONDON (Reuters) - A British judge ruled on Monday that WikiLeaks founder Julian Assange should not be extradited to the United States to face criminal charges including breaking a spying law, saying his mental health problems meant he would be at risk of suicide. U.S. authorities accuse Australian-born Assange, 49, of 18 counts relating to the release by WikiLeaks of vast troves of confidential U.S
World
By Steve Holland and Aziz El Yaakoubi WASHINGTON/RIYADH (Reuters) -A breakthrough has been reached in Qatar's three-year-old dispute with Saudi Arabia and three other Arab countries and an agreement aimed at ending their rift is to be signed in Saudi Arabia on Tuesday, a senior Trump administration official said. The development is the latest in a series of Middle East deals sought by Washington - the others involving Israel and Arab states - aimed at building a united front against Iran. As part of the deal, Saudi Arabia will reopen its airspace and land and sea border to Qatar as of Monday, Kuwaiti Foreign Minister Ahmad Nasser al-Sabah said on Kuwait TV ahead of a Gulf Arab summit in Saudi Arabia on Tuesday.