Britain and Canada sign post-Brexit rollover trade deal
By Kate Holton and Amran Abocar LONDON/TORONTO (Reuters) - Britain and Canada struck a rollover trade deal on Saturday to protect the flow of $27 billion-worth of goods and services between them after Brexit, and vowed to start talks on a bespoke agreement next year. As Britain prepares to end its transition out of the European Union on Dec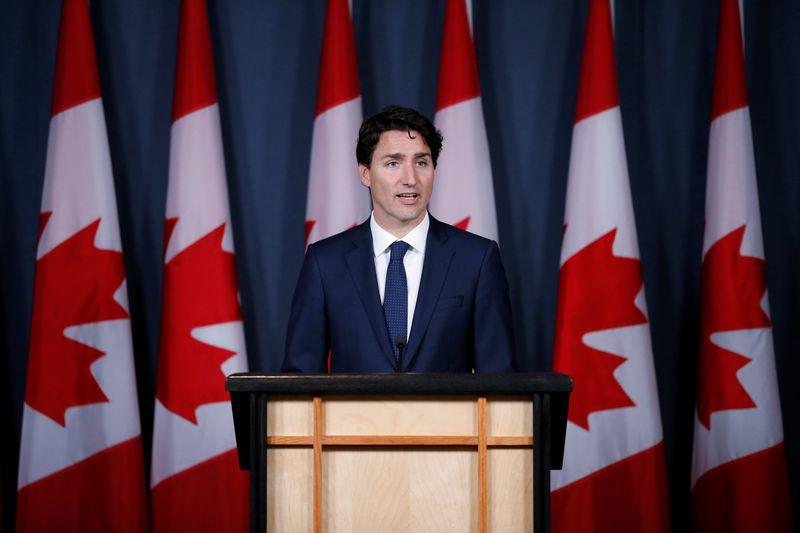 By Kate Holton and Amran Abocar
LONDON/TORONTO (Reuters) - Britain and Canada struck a rollover trade deal on Saturday to protect the flow of $27 billion-worth of goods and services between them after Brexit, and vowed to start talks on a bespoke agreement next year.
As Britain prepares to end its transition out of the European Union on Dec. 31, it has negotiated multiple rollover bilateral deals to maintain trade, with many simply replacing the terms the bloc had already agreed.
British Prime Minister Boris Johnson joined Canada's Justin Trudeau and their respective trade ministers on an online call to mark the deal, which paves the way for a tailor-made agreement covering more areas such as digital trade, small businesses, the environment and women's economic empowerment.
"Today's agreement underpins 20 billion pounds worth of trade and locks in certainty for thousands of jobs," Liz Truss, the UK's international trade secretary, said in a statement.
Her Canadian counterpart Mary Ng said the transitional agreement "largely replicates" the EU deal on tariff reductions and provisions for labour and environment.
"We do want an ambitious, high level comprehensive trade agreement with the UK," Ng said, signalling Canada wanted similar terms to the EU deal.
Britain is Canada's fifth largest trading partner after the United States, China, Mexico and Japan.
Johnson is trying to shape a new "global Britain" that can strike out alone and negotiate better trade agreements than the EU as part of what he says is the benefits of its historic decision to leave the world's biggest trading bloc.
In less than two years it has agreed trade deals with 53 countries, accounting for 164 billion pounds ($217.82 billion) of British bilateral trade. Johnson's critics point out that many are largely the same as the EU deals.
The UK-Canada Trade Continuity Agreement will be subject to final legal checks before it is formally signed. "This is a good moment," Trudeau said.
($1 = 0.7529 pounds)
(Editing by Mark Potter and Mike Harrison)
This story has not been edited by Firstpost staff and is generated by auto-feed.
Find latest and upcoming tech gadgets online on Tech2 Gadgets. Get technology news, gadgets reviews & ratings. Popular gadgets including laptop, tablet and mobile specifications, features, prices, comparison.
Business
WASHINGTON (Reuters) - U.S. job openings increased moderately in September and layoffs appeared to abate, pointing to a gradual labor market recovery from the COVID-19 pandemic.
Business
By Balazs Koranyi and Francesco Canepa FRANKFURT (Reuters) - Taking a break from fighting the coronavirus crisis, the world's top central bankers will attempt to resolve the existential questions of their profession this week as they tune into the European Central Bank's annual policy symposium. Having struggled to lift anaemic inflation for years, officials including the heads of the ECB, the U.S. Federal Reserve and the Bank of England will attempt to figure out why monetary policy is not working as it used to and what new role they must play in a changed world - be it fighting inequality or climate change.
Business
By Lawrence Delevingne BOSTON (Reuters) - Asian shares rose on Wednesday as hopes for a successful coronavirus vaccine lifted expectations of a swift reopening of the global economy, which would help the region's heavily trade-dependent markets.