Bringing about change doesn't mean weeding out people, says Mohit Khattar of Nature's Basket
Gourmet is not for the mass market. We are not catering to the price sensitive customer but to the niche, affluent ones.
Success Quotient is a weekly feature that appears every Friday on Firstpost, which looks at the pains and joys en route to success for a head honcho - whether a CEO, MD or an entrepreneur. The column looks at the ideas that helped launch a company, its highs and lows.
To head a company at its tenuous juncture and make its presence felt in the marketplace is a mandate that Mohit Khattar, MD, Godrej's Group's Nature's Basket, run by Natures Basket Pvt Ltd, was entrusted with and he is happy at the way things have panned out for the company so far. What worked for him were his work experience and ethics, besides home-spun truths that his parents instilled in him. In a conversation with Firstpost, he shares his learning and what it takes to be a leader and manage people when goals are being recast and vision reconstructed.
Excerpts from the conversation:
What did you want to do after completing your studies in engineering and management?
When I was in my third year of engineering, I realised that I was not cut out for it. When I used to go for industrial training and work at lathes, I just could not visualise myself working in that field at all. I was good at studies, consistent and motivated to do well. In the 80s, there was not much of an option for students. Either it was engineering or medicine. My parents suggested the former and I went with it. I followed the herd mentality and went in for an MBA after that. But it provided me with clarity of what I wanted to pursue as a career. I got an offer from Tata Administrative Services, an opportunity to work on many projects in several companies from the Group. It was at Titan, a lifestyle brand, that I learnt a lot. Its work culture, ethics, the kind of people I worked with excited and fascinated me. It was a group of people I loved to work with and learnt so much from.
How has that learning translated at the workplace since?
A lot of my learning has come from the companies I worked with initially. Titan is way up there on the charts as a company I worked with. Their ethic towards work and goals, implementing them, motivating people are takeaways from the job. When I joined Nature's Basket, it was a very small company. There was hardly a team to speak of. I brought in a number of changes like the product portfolio, sourcing of products, IT services, number of outlets, etc. The conventional thinking was that of a retailer and we were doing gourmet products that were imported. That was not cost effective on several fronts. The smarter way was to buy it from third-party sources. These were the early calls. I learnt from Titan to set up concepts that take us to the customer.
What changes are you happy about that you made at Nature's Basket?
When I joined the firm, business was under Rs 20 crores then. There was hardly a topline or bottomline to talk about. The objective was to turn it around and grow it to become a relevant from a business and customer perspective. The kind of losses we were under then did not give any confidence for much to look forward to as a business. So the option was to make it relevant or exit the business. The idea was to stick to the core business of gourmet but enlarge product range, layout of the store, create better selling and buying options but do it all with consistency.
What leadership qualities helped you achieve your goal?
Bringing about a change does not mean weeding out people. You identify opportunities, bring in fresh talent if that is lacking and get people in the firm to believe in the vision and work towards achieving those goals. As a leader, one's job is to align people to the vision. A big obstacle that a leader faces is to get people to believe in his vision for the company. But when people do, they become force multipliers. To achieve that, one must be transparent, share the vision and bring about processes that can help achieve that.
Who is your customer?
Gourmet is not for the mass market. We are not catering to the price sensitive customer but to the niche, affluent ones. We offer multiple choices across categories. You will get some of our products at other stores too but our quality is the hallmark. The gourmet industry size in India is anywhere between Rs 1500 crore to Rs 5000 crore currently. We are the largest player in this market in terms of size, numbers of stores, quality, product range, categories, etc. But I am happy with the competition as it provides the customers and the industry players who drive others harder.
What are some of the customer requests that have helped you widen your product range?
Like every other retail player, we too maintain a report of the requests made by customers and if feasible, it becomes part of the product category. Sometimes we have kept the product on our shelves even though the requests have been few if it has a longer shelf-life. Like chicken jam, for instance. It is chicken spread and a very niche product. After a customer request, we have made that available in some stores.
What are your growth plans?
We would like to grow 30 percent year on year in the next two years. We are aligned and focus on that.
How do you unwind?
I have a fixed schedule, where I start my day at the gym, drop my daughter on my way to work and reach office by 9.30 and am here till 8 pm. Occasionally, I read – both fiction and non-fiction. As a family, we like to eat out and experiment with different cuisines. I have been health conscious all along and working with Nature's Basket has introduced me to fascinating people in the industry and learn new things from them. As a business, we sell around 10,000 products and some of them are rare-to-get ones. If I don't know about some of them, you ask. It is that simple.
What is your advice to your daughters?
I am particular about consistency. Choose whatever you want to study or pursue in life but you have to be consistent with it. Else, you will not get where you want to in life.
Find latest and upcoming tech gadgets online on Tech2 Gadgets. Get technology news, gadgets reviews & ratings. Popular gadgets including laptop, tablet and mobile specifications, features, prices, comparison.
Business
Chef Sanjeev Kapoor, a brand in himself, is the man that most turn to for cooking instructions: simple, clear and a no-hassle method of cooking.
Success Quotient
Started purely as a means to earn pocket money, the then 18-year-old college student turned part-time entrepreneur Nina Lekhi put her experience of working for a while with designers and also in a store to do something different in the category of handbags.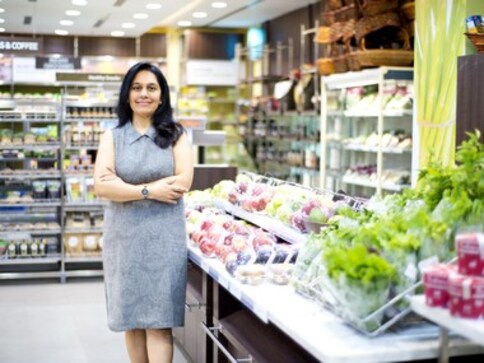 Business
Godrej Nature's Basket hopes to close the current financial year with a Rs 500 crore turnover.