Brexit impact: Will Tata Sons for review of business of all 19 firms in UK
The salt-to-software group said it has been operational in the UK since 1907 and has 19 of its companies present there
Tata Sons on Friday termed access to markets and skilled workforce as "important considerations" after Britain voted in favour of leaving the European Union and said that each of its 19 firms having interests in the UK will do a business review.
"There are 19 independent Tata companies in the UK, with diverse businesses. Each company continuously reviews its strategy and operations in the light of developments, and will continue to do so," a Tata Sons spokesperson said in a statement.
"Access to markets and skilled workforce will remain important considerations," the statement said.
Tata Group stocks witnessed severe drubbing, plummeting by up to 13%, as the UK's vote to exit the European Union spooked investors given the conglomerate''s huge exposure to the region.
Tata Motors plunged 12.9%, Tata Steel tanked 10.89% and TCS dipped 4.81% on BSE.
Shares of Tata Elxsi plunged 9.21%, Tata Global Beverages (7.26%), Tata Chemicals (5.72%) and Tata Communications (5.34%).
The salt-to-software group said it has been operational in the UK since 1907 and has 19 of its companies present there.
Some of the most visible business interests of the over $100-billion Tata Group in the UK include the marquee automaker Jaguar Land Rover and Tata Steel.
According to estimates, there could be a significant impact on JLR following Brexit vote.
Jaguar Land Rover in a separate statement said it is business as usual and they will manage the long-term impact and implications of the decision, insisting nothing will change overnight for it and the automotive industry.
"We remain absolutely committed to our customers in the EU. There will be a significant negotiating period and we look forward to understanding more about that as details emerge," JLR said.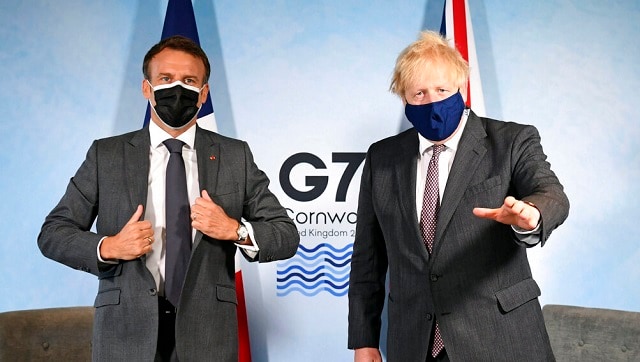 World
Britain and the EU are in a spat over post-Brexit trade arrangements that could see British sausages banned from entering Northern Ireland, the only part of the UK that borders the 27-nation bloc
Business
The investment in 1MG strengthens Tata's ability to provide high quality healthcare products and services in e-pharmacy and e-diagnostics space through a technology-led platform, said CEO of Tata Digital