Brazil to promote ethanol in Bolsonaro visit to India - Unica
By Marcelo Teixeira SAO PAULO (Reuters) - Ethanol will be one of the main items on the agenda of Brazilian President Jair Bolsonaro's official visit to India in January, sugar and ethanol industry group Unica said on Tuesday.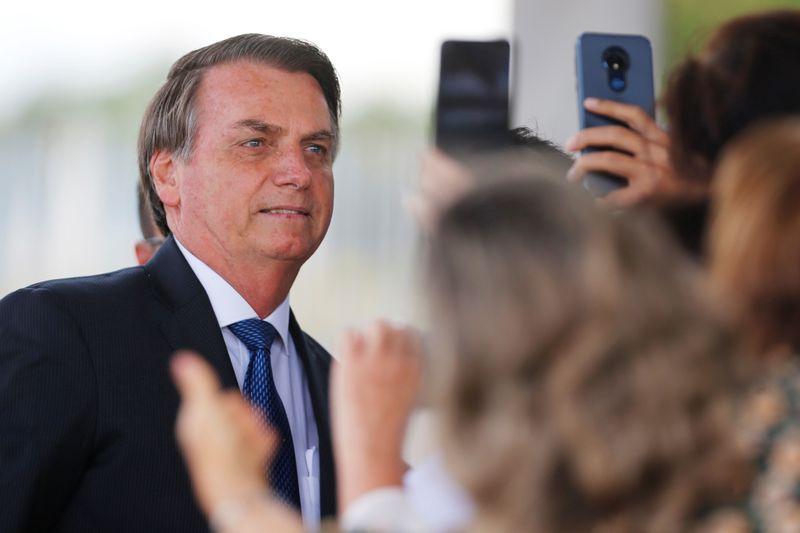 By Marcelo Teixeira
SAO PAULO (Reuters) - Ethanol will be one of the main items on the agenda of Brazilian President Jair Bolsonaro's official visit to India in January, sugar and ethanol industry group Unica said on Tuesday.
Unica's head, Evandro Gussi, said the Brazilian government will discuss ways to assist India in boosting its ethanol program, such as increasing production and blending ethanol with gasoline, which could help reduce the country's sugar stocks and boost global prices for the sweetener.
"India could have large economic and environmental benefits boosting its ethanol program," said Gussi, who will be in India with Bolsonaro in the visit.
An increase in production and blending of ethanol in India would reduce the need for the Indian government to subsidize the sugar sector and also reduce its oil and gasoline import bills, Gussi said.
Larger ethanol blending in gasoline, he said, could also help reduce pollution in large cities, a critical problem in India.
Unica estimates that ethanol use in Brazil in 2019 will lead to total emissions reductions of 80 million tonnes of carbon. Brazil blends gasoline with 27% of ethanol, and 90% of the car fleet can run on 100% hydrous ethanol due to flex engines.
"India could sharply reduce pollution with ethanol. It is a low hanging fruit for them," he said.
The Brazilian government is currently questioning India's subsidies to the sugar sector at the World Trade Organization, saying official financial help, particularly for sugar exports, hurts trade rules and keeps global prices low.
Julio Maria Borges, a sugar and ethanol expert at Sao Paulo-based consultancy JOB, said adding flexibility to the sugar sector with the possibility to also produce ethanol could prevent production at a loss for some countries, including India.
He said in a report that Brazil sugar exports in the current season would not have generated enough money for mills to cover costs plus depreciation. Ethanol sales, however, would have covered those costs and provide gains of around 15%.
(Reporting by Marcelo Teixeira; editing by Steve Orlofskyand Leslie Adler)
This story has not been edited by Firstpost staff and is generated by auto-feed.
Find latest and upcoming tech gadgets online on Tech2 Gadgets. Get technology news, gadgets reviews & ratings. Popular gadgets including laptop, tablet and mobile specifications, features, prices, comparison.
World
By Kate Holton LONDON (Reuters) - The post-Brexit woes facing Scotland's fishing industry deepened on Saturday as its biggest logistics provider, DFDS Scotland, said it would halt exports to the European Union through one of its main services until at least Wednesday. Previously the company had said it would take until Monday to resume its "groupage" export service - which allows exporters to ship multiple products in a single consignment - while it tries to fix IT issues, paperwork errors and a backlog of goods. DFDS's move represents another blow for Scottish fishermen who this week warned that their businesses could become unviable after Britain shifted to a less integrated trade deal with the EU at the turn of the year
World
VATICAN CITY (Reuters) - Pope Francis said on Saturday he planned to be vaccinated against COVID-19 as early as next week and urged everyone to get a shot, to protect not only their own lives but those of others.
World
By Rich McKay (Reuters) - A man photographed carrying off the Speaker's lectern during the Capitol Hill riots was arrested late Friday, while a top Democratic lawmaker on Saturday called on mobile carriers to preserve social media content related to the riots. Dozens of people have been charged following the storming of the Capitol on Wednesday, with the FBI asking the public for help identifying participants, given the proliferation of images of the riots on the internet.