Boeing sees foreign orders making 40 percent of defence sales in a decade
By Mike Stone and Andrea Shalal FARNBOROUGH (Reuters) - U.S. aerospace giant Boeing Co could generate more than 40 percent of its defence sales from international customers in a decade, the head of international sales told Reuters.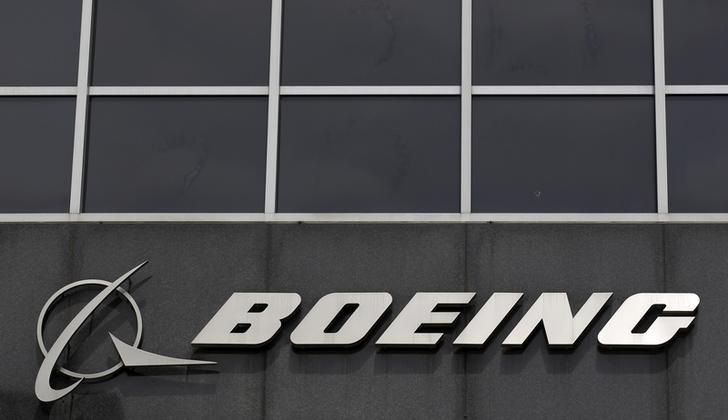 By Mike Stone and Andrea Shalal
FARNBOROUGH (Reuters) - U.S. aerospace giant Boeing Co could generate more than 40 percent of its defence sales from international customers in a decade, the head of international sales told Reuters.
Boeing is the world's largest planemaker and its commercial backlog is nearly 10 times that of its defence business. The company on Thursday said it won 528 new orders and commitments for commercial aircraft at the Farnborough Airshow this week.
International demand for weapons and defence products and services is also increasing steadily, Gene Cunningham, Boeing's head of international sales, said in an interview.
Boeing's Defense, Space & Security business had a backlog of $50 billion with 36 percent destined for non-U.S. customers, the company said on its first quarter earnings call. That compares to $415 billion in commercial backlog.
Over the next 10 years, Cunningham said, "We see the international (sales) number growing to somewhere in the 40 percent range, but we also see the company growing."
Big wins in the domestic defence sector could alter that forecast, he said.
Boeing is focused on several large competitions in Europe, including Germany's push to buy around 90 new jets to replace its ageing Tornado fleet.
Germany has said it will prioritise a purchase of more Eurofighter jets, but is also looking at Boeing's F/A-18E/F and F-15 fighter jets, as well as Lockheed Martin Co's stealthy F-35 fighter.
Boeing is also eyeing a potential sale of Apache helicopters to Poland as a part of the ongoing KRUK competition that could be decided in 2019. Cunningham said Poland could order about 32 choppers, although numbers have ranged from 16 to 64.
Boeing is also eyeing Switzerland's competition for a new fighter jet, Cunningham said.
Under its Air2030 programme, Switzerland is seeking to procure new combat aircraft and ground-based air defences in a programme valued at up to 8 billion Swiss francs ($8.08 billion).
Switzerland needs to replace its fleet of Boeing McDonnell Douglas F/A-18C and D Hornets and outdated Northrop F-5 Tigers, all of which are scheduled to be retired in the 2020s.
Boeing has annual revenues of about $95 billion dollars.
(Reporting by Mike Stone and Andrea Shalal in Farnborough, England)
This story has not been edited by Firstpost staff and is generated by auto-feed.
Find latest and upcoming tech gadgets online on Tech2 Gadgets. Get technology news, gadgets reviews & ratings. Popular gadgets including laptop, tablet and mobile specifications, features, prices, comparison.
World
OTTAWA (Reuters) - Canadian Prime Minister Justin Trudeau on Friday said he will continue to stand up against China's "coercive diplomacy" and its human rights abuses in Hong Kong and Xinjiang after being rebuked by Beijing for similar comments earlier this week. "We will stand up loudly and clearly for human rights all around the world, whether it is talking about the situation faced by the Uighurs, whether it is talking about the very concerning situation in Hong Kong, whether it's calling out China for its coercive diplomacy," Trudeau said in a news conference. (Reporting by Steve Scherer and Julie Gordon, Editing by Franklin Paul)
World
By Caroline Pailliez PARIS (Reuters) - Solene Tissot, a 19-year-old student in Paris, will obey the curfew imposed to fight COVID-19, but she has one request for her country's leaders: don't blame young people for the second wave of the virus. "There's been this kind of assigning guilt to young people," she said on Friday, hours before the new curfew was to come into force in Paris and major French cities. "I reject that." After a lull over the summer, the rates of transmission of coronavirus are going up in many parts of Europe and officials have identified social interactions between young people as a source of the resurgence.
World
By Adrian Portugal and Eloisa Lopez MANILA (Reuters) - Jailed Philippine activist Reina Mae Nasino wanted to hold her three-month-old daughter for the last time before she was laid to rest on Friday but she could not. Heavily armed prison officials guarding her refused to uncuff her despite pleas from her family and human rights supporters, who have decried what they described as inhumane treatment of Nasino and other mothers in Philippine jails.