Boeing CEO says Embraer deal offers thrifty suppliers more volume
By Tim Hepher and Eric M.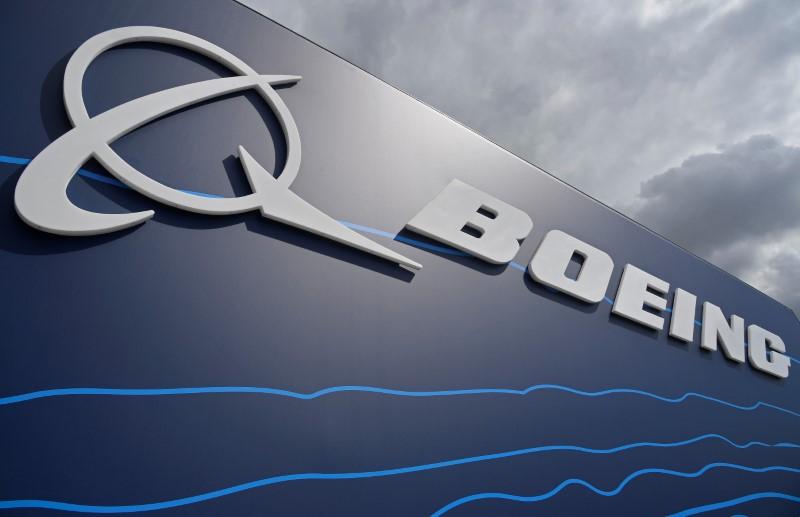 By Tim Hepher and Eric M. Johnson
FARNBOROUGH, England (Reuters) - Boeing Co sees scope for additional cost savings from suppliers as it expands through the proposed acquisition of the regional jet business of Brazil's Embraer SA , Chief Executive Dennis Muilenburg told Reuters on Tuesday.
The comment from the head of the world's largest plane maker is the latest sign of pressure on aerospace suppliers to share the benefits from fast-rising demand for jetliners, highlighted by bullish market forecasts published by Boeing on Tuesday.
Boeing and Airbus have been negotiating price cuts from suppliers as an industry boom leaves an unprecedented eight-year backlog of unfilled orders, and now their efforts to expand outside their traditional market look set to extend that trend.
"The key thing you are going to see is that through the combination between Boeing and Embraer, we will be able to increase volume for our supply chain, which is generally going to be beneficial. And that beneficial volume should also turn into more affordability and competitiveness," Muilenburg said in an interview at the Farnborough Airshow.
Although a broader tie-up, Boeing's tentative deal with Embraer echoes Airbus's decision last year to expand into a lower tier by buying Bombardier's 110- to 130-seat CSeries jet. The Embraer deal is due to close by end-2019.
Asked if he expected further price cuts, beyond those already agreed with suppliers, Muilenburg said: "Yes. Because you'll see additional increases in volume. And a very typical discussion we'll have with our supply chain is, if there's an opportunity for them to increase volume or access to additional platforms, if we can gain a cost advantage in the marketplace, that's a mutual benefit."
Boeing, meanwhile, continues to "keep a very close eye" on consolidation among its major suppliers and will continue to expand where necessary, he said.
Analysts say the effective creation of a two-tier duopoly, with Boeing and Airbus both expanding into smaller jets, could push more suppliers to merge to maintain negotiating power.
"In some cases, consolidation can be beneficial where it allows the supply chain to take costs out. If we get to a point where consolidation is reducing our sources to a level where we can't stand, we've had the opportunity to build new sources of supply. We always have that flexibility," Muilenburg said.
Muilenburg suggested Boeing would continue to push into areas traditionally dominated by suppliers, bringing some areas of production in-house in a process dubbed vertical integration.
Some aerospace suppliers have been rattled by Boeing's recent moves to integrate parts. In the most recent example, it set up a joint venture with France's Safran SA to break into the highly concentrated market for auxiliary power units.
"We are very targeted in that area," Muilenburg said, when asked where he would set the limits for such expansion.
Boeing has 30-40 categories or "verticals" across its platforms and when deciding where to invest, it considers whether there is a good services business attached, he said.
Muilenburg said Boeing would offer services to airlines operating not only Boeing jets but Airbus jets, mirroring remarks by its European arch-rival that it was prepared to provide data services on Boeing planes. Both companies are building up services that benefit from a wide pool of data.
RESILIENT DEMAND
Boeing earlier unveiled a higher 20-year demand forecast for passenger jets driven by an expanding middle class.
Muilenburg, who said on Sunday he was concerned about recent protectionist trade rhetoric, said there was no reason to soften the forecast.
"Those trends that we've talked about are proving to be sustainable even when there's tough trade rhetoric around the world, when there are geopolitical issues that are being addressed and brought to the surface," Muilenburg said.
Boeing became embroiled in a trade spat last year when it claimed Canadian planemaker Bombardier had billions of dollars in illegal government subsidies, only to find itself getting drawn into a row with the UK over Bombardier jobs.
Muilenburg said relations remained sound with Britain, where Boeing had doubled investments.
He confirmed Boeing was holding discussions over replacing its six British E-3D Sentry airborne early warning planes with Boeing E-7 Wedgetail jets.
"It's a lesson," he said, referring to the Bombardier matter and the ripple effect regional geopolitical spats can have on a global business in a world "becoming more and more networked".
But he said Boeing would do "exactly the same" if given the chance to rethink the trade claim, which was overturned by a U.S. tribunal, adding it had acted against unfair practices.
(Reporting by Tim Hepher and Eric M. Johnson; Editing by Mark Potter, Jan Harvey and Jonathan Oatis)
This story has not been edited by Firstpost staff and is generated by auto-feed.
Find latest and upcoming tech gadgets online on Tech2 Gadgets. Get technology news, gadgets reviews & ratings. Popular gadgets including laptop, tablet and mobile specifications, features, prices, comparison.
World
By Guy Faulconbridge and Kate Holton LONDON (Reuters) - Rich countries could be back to close to normal by late 2021 if a COVID-19 vaccine works, is ready soon and distributed properly at scale, Microsoft founder Bill Gates said on Tuesday. "By late next year you can have things going back pretty close to normal - that's the best case," Gates, 64, told The Wall Street Journal CEO Council. "We still don't know whether these vaccines will succeed," Gates said.
World
By Rupam Jain (Reuters) - Taliban and Afghan government-backed negotiators have agreed on a broad code of conduct to advance the intra-Afghan peace talks in Qatar, even as key differences between the two warring sides remain, three official sources told Reuters on Tuesday.
World
MOSCOW (Reuters) - Russian rights groups on Tuesday called on the authorities to stop using home searches as a tactic to intimidate opponents after a journalist set herself on fire following a police raid of her apartment last week. Irina Slavina, editor-in-chief at a small news outlet in the city of Nizhny Novgorod, self-immolated in front of the local branch of the interior ministry in Nizhny Novgorod last Friday after blaming Russian authorities for her death in a Facebook post