BMW executive Markus Duesmann tasked with reviving Audi
FRANKFURT (Reuters) - Volkswagen on Friday installed former BMW executive Markus Duesmann to reinvent Audi after the German premium brand lost key engineering know-how and influence in the wake of the 2015 diesel-cheating scandal. Duesmann will become chief executive of Audi as well as take on board level responsibility for research and development at Volkswagen Group on April 1 next year, the Wolfsburg-based multi-brand group said on Friday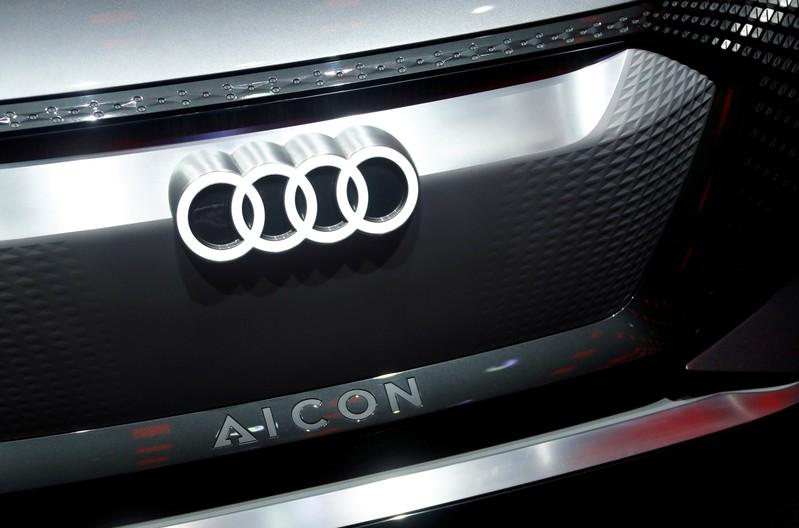 FRANKFURT (Reuters) - Volkswagen on Friday installed former BMW executive Markus Duesmann to reinvent Audi after the German premium brand lost key engineering know-how and influence in the wake of the 2015 diesel-cheating scandal.
Duesmann will become chief executive of Audi as well as take on board level responsibility for research and development at Volkswagen Group on April 1 next year, the Wolfsburg-based multi-brand group said on Friday.
Duesmann's job will include injecting new meaning into the company's advertising slogan "Vorsprung Durch Technik", or "advancement through technology", after Audi fired a raft of senior engineers in the wake of the diesel scandal.
"Markus Duesmann will do everything to unlock the huge potential of the Audi brand," Volkswagen Group Chief Executive Herbert Diess said at a press conference in Wolfsburg on Friday.
Audi, based in Ingolstadt, Bavaria was a major research and development hub within Volkswagen, setting standards in aerodynamic efficiency, lightweight aluminium construction, dual-clutch gearbox technology and four-wheel drive systems.
But the premium brand struggled after it was discovered that engine management software, used to manipulate exhaust emissions tests at VW, was designed by Audi engineers, leading to the firing of engineering chiefs and its long-term CEO.
After Audi chief Rupert Stadler was dismissed, Audi installed a sales expert, Bram Schot has interim CEO, and the brand struggled to redefine "Vorsprung durch Technik."
"We need to partly refine the 'Vorsprung'. We are working on it," Audi's sales chief Hildegard Wortmann told Reuters at the Frankfurt car show in September.
"We don't need little 'Vorsprung' stories, we need real 'Vorsprung' stories," Audi's current head of research and development, Hans-Joachim Rothenpieler told Reuters.
Audi's electric car e-tron as well as fuel cell technology are two pillars upon which Audi can resurrect its brand claim, Rothenpieler said.
Audi's works council chief, Peter Mosch, welcomed the appointment of an external manager. "From Markus Duesmann and his team we expect the stable utilisation of our factories and a more courageous approach."
(Reporting by Joern Poltz in Munichand Jan Schwartz in Wolfsburg; Writing by Edward Taylor; Editing by Thomas Escritt/Louise Heavens/Jane Merriman)
This story has not been edited by Firstpost staff and is generated by auto-feed.
Find latest and upcoming tech gadgets online on Tech2 Gadgets. Get technology news, gadgets reviews & ratings. Popular gadgets including laptop, tablet and mobile specifications, features, prices, comparison.
World
By Anna Koper and Joanna Plucinska WARSAW (Reuters) - Polish presidential challenger Rafal Trzaskowski tried to rally supporters of other opposition candidates to his centrist cause on Monday, vowing to hold the nationalist government to account ahead of what looks set to be a knife-edge run-off vote. Incumbent president Andrzej Duda, an ally of the ruling Law and Justice (PiS) party, led the first round of the presidential election on Sunday, but fell short of the 50% needed for outright victory, setting the stage for a run-off with Trzaskowski on July 12. "I am directing my words to all those who want change," Trzaskowski, the liberal mayor of Warsaw, told supporters in the city of Plock
World
By Tangi Salaün PARIS (Reuters) - A French court on Monday sentenced former Prime Minister Francois Fillon to five years in jail, three of them suspended, for embezzling public funds in a scandal that wrecked his 2017 run for president.
World
By Ben Kellerman NEW YORK (Reuters) - The coronavirus pandemic forced the cancellation of most in-person Pride events this year, but a march in Manhattan on Sunday drew thousands to the streets in solidarity with protesters demanding an end to racial injustice and police brutality. The second annual Queer Liberation March capped a month of Pride events, virtual and live, during which the celebration of LGBTQ lives has merged with the nationwide demonstrations ignited by the death of George Floyd in Minneapolis last month. People chanted "No justice, no peace" as the crowd snaked through Manhattan, while techno music blasted from a pickup truck carrying two DJs, one of whom led marchers in chanting "Black lives matter." Reclaim Pride Coalition, the group that organized the march, staged its first protest last year by walking in the opposite direction to New York City's marquee Pride parade, rejecting that event's large uniformed police presence and the ubiquitous corporate-sponsored floats that normally drift down Manhattan's 5th Avenue each year