Rio Olympics 2016: Big Data Analytics helping prevent sports injuries
Big Data Analytics predicts, monitors, and helps implement relevant intervention programs by analysing huge quantities of available data together with live data to help compute the possible risk of injury to yield personalised management of players' well-being.
By Muqbil Ahmar
Armenian weightlifter Andranik Karapetyan had to be rushed to hospital after he apparently dislocated his elbow during the men's 77-kg competition at the Rio 2016 Olympics. The 20-year-old weightlifter was in the reckoning for a bronze medal as he attempted to lift 195 kg in the clean and jerk event. Midway through the lift his left elbow appeared to pop out; he screamed in distress and was in tears before he was led off the platform by members of his coaching team.
In an intensive event such as Olympics, the chances of contracting grievous and long-standing injuries is high. Less than seven days into the Rio 2016 Olympics and a number of injuries have already taken place; there have been high-profile casualties with broken legs and collarbones as well as fractured backs and neck injuries. Fans have been left disappointed. The hearts of millions of sports supporters of various teams lie as shattered as their sporting idols. The damage is most seriously inflicted on teams, who lose out on the match-winning and crowd-pulling factor of their star players and are forced to re-strategise. It is also a financial setback for sponsors and the countries that the players represent. As the competition gets stiffer, the chances of injuries are going to grow manifold. According to a recent study, players lose between 20 and 35 percent of their salaries due to injuries, with 10% of these injuries being serious, causing long-term harm.
And it is not only the big league players who are affected. Mushtaque Ahmad, a budding pacer from Patna, represented his university in 2009. He quickly became a local hero, drawing comparisons with the likes of Botham and Imran Khan. Mushtaque quickly climbed the ladder and was in the reckoning for representing his state in 2009. Things were indeed bright for the young fellow until disaster struck in the form of knee injury.
Could all this have been avoided? This is the question that a lot of technology buffs are trying to answer. A combination of latest technologies such as Big Data Analytics, Cloud and Internet of Things promises to help sports management teams avoid such setbacks by reducing the risk of injuries. No wonder, such technologies have featured high on Rio's list of priorities.
Rio Olympics 2016 : the most data-driven Games till date
Every facet of the Games will depend, to a certain extent, on the capture of data and its use. Among the data technologies to feature most prominently during the Olympics are sensors, heart rate monitors, GPS trackers, and smart glasses. As the Games get superior and more improved than ever before, the intervention of modern technologies such as Big Data will also play a much bigger role as technological developments significantly affect sports.
Kitman Labs has collaborated with several Olympic teams to prevent future sports injuries by using Big Data and Analytics. Founded in November 2012, the sports and data technology company Kitman Labs uses a unique Athlete Optimization System. This system allows team performance directors, coaches and trainers to understand how athletes are responding physically, as well as mentally to the stresses endured during training and exercise at levels of high competition.  Any signs of negative response can trigger the staff to adjust an athlete's training and recovery program to proactively avoid injury. Kitman Labs CEO Stephen Smith says: "This new technology is able to prevent injuries through data and analytics."
How Big Data Analytics is used to monitor players
Players are made to wear a non-obtrusive vest equipped with sensors; thus, all vital parameters are recorded and analysed. Not only that, actionable data is also collected from various others sources as well such as video, text, and historical structured and unstructured data. All that produces real-time analytics that a physio or physical trainer would find useful in managing the well-being of a player.
Generally, there are several factors that can result in sports injuries—exhaustion during training, hydration levels, weather, age of the player, and technique. Data is compiled from different sources such as trainings, physical fitness tests, matches, demographics, and location.
A statistical formula is applied to derive the risk of injury. The risk of each kind of injury for a player is considered and presented with simple representations to the team coaches and physiotherapists. They are also given the possible reasons for the risk, so that suitable remedial measures can be taken. The simulation capability enables trainers and physiotherapists to comprehend problematic areas.
The new Cloud-based Big Data tool Improves efficiency in player treatment with an injury catalog, which helps in managing injury and treatment and registers the data of each player to help physiotherapists track critical health parameters. Sports organizations can help identify weaknesses or changes in performance early on, maximise player availability, and consequently prevent injury. The technology provides sports organizations greater visibility into players' health parameters, including emerging trends and growing risks. Big Data Analytics predicts, monitors, and helps implement relevant intervention programs by analysing huge quantities of available data together with live data to help compute the possible risk of injury to yield personalised management of players' well-being.
Injuries have the potential to destroy the career of a player. Many of these injuries are non-accidental in nature and they can be prevented if the risk is detected early. The new technology identifies the risks and on the basis of that Analytics, players can be placed in customised health and training programs to prevent injuries. It also extrapolates patterns, with mathematical predictive models forecasting possibilities of injury. Unlimited number of factors can be analysed and patterns and relations culled from the data. This capability will help team physiotherapists to identify problem areas for the player and the factors adding to the risk of injury. A key feature of the solution is also the ability to generate custom risk profiles for each athlete and define tailored personal intervention programs.
"In terms of evaluating bowlers when they come into the laboratory, we give them a comprehensive analysis of their alignment of their shoulders and their hips during delivery. It's a 3D analysis," said Sydney University cricket biomechanics researcher Dr Eduard Rene Ferdinands in a news article about the Big Data technology, and who specialises in motion analysis and dynamics modeling.
"We map the kinematics of the entire body and develop a performance profile including injury risk areas. Then sit down with the player and after evaluating their previous history of injury, work out whether any technical interventions are necessary," he added.
With the advent of this new technology, it is hoped that the participants of Rio 2016 Olympics will not have to warm the benches and miss out on the action on the ground. They should be up and running, realising the dreams of their lives.
With over 10 years of experience in the field of journalism, the author is a technology evangelist and avid blogger. 
Find latest and upcoming tech gadgets online on Tech2 Gadgets. Get technology news, gadgets reviews & ratings. Popular gadgets including laptop, tablet and mobile specifications, features, prices, comparison.
Sports
Kipruto, who is a policeman, was charged in a courthouse in Kapsabet, a town in the high-altitude Rift Valley region that is famous for producing a stream of world-class distance runners.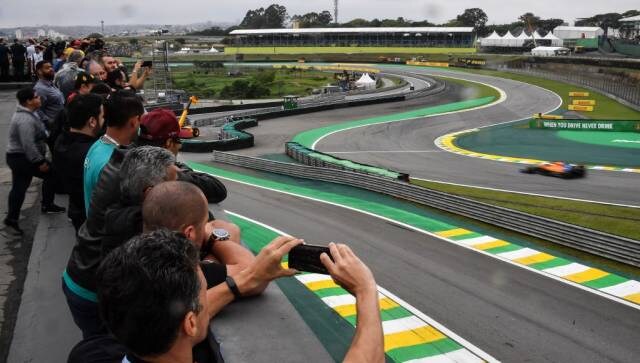 Sports
Sao Paulo's governor Joao Doria told reporters that mayor Bruno Covas would sign a contract renewal with US developer Liberty Media.
Sports
The legal action comes two years since the World Athletics governing body in 2018 banned Semenya and others with differences of sexual development (DSD) from races between 400 metres and a mile unless they take testosterone-reducing drugs.