Recapitalisation of public banks is high on priority, says Jaitley
Finance Minister Arun Jaitley today said recapitalisation to the tune of Rs 2.4 lakh crore in public sector banks to meet Basel III norms is a 'high priority' item for the government.<br />
Finance Minister Arun Jaitleytoday said recapitalisation to the tune of Rs 2.4 lakh crorein public sector banks to meet Basel III norms is a 'highpriority' item for the government.
"We suggested proposal for recapitalising of publicsector banks over the next four years...the government is also treating this as a very high priority item," he said at anevent organised by Canara Bank.
He said the capital would be raised by the banks withoutdiluting public sector characteristics in them. So, the government stake in the banks would remain over 51 percent.
"While the government will have majority stake, we willallow the public to invest directly in these banks," he said, adding this will help banks to expand and thereby increase thewhole process of financial inclusion.This programme has to be rapidly expanded so that theremaining 42 percent of financially excluded population isbrought into the banking system.At present, 58 percent of the population has bankaccount.
Jaitley in the Budget speech had said, "Financialstability is the foundation of rapid recovery. Our banking system needs to be further strengthened. To be in line withBasel-III norms, there is a requirement to infuse Rs 2,40,000crore as equity by 2018 in our banks. To meet this hugecapital requirement, we need to raise additional resources tofulfil this obligation."
While maintaining the public ownership, the capital ofthese banks will be raised by increasing the publicshareholdings in a phased manner through sale of shareslargely via retail to common citizens of this country, hehad said.
"We will also examine the proposal to give greaterautonomy to the banks while making them accountable," he had said.
PTI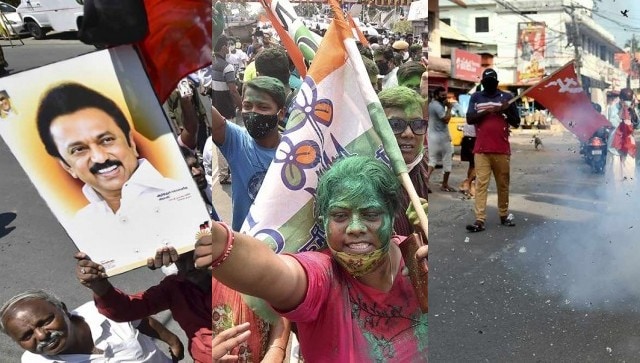 Politics
Though counting of results are still underway in several constituencies, West Bengal, Assam and Kerala were set to beat anti-incumbency, trends showed. Opposition parties are headed for comfortable wins in Tamil Nadu and Puducherry
India
The Congress leader accused Central Government of misreading and mishandling the COVID-19 situation in India and alleged that all early warning signs were ignored, including from scientists