Big Bull Rakesh Jhunjhunwala says 2018 will be a year of consolidation for the markets
Rakesh Jhunjhunwala believes post-repairs, ICICI Bank will log clean growth in FY 2020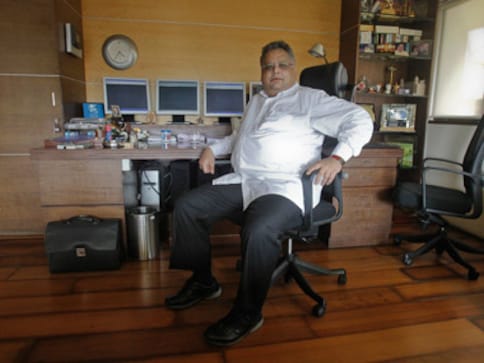 Ace investor Rakesh Jhunjhunwala, talking to CNBC-TV18 on Thursday, said that while 2017 was a year of extraordinary gains, 2018 will be a year of consolidation for the markets. Jhunjhunwala also said that there is an "unprecedented growth opportunity" in the banking sector and that he is "extremely bullish" on troubled banks.
The Big Bull said that once provisioning normalises for banks, earnings and multiples will expand. And that lenders with legacy problems will post strong growth going forward.
Furthermore, speaking about controversy-marred ICICI Bank, Jhunjhunwala told CNBC-TV18 that for the private sector lender, the current financial year will be a year of repairs. But financial year 2020 will be a year of clean growth.
Jhunjhunwala, whose net worth stood at $3 billion (about Rs 19,466 crore) as of March 2018, also said that he will give away 25 percent of his wealth by 2030, in stages.
"I personally feel that markets have had a tremendous rise. We are now correcting and if you look at the long rise that we have had, I would say it is a very poor correction. I believe that bull markets cannot end at these level of profits to gross domestic product (GDP)," Jhunjhunwala was quoted as saying by the news channel.
"Return on equity (ROE) and return on assets (ROA) of private sector banks with legacy problems will improve in FY19 and FY20," Jhunjhunwala added.
Read the full report on CNBCTV18.com
World
A senior Iranian official said on Monday that Iran and Russia have linked their interbank communication and transfer systems to help boost trade and financial transactions as both Tehran and Moscow are chafing under Western sanctions
World
Karam Ali Ahmad Salman, 18, was shot dead by 'the Israeli occupation near the settlement of 'Kedumim',' the Palestinian health ministry reported
India
The Uttar Pradesh Global Investors Summit 2023 is set to take place from February 10 to February 12. The event will be inaugurated by Prime Minister Narendra Modi, while President Droupadi Murmu will likely be the prominent guest during the closing ceremony