Biden criticizes Amazon for not paying federal taxes in 2018
By Nandita Bose WASHINGTON (Reuters) - Democratic presidential hopeful Joe Biden on Thursday took umbrage with e-commerce giant Amazon.com Inc's $0 federal tax bill in 2018 and said no company making billions in profits should pay a lower tax rate than firefighters and teachers. 'I have nothing against Amazon, but no company pulling in billions of dollars of profits should pay a lower tax rate than firefighters and teachers. We need to reward work, not just wealth,' Biden said in a tweet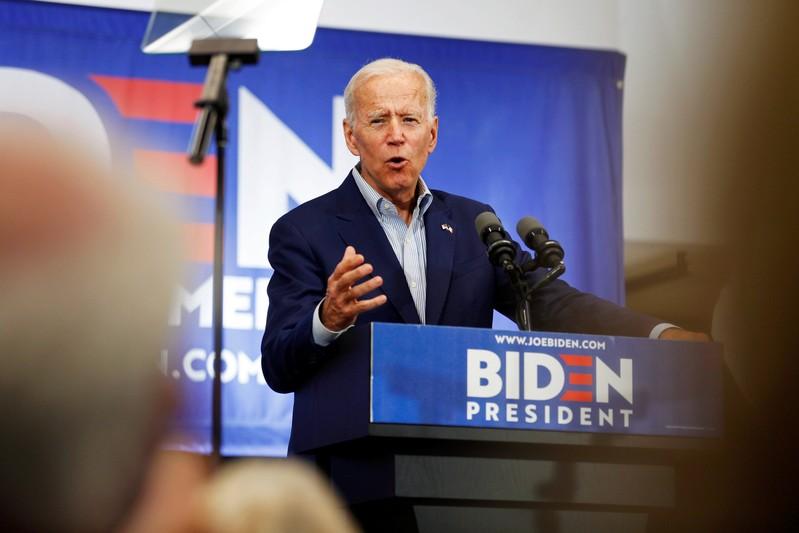 By Nandita Bose
WASHINGTON (Reuters) - Democratic presidential hopeful Joe Biden on Thursday took umbrage with e-commerce giant Amazon.com Inc's $0 federal tax bill in 2018 and said no company making billions in profits should pay a lower tax rate than firefighters and teachers.
"I have nothing against Amazon, but no company pulling in billions of dollars of profits should pay a lower tax rate than firefighters and teachers. We need to reward work, not just wealth," Biden said in a tweet.
The former U.S. vice president's remark comes at a time when Amazon has been repeatedly criticized for paying no U.S. federal income taxes on more than $11 billion in profits before taxes in 2018.
The company also received a $129 million tax rebate from the federal government.
Amazon responded saying in a tweet that it had paid $2.6 billion in corporate taxes since 2016.
"We pay every penny we owe," Amazon said, adding: "Congress designed tax laws to encourage companies to reinvest in the American economy. We have."
Amazon said it has invested $200 billion since 2011 and created 300,000 U.S. jobs.
"Assume VP Biden's complaint is (with) the tax code, not Amazon," the company tweeted.
Amazon told Reuters in May its low tax bill mainly stemmed from stock-based employee compensation, the Republican tax cuts of 2017, carry forward losses from years when the company was not profitable and tax credits for massive investments in R&D.
Biden is not the first Democratic presidential candidate to call out Amazon over its taxes.
Vermont Senator Bernie Sanders has said Amazon paying nothing in federal taxes is a "disgrace" and Massachusetts Senator Elizabeth Warren has said she will tax Amazon's profits as well to ensure the largest American corporations do not pay zero corporate income tax. 
The political scrutiny also comes as antitrust regulators have put the Seattle-based company under the watch of the Federal Trade Commission, which is gearing up to investigate whether Amazon misused its massive market power.
(Reporting by Nandita Bose in Washington, editing by G Crosse)
This story has not been edited by Firstpost staff and is generated by auto-feed.
Find latest and upcoming tech gadgets online on Tech2 Gadgets. Get technology news, gadgets reviews & ratings. Popular gadgets including laptop, tablet and mobile specifications, features, prices, comparison.
Business
(Reuters) - Gilead Sciences Inc is nearing a deal to buy biopharmaceutical company Immunomedics Inc for more than $20 billion, the Wall Street Journal reported on Saturday, citing people familiar with the matter. A deal for Immunomedics, which last month reported positive data from a late-stage study for its breast-cancer drug, could be announced Monday if not sooner, the Journal said https://www.wsj.com/articles/gilead-nears-deal-to-buy-immunomedics-for-more-than-20-billion-11599936777?mod=hp_lead_pos2. Gilead and Immunomedics did not respond immediately to emailed requests from Reuters for comment
Business
SHANGHAI (Reuters) - China banned pork imports from Germany on Saturday after it confirmed its first case of African swine fever last week, in a move set to hit German producers and push up global prices as China's meat supplies tighten. China's ban on imports from its third largest supplier comes as the world's top meat buyer deals with an unprecedented pork shortage after its own epidemic of the deadly hog disease. The ban on Germany, which has supplied about 14% of China's pork imports so far this year, will push up demand for meat from other major suppliers like the United States and Spain, boosting global prices.
Business
CAIRO (Reuters) - Libyan commander Khalifa Haftar has committed to ending a months-long blockade of oil facilities, the U.S.