BHP prepares for UK legal battle over 2015 Brazil dam failure
By Kirstin Ridley and Barbara Lewis LONDON (Reuters) - Mining giant BHP says it will fight an unprecedented English lawsuit filed by hundreds of thousands of Brazilians for multi-billion pound damages over Brazil's worst environmental disaster. SPG Law, a British offshoot of a U.S. litigator, represents 240,000 individuals in Brazil, 24 municipal governments, a Roman Catholic Archdiocese and members of the Krenak indigenous community and has filed three legal claims for unlimited damages over the failure of the Fundao dam in 2015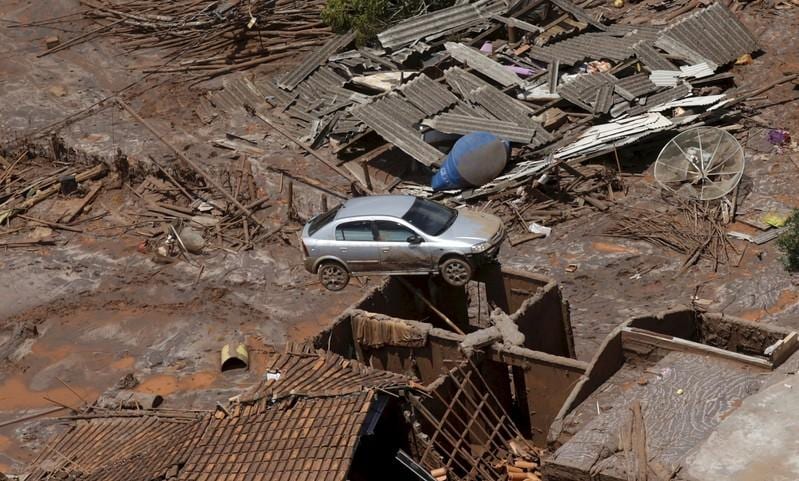 By Kirstin Ridley and Barbara Lewis
LONDON (Reuters) - Mining giant BHP says it will fight an unprecedented English lawsuit filed by hundreds of thousands of Brazilians for multi-billion pound damages over Brazil's worst environmental disaster.
SPG Law, a British offshoot of a U.S. litigator, represents 240,000 individuals in Brazil, 24 municipal governments, a Roman Catholic Archdiocese and members of the Krenak indigenous community and has filed three legal claims for unlimited damages over the failure of the Fundao dam in 2015.
It looks set to be the largest group action heard in England.
London and Australian-listed BHP, the world's largest mining company by market value, said it had received correspondence from the law firm but also noted it had so far committed $780 million to the Renova Foundation, an entity created by the miner and its partners to manage reparations and repairs.
"BHP will defend the action and remains committed to supporting the remediation and compensation efforts of the Renova Foundation," a spokesman said.
The collapse of the Fundao tailings dam, which stored mining waste and is owned by the Samarco joint venture between BHP and Brazilian iron ore mining giant Vale, killed 19 and spilled about 40 million cubic metres of sludge over communities, the Rio Doce and Atlantic Ocean 650 km away.
Brazil charged 22 people in 2016 with offences, including murder, over the dam's collapse. The miners this year settled a 20 billion reais ($5.4 billion) civil claim with local authorities to establish a clean-up fund. Other public cases, such as a $40 billion civil reparation case, are suspended.
BHP, which has separately settled a U.S. investor class action and continues to battle Australian shareholder lawsuits, has rejected all charges against the company, current and former staff.
The latest lawsuit was filed by SPG in the north western English city of Liverpool.
SPG says it is working with 600 lawyers and law firms in Brazil and is bringing the case in England in part because a 200 pound ($259) settlement offer two years ago by the Renova Foundation to those who had their water disrupted was "inadequate".
It wants to bring the case against BHP and subsidiaries in Brazil, the United States and Panama using Brazil's tough environmental law, that can hold companies liable for repairing damage or compensating victims irrespective of fault or intent.
"The key issue at the heart of this case is whether the parent company, BHP, is liable as a matter of Brazilian law," says SPG lawyer Tom Goodhead.
SPG said in a letter to BHP, dated Nov. 15 and seen by Reuters, that it had "serious concerns" about Renova approaching some of its clients, including municipalities, to negotiate a settlement in return for waiving rights to pursue other claims.
A spokesman for BHP declined to comment.
While the legal battles rage, the Samarco mine has lain dormant. Vale said in October it might resume activities in 2020. BHP is more circumspect, saying many problems remain unsolved.
($1 = 3.7261 reais)
($1 = 0.7724 pounds)
(Additional reporting by Marta Nogueira in Rio de Janeiro and Jake Spring in Brasilia; Editing by Elaine Hardcastle)
This story has not been edited by Firstpost staff and is generated by auto-feed.
Subscribe to Moneycontrol Pro at ₹499 for the first year. Use code PRO499. Limited period offer. *T&C apply
World
By Adrees Latif GALVESTON, Texas (Reuters) - Texas Governor Greg Abbott said on Thursday that all power generating plants in the state were back online but hundreds of thousands of homes remain without energy because of downed lines and other issues after a ferocious winter storm. Some 325,000 households still do not have power, down from 2.7 million on Wednesday, and more than 13 million Texans are seeing interruptions in their water services. Energy operators and state leaders like Abbott are facing withering criticism for the prolonged outages due to freezing temperatures that began four days ago.
News & Analysis
By Will Dunham WASHINGTON (Reuters) - A fresh examination has revealed new details about the first black hole ever detected - which was spotted in 1964 and became the subject of a friendly wager between renowned scientists - including that it is bigger than previously known. Researchers said on Thursday that new observations of the Cygnus X-1 black hole, orbiting in a stellar marriage with a large and luminous star, showed it is 21 times our sun's mass, about 50% more massive than previously believed
World
By William James LONDON (Reuters) - Joe Biden will attend his first meeting as U.S. president with Group of Seven leaders on Friday to discuss plans to defeat the novel coronavirus, reopen the battered world economy and counter the challenge posed by China.