Bharat 22 ETF lists on bourses with modest gains; stock sells at Rs 36.30 per unit on BSE
The government recently raised Rs 14,500 crore through Bharat 22 ETF, which saw bids of nearly Rs 32,000 crore coming in
New Delhi: Bharat 22 Exchange Traded Fund (ETF), comprising 22 companies, listed at Rs 36.30 per unit on BSE on Tuesday, up 0.91 percent over the issue price of Rs 35.97. During the intra-day trade, the ETF had touched a high of Rs 37.37 and a low of Rs 36.30 on BSE. On National Stock Exchange (NSE), the fund opened at Rs 36.11 and hit a high of Rs 37.40 in the intra-day trade.
The government recently raised Rs 14,500 crore through Bharat 22 ETF, which saw bids of nearly Rs 32,000 crore coming in, with foreign portfolio investors bidding for one-third of the money.
The portion reserved for retail investors was subscribed 1.45 times; retirement funds - 1.50 times and NIIs and QIBs - 7 times. The issue opened for subscription for retail investors from November 15-17. ICICI Prudential Mutual Fund managed Bharat-22 ETF's new fund offer (NFO) had an initial issue size of over Rs 8,000 crore.
The state-owned companies or PSUs that are part of the new Bharat ETF 22 include ONGC, IOC, SBI, BPCL, Coal India and Nalco. Besides, Bharat Electronics, Engineers India, NBCC, NTPC, NHPC, SJVNL, GAIL, PGCIL NLC India, Indian Bank and Bank of
Baroda figure in the ETF.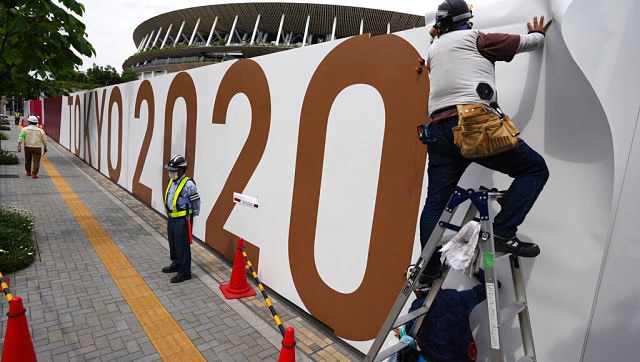 Sports
The Prime Minister's office said that 3.66 percent of Japanese were fully vaccinated as of Monday. It said 10.7 percent had at least one shot in what has been a slow vaccine rollout.
Sports
Ahead of IOC vice-president John Coates' arrival, several dozen people protested against the Games in Tokyo, though recent opinion polls suggest public opposition may be weakening.
India
There are many instances where coal miners lose lives in illegal coal mines and such deaths are neither reported nor acknowledged in Meghalaya