Behind the success of a startup is passion, not money: 3 business women decode their stories
If money is the only motivation, don't start up. That is a recipe for disaster.
At the Forbes India W Power event held on Wednesday, a few startup founders were felicitated for their successful ventures. For every such startup that has managed to cross over to the success corner, there have been many that have fallen by the wayside and some of these, after hitting a high note of success and popularity and instant recall with its target audience. Think Stayzilla, Tiny Owl, PepperTap, Jabong and a few others.
Startups have been India's own success story with funding, collaborations and interests across the globe to support an idea which has solved a critical problem, and with some entering the elite club of Unicorns. There were eight unicorns from India in the global 107 firms list in 2016. Of these eight companies, some are still struggling and a few have been blown away, said an analyst. Unicorn is a label for those who have entered the $1 billon select category for startup business. To go further up this road, the founder/co-founders will have to strike it profitable, else the slide from this height can be faster.
After riding a crest for some years, the industry witnessed troughs and slowly came undone in the past two years. Year 2016 saw as many as 212 startups shut down, 50 percent higher than the figure in 2016, a report in The Times of India said citing data analytics company Tracxn.
There are only three reasons primarily, says Paula Mariwala - Partner, Seedfund and Co-Founder, Stanford Angels. Business model, execution and the team are paramount to determine a startup's success. "Startups shut down when the business model does not work, when the product or service offered is not bought by the consumer, when the expenses are much more than the revenues, and, when the core team is not aligned with the vision of the founder/s," she says.
You can pivot and then pivot some more the business model but when the ends don't justify the excessive money spent on the model, it is time to wind up. "When you realise, yeh dhanda nahin chalega, it is wise to shut down than bleed further," said an analyst.
These decisions are not easy to make. But, you have to stanch the bleeding sooner than later. Sanchit Vir Gogia, chief analyst and founder, Greyhound Research, is emphatic that 'saying we learnt a lesson' cannot be an excuse to bow away from the startup arena. "You are playing with people's livelihoods. As startup entrepreneurs, the founders and co-founders must realise that they are playing with real money and real lives. It all boils down to a mismatch between planning and management and expectations that are not in sync with reality," he said.
Here's how Ritu Dalmia, chef and restauretur, Diva Restaurants; Sairee Chahal, Founder, Sheroes – a platform that enables women to find flexible careers; and Revathi Roy, CEO, Hey Deedee – an all-female hyperlocal delivery startup, break down what can go wrong with startups:
With so many restaurant startups that have shut down, Ritu Dalmia, who has a slew of Italian restaurant under the Diva brand, is a cook book author, television show host and is a chef to boot, says a restaurant should be opened for the 'right' reasons. "Don't open a restaurant because you think it is glamorous. The reason has to be right because you have a passion for food or for hospitality. It is long hours. People think it is a glamorous job but it is not. If you are married, you will be divorced, your parents are going to throw you out of the house, your children will hate you and they will be scarred forever. That is a bit of an exaggeration of course but you get the drift."
Another important rider from Dalmia is not to venture into unfamiliar territory. She reasons if an entrepreneur does not know his business, he will have to rely on someone. Especially in the hospitality business, "where the turnover of staff is very, very high. So you don't want your entire business model to be entirely dependent on one chef or one front of the house."
Dalmia warns about putting all capital in one dream, which may go bust. "Be very careful about capital investment. Restaurant business is not really assets. All the money goes into interiors, furniture, crockery, cutlery, rent, deposits, etc. God forbid it fails, there is no scrap value. There is nothing you can gain back. So it is a gone case. Whatever you do, make sure your capital is low. So in case something wrong happens, at least you are able to take care of it. Don't put your entire life savings into it. Always have a little savings on the side because it is also something where working capital is required in huge amounts. Six months your restaurant doesn't work, your entire capital is lost."
From loving driving to making it a career choice and then opening up job opportunities for women by skilling them, Revathi Roy, CEO, Hey Deedee, her third venture, places passion as the piece de resistance for entrepreneurship. "I think it is very critical to have passion. Without passion, it is impossible to do anything. You have to have lots of perserverance. It is not 2 minute Maggi. Gratification does not come in 2 minutes or even one year. There is no time factor for it. You have to be at it. Good ideas, good projects, genuineness, integrity pays off. That is what I have experienced."
Roy too subscribes to the oft-repeated theory of 'dream big'. She vouches for it as she has lived her 'mundane' dream turn into a business that catapulted into the global map. Hey Deedee is the only platform to train and engage women to become taxi drivers or two-wheel riders. "Dream big," she exhorts. "I always say dreams are free. You don't want to pay to dream. If you want to do something, there will be a way to do it. My passion was driving. So I simply did something with driving and cars."
Women who have had to give up their careers for family reasons have a helping hand in Sairee Chahal, Founder, Sheroes – a platform that helps women find flexible careers. "Don't startup because it is trendy," says Chahal cautioning that trends will run out eventually. "There has to real motivation to startup."
However, if money is the motivation to start up, Chahal feels then a job would be a better option as it pays 'much better' than a startup. "Startups have a gestation period and have its own challenges. Don't start up because you are rich. That is a wrong formula. Do it because you want to do something or are passionate about something. Or you are a personality type who will not fit into a corporate type."
There it is then. Words from successful entrepreneurs. Sharpen your armour with the tools you have missed to pick up in your entrepreneurial journey and get going.
Find latest and upcoming tech gadgets online on Tech2 Gadgets. Get technology news, gadgets reviews & ratings. Popular gadgets including laptop, tablet and mobile specifications, features, prices, comparison.
News & Analysis
Israeli star chef Assaf Granit said that eight out of ten people wouldn't know the difference between real meat and the vegan steak.
India
Private companies can now build their own facilities in Department of Space premises, and work on space tech alongside ISRO.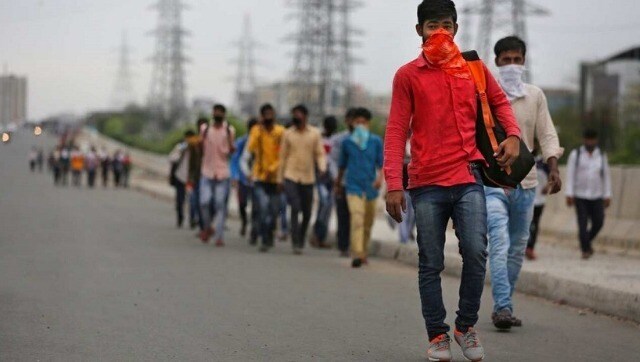 India
As the migrant crisis slowly subsides and India crawls its way back to normalcy, this is the right time to ask: isn't there a way to avoid forcing these individuals out of their homes?