By Rahul Kakkad
Make in India, the pet project of our Prime Minister, is an attempt to brand India as the hub for global manufacturing. While the results of the campaign can only truly be ascertained in the long-term, the past year has given the country several points to ponder and has provided positive results on several counts. This is evidenced from the investment commitment received during the recently concluded Make in India week – a whopping Rs.15.2 lakh crore.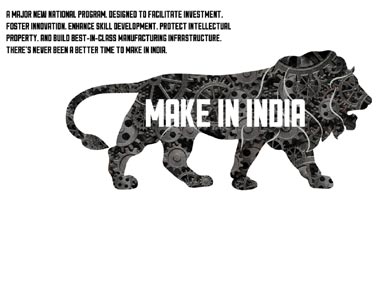 Ever since coming to power, the government has attempted to provide a face-lift to investor sentiment, control inflation, improve consumer confidence, ease doing business in India and provide impetus through controlled liberalisation in policy.
The manufacturing sector has been at the forefront of the project with a vision aiming for a 12-14 per cent growth per annum over a medium term. Moreover, the project envisages India will rank amongst the world's top 3 manufacturing destinations by 2020!  The expectations of the manufacturing sector are high for the upcoming Budget.
Some of the key focus areas from the Budget are:
Labour laws: Labour is one of the most critical elements in manufacturing. However, the present labour laws are quite dated and manufacturers find it difficult to operate in this environment.  The need of the hour would be to update the labour laws and provide flexibility and ease in compliance.
R&D incentives and tax reforms: With the fast changing trends in technology and in order to compete with global giants, one can expect in the upcoming budget various incentives and tax reforms to encourage R&D and innovation in manufacturing and thereby increase manufacturing activity.
Infrastructure : Currently, significant cost and time is incurred to transport raw materials into the factory and put out finished goods. One hopes and expects that the upcoming budget allocates substantial funds for investments leading to development of infrastructure (viz. road, railway, and waterways), thereby enabling improvement in efficiency and reduction in costs, thus providing the necessary impetus to the sector.
Tax Incentives for Labour : While labour cost is relatively low in India, availability of skilled labour maybe challenging.  Acknowledging this issue, the government has started skill training programmes for the rural population. One expects that introduction of benefits/ incentives to corporates would encourage them to provide the requisite skills/ training, thereby enabling a highly skilled workforce.
GST: The overdue GST legislation will be hopefully introduced in the budget, thereby reducing an unnecessary burden on  taxpayers. This would help provide much certainty and cheer to the sector.
The manufacturing sector is the backbone of any economy and therefore, it plays a key role in the development of the economy. Our government seems to have recognised it and has set the ball rolling with the Make in India project. It would therefore be interesting to see the impetus provided by the government in the budget, which could help push India into becoming a truly developed economy.
(The author is senior tax professional, E&Y)
Updated Date: Feb 23, 2016 15:26 PM