Banks received alarming amount of fake currency post demonetisation; detected 480% jump in suspicious transactions
Banks received a record amount of fake currency and detected an over 480 percent surge in suspicious transactions post demonetisation.
New Delhi: The country's banks received a record amount of fake currency and also detected an over 480 percent surge in suspicious transactions post demonetisation, according to the first-ever government report on dubious deposits made in the wake of the 2016 note ban.
Banks, including those in the private, public and cooperative sectors, and other financial institutions collectively generated 400 percent more suspicious transaction reports (STRs) at over 4.73 lakh such dossiers during 2016-17, the report said.
The Financial Intelligence Unit (FIU), under the Ministry of Finance, which analyses suspicious financial transactions pertaining to money laundering and terror financing, reported that counterfeit currency transactions in the banking and other economic channels witnessed an increase by over 3.22 lakh instances during 2016-17 as compared to the last year.
This, the report accessed by the PTI said, had a link to the demonetisaton of two high value currencies -- Rs 1000 and Rs 500 -- declared by Prime Minister Narendra Modi on the night of 8 November, 2016.
"A noteworthy growth was also seen in the number of counterfeit currency reports (CCRs) which increased from more than 4.10 lakh in 2015-16 to over 7.33 lakh in 2016-17, which may also be attributed to the demonetisaton exercise," it said.
The latest figure is the highest ever since the CCRs were first generated in the year 2008-09. CCRs are "transaction based reports" and they are generated only when a fake Indian currency note (FICN) is detected.
As per FIU's anti-money laundering rules, the banks and other financial bodies are required to report all cash transactions where forged or counterfeit currency notes or bank notes have been used as genuine or where any forgery of a valuable security or a document has taken place.
The report did not specify the value of the fake currencies detected.
The STRs, that are generated when a transaction either indicates that it has been made in circumstances of unusual or unjustified complexity or appears to have no economic rationale or bona fide purpose, also saw a record high rate of detection during the same period and an over 400 per cent jump from the comparative period just before demonetisaton.
"The number of STRs received in 2016-17 is 4,73,006 which is more than four times as compared to 2015-16 and this increase is attributed to demonetisaton exercise...," the report said.
It added that some volume of the increase in the number of STRs can also be credited to the outreach steps taken by the agency in sensitising banks and others to comply with the rule of mandatorily filing these reports under the Prevention of Money Laundering Act (PMLA).
"The most notable increase (in generating STRs) was in the category of banks, which recorded almost a 489 per cent increase over 2015-16. The increase was 270 per cent in the category of financial intermediaries," it said.
During FY 2015-16, while a total of 1.05 lakh STRs were generated out of which 61,361 were sent by banks it jumped to 3,61,215 post DeMo and 40,033 such reports were sent was by financial intermediaries that shot up to 94,837 post DeMo, the report said.
All banks and financial institutions are required to generate STRs and subsequently send it to the FIU under the anti-money laundering law (PMLA). STRs are also generated by the banks for those transactions that give rise to a reasonable ground of suspicion that it may involve financing of the activities relating to terrorism.
Some of those generated post demonetisation, the report said, had "possible links" to terror funding.
In the wake of these high numbers of reports CCRs and STRs coming in, the FIU ramped up its efforts in 2016-17 and disseminated 56,000 STRs to various investigative agencies like the Income Tax Department, the Enforcement Directorate, the CBI and the Directorate of Revenue Intelligence among others as compared to 53,000 sent in the previous year.
"The results of the STRs pertaining to demonetisation period will be seen in the subsequent years," the report said in an indication towards the quantum of black money that would be unearthed after acting on these classified reports.
It added that as it was apprehended that "unscrupulous persons possessing large amounts of demonetised notes may misuse" the window period given by the government to deposit the Rs 1000 and Rs 500 currencies in their bank accounts, over 30 new kinds of reports were "designed" to obtain information from the banks on the basis of identified parameters to detect suspicious cash deposits.
As part of FIU's detection mechanism to check black money generation post demonetisation, the report said that the liberalised scheme of opening bank accounts with minimum KYC requirements, so as to reach banking services to every strata of society was "monitored very closely."
"Abnormal patterns of deposits made by individuals as well as high risk geographical areas were identified and information disseminated to concerned law enforcement agencies for action,"
India
The largest unnamed island was named after the first Param Vir Chakra awardee, Major Somnath Sharma, who lost his life in action on 3 November, 1947, while repulsing Pakistani infiltrators near Srinagar Airport
India
Citing Prime Minister Narendra Modi's slogan 'Jai Jawan, Hai Kisan, Jai Vigyan, Jai Anusandhan', Indian Army Chief General Manoj Pande said that it aptly captures the contemporary reality and underscores the importance of research and innovation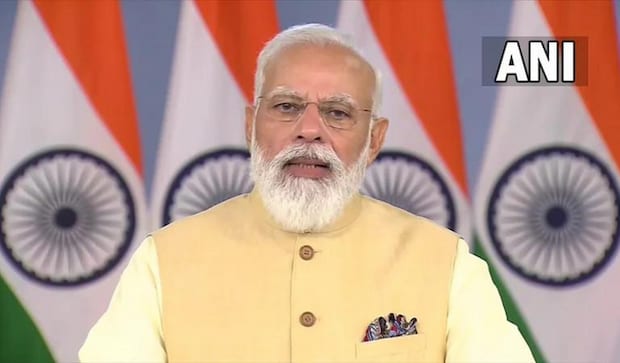 Politics
Multiple YouTube videos sharing the first episode of the controversial BBC documentary "India: The Modi Question" have been blocked as per the directions issued by the Ministry of Information and Broadcasting