Banks may levy service charges upon depositing Rs 2,000 notes; details inside
Depositing Rs 2,000 notes at banks can attract service taxes upon crossing a certain limit. Read to know more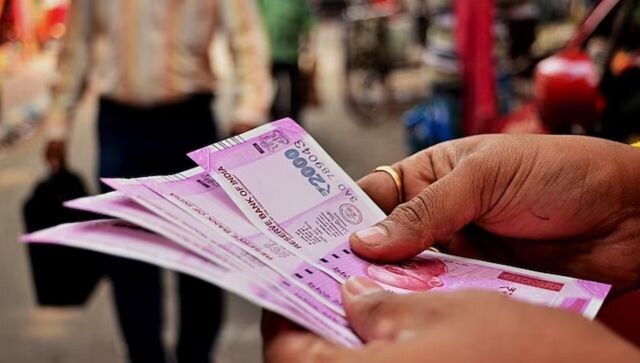 The Reserve Bank of India's latest move of withdrawing Rs 2,000 denomination notes from circulation has got citizens back on their toes. The RBI has allowed Rs 2,000 notes to be legal tender till 30 September, giving people time to visit their respective banks and deposit/exchange their notes. While those who have a larger number of notes plan to deposit their money in instalments, some also plan to deposit the entire cash in one go. But depositing notes at one go won't come so easily, as banks will be levying service charges for a certain amount.
Scroll down to read all that you need to know before depositing the Rs 2,000 notes. In adherence with the RBI regulations, deposition of Rs 2,000 notes has already begun and customers can do so at their respective bank branches till 30 September, subject to compliance with the KYC norms and other requirements.
However, many banks set additional charges for transactions above a certain limit, and the same is expected to be applicable for Rs 2,000 notes as well. Here are a few top leading banks and their service charges.
Service charges by banks on cash deposits
State Bank of India: According to the State Bank of India, customers can make three free cash deposits in a month in a regular savings account. Beyond this limit, the lender will charge Rs 50 + GST per deposit. While there are no restrictions on cash deposits in non-home branches for saving bank accounts, service charges will be the same. Meanwhile, cash deposits made through machines, it is free of cost, however, depositing cash through a debit card to a third party might attract a charge of Rs 22 + GST per transaction.
HDFC Bank: HDFC Bank allows four free transactions per month, including deposits and withdrawals. However, after the limit is crossed, the bank will charge Rs 150 per transaction. Apart from the transaction limits, customers are allowed to deposit up to Rs 2 lakh per month, exceeding which will attract a charge of Rs 5 per thousand or a minimum of Rs 150+applicable taxes.
ICICI Bank: According to ICICI Bank, customers are allowed four free cash transactions, exceeding which will then attract a charge of Rs 150 per transaction. They can deposit up to Rs 1 lakh in the savings account in a month. Crossing the limit will be charged at Rs 5 per Rs 1,000 or Rs 150, whichever is higher.
Kotak Mahindra Bank: In the case of Kotak Mahindra Bank, customers are allowed five free transactions including withdrawals and deposits. A charge of Rs 150 will be levied, once the threshold is crossed. The charges are the same for both cash transactions at the branch and cash deposits at machines.
Read all the Latest News, Trending News, Cricket News, Bollywood News,
India News and Entertainment News here. Follow us on Facebook, Twitter and Instagram.
also read
Business
The system is specifically designed to facilitate crucial payments, and also sustain the liquidity flow of the economy
Business
In addition to possessing a rent agreement for claiming the HRA tax benefit, it is crucial for individuals to also collect rent receipts, as per the officials
Business
To continue enjoying the benefits provided by the NPS, it is crucial to adhere to government regulations, which includes linking PAN and Aadhaar