Bankruptcy Law gets Joint Parliament Standing Committee nod, says Arun Jaitley
Finance Minister Arun Jaitley today said the Joint Parliament Standing Committee has cleared the Bankruptcy and Insolvency Code and is likely to be discussed in the current Budget Session of Parliament.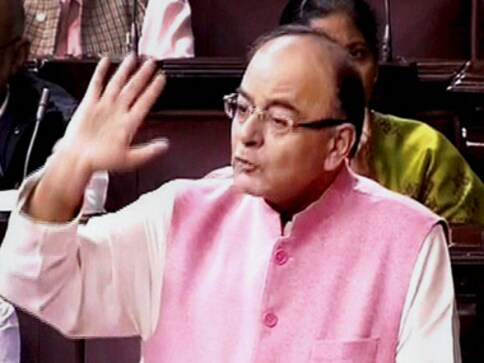 New Delhi: Finance Minister Arun Jaitley today said the Joint Parliament Standing Committee has cleared the Bankruptcy and Insolvency Code and is likely to be discussed in the current Budget Session of Parliament.
Addressing the second meeting of the Consultative Committee on NPAs, Jaitley said the government is taking various steps, including introduction of Bankruptcy Law in the Lok Sabha, to deal with the problem of mounting bad loans.
The Bankruptcy Law has been cleared by the Joint Parliament Standing Committee and the SARFAESI (Securitisation and Reconstruction of Financial Assets and Enforcement of Security Interest) Act and Debt Recovery Tribunal (DRT) Act have been amended to make the recovery process more efficient and expedient, he said in his opening remark.
The Finance Minister said that wherever it was observed that number of cases in which action taken by the banks against guarantors for recovery of defaulted loans is insufficient, the government has advised the banks to take action against guarantors in the event of default by borrowers under relevant Sections of SARFAESI Act, Indian Contract Act and RDDB & FI Act.
He further said that a direction to this effect has been issued to banks last month.
The government, Jaitley said, has taken various measures to deal with the issue of non-performing assets (NPAs) in banking sector especially in case of public sector banks (PSBs).
Citing that there are two categories of defaulters, namely those who are unable to pay back due to economic slowdown both in domestic and global and other reasons outside their control as well as wilful defaulters, including loans sanctioned without due diligence by the banks, he said various measures are being taken to deal with both categories of defaulters.
In order to deal with default due to economic slowdown, the government has taken various measures to revive the stressed sectors which mainly include steel, textiles, power and roads among others, he said.
Government has also done recapitalisation of banks by providing Rs 25,000 crore in the last year Union Budget 2015-16 as well as in this year's budget 2016-17, he said. He further said transparency and professionalism has been brought in appointment process for top management positions in the PSBs including Chairmen and Managing Directors.
The Government has taken various measures to make the management professional, has given full autonomy to the banks in taking commercial decisions without any interference from the government, he added.
Later the members of the Consultative Committee gave their suggestions with regard to recovery of loans and bringing NPAs under control.
Members suggested that there is need for bringing more transparency in the system and list of all defaulters whose loans have been written off by the PSBs be made public and they asked for exemplary action against the wilful defaulters so that others do not indulge in similar activities.
Some members appreciated government's effort to make appointment process professional for top management positions of banks while some members also suggested that there is need for restructuring of agricultural loans to help farmers. Members also suggested that there should be no employment cut due to any amalgamation or merger of banks.
They suggested that due to wilful default by some prominent business men, others may not be considered and treated in a similar fashion.
Some members suggested that a committee be constituted to finalise recovery process in case of loans given to big corporate houses by various PSBs.
Members who participated in the meeting included Anirudhan Sampath, Baijayanta Jai Panda, Dilip Kumar Mansukhlal Gandhi, Kailkesh Narayan Singh Deo, Poonam Mahajan, Ram Charitra Nishad, Supriya Sadanand Sule, Anil Desai, Digvijaya Singh, Satish Chandra Misra and Kumari Selja.
World
There is no doubt that the Vladimir Putin-led United Russia party will win the polls, which will be held over three days this weekend
World
The initial vote count had female candidates winning 33 seats in Iceland's 63-seat parliament. However, hours later, a recount in western Iceland changed the outcome
World
The Minister for Asia in the Foreign, Commonwealth and Development Office, Amanda Milling, responded to the debate by reiterating the UK government's unchanged stance on Kashmir as a bilateral issue