Greater Noida: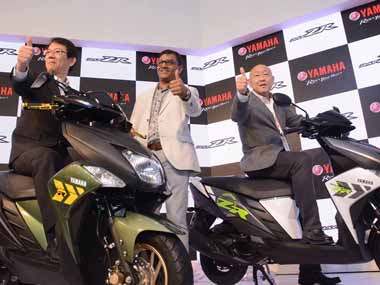 The Cygnus Ray-ZR is developed around a concept of 'a next generation real man's scooter'.
The scooter with a fresh look is powered by an air-cooled 4-stroke, SOHC, 2-Value 113cc blue core engine with a continuously variable transmission unit.
The main features of the scooter include an engine with high combustion efficiency. Besides, the disk brake version features cast aluminium wheels. It will also have an another variant with drum brakes.
"India is a very important market for Yamaha and we will continue to invest in innovation and expansion," said Masaki Asano Managing Director of Yamaha Motors India Sales Pvt Ltd.
Indian scooter market is going through a great phase, constituting almost 30 per cent of the two-wheeler market and Yamaha is committed towards offering its customers a perfect mix of style and technology, he added.
Vice President Sales and Marketing Roy Kurian said 2015 was a "highly successful year" for Yamaha as it witnessed 5 per cent growth rate, despite a sluggish market.
In the domestic market, the company sold 5.94 lakh units of two wheelers in 2015 and aims to increase it to 8 lakh units this year, he added.
"The unveiling of the new Cygnus Ray-ZR is a very significant step in our efforts to consolidate our position in the fast growing Indian scooter market," Kurian said.
PTI
Updated Date: Feb 03, 2016 12:08 PM