Auditors: the new rockstars this results season
Here are a list of major companies in which auditors raised some pertinent objections through additional notes released with the quarterly results
Auditors. Usually, they're such a low-profile bunch. Rarely do you see them making news.
But of late, that image seems to be changing. In the current results season, some auditors have been making increasingly uncomfortable observations about companies, which have made some media waves.
Here are a list of major companies in which auditors raised some pertinent objections through additional notes released with the quarterly results.
•Suzlon Energy: Ifyour think the company's loss of Rs 301 crore in the October-December quarter was something to worry about, think again because the crisis could be deeper than that. In the notes to the company's results release, auditor S R BATLIBOI & CO raised doubts about Suzlon's ability to repay its foreign currency convertible bonds (FCCBs) due for redemption in June 2012 and October 2012. The aggregate redemption value of those FCCBs is $569 million, or Rs 3,021 crore.
According to Business Line, Suzlon has three options: first, it will need to recover its pending Rs 1,000 crore due from one particular client, Edison Wind, on time. Second, it might be able to use German subsidiary REpower's cash to repay its FCCBs, but there is some uncertainty on that. More than 60 percent of Suzlon's cash hoard of Rs 1,900 crore came from its subsidiaries.
Third, Suzlon could start negotiations with bond holders for rolling over the debt. While it remains unclear what route Suzlon will finally take, some brokerages likeHSBC Equities have already given the stock a thumbs-down by downgrading the stock to 'underweight' with a price target of Rs 20 per share. The share is currently trading at Rs 29.
•SpiceJet: Even though the airline's losses reduced substantially in the October-December quarter from the previous quarter, its auditor S R Batlibol expressed concern over the company's eroding net worth.
In the results press release, auditors said, "As at 31 December, 2011, the company's accumulated losses of Rs 1,078 crore have substantially eroded the net worth of the company, indicating the existence of material uncertainty that may cast doubt about the company's ability to continue as a going concern".
However, Neil Mills, chief executive of the airline, downplayed the warning and said that there was no under-provisioning in the results. "Its not a qualification, it's merely a note, which is part of their accounting guideline", he added.
The airline reported a net loss of Rs 39.26 crore for the December-ending quarter, much lower than the Rs 240 crore reported in the previous quarter.
However, ICICI Research maintains a 'buy' rating on the company with a price target of Rs 28 per share on the bet that fleet utilisation levels will improve as company focuses on new routes in Tier II cities.
•Jet Airways: The troubled airline's auditor Deloitte Haskins & Sells /Chaturvedi & Shah expressed concerns about the company's ability to generate cash to support its obligations and its low cost subsidiary, JetLite.
The company had reported lower losses of Rs 101 crore for the December-ended quarter, down from Rs 713 crore loss in the previous quarter. In an earlier report, HSBC had noted that the substantial losses made by the airline have been eating into its book value. The brokerage said that the airline's (consolidated) net worth had already been eroded by 70 percent, and if the challenging situation continues, its total shareholder equity will be eroded by the end of March.
The brokerage has downgraded the stock to 'underweight' with a target price of Rs 240.
•Kingfisher Airlines:Is there anything that can be said about this airline's financial woes that we've not heard before? In the December-ending quarter, the airline's losses widened to Rs444 crore from Rs254 crore a year ago mainly because of high fuel prices. What really helped the company was the more than 10-fold increase in it other income to Rs 205 crore.
Earlier auditor BK Ramadhayani & Co.brought attention to the airline's deteriorating condition by warning that the airline's networth was being eroded.
Once again, after the company's most recent results, the auditor pointed out that " the financial statements being prepared on a going concern basis, notwithstanding the fact that the company's networth is eroded. The appropriateness of the said basis is inter-alia dependent of the company's ability to infuse the requisite funds for meeting its obligations."
The company has a market capitalisation of Rs 1,331 crore, while its debt stood at Rs 7,543 crore.
•Punj Lloyd: The engineering and construction company was one of the few companies to benefit from a more positive assessment from its auditor, S R BATLIBOI, after an order dispute with ONGC inched closer to a resolution and relative stability returned to Libya.
Among brokerages, Goldman Sachs retained its 'neutral' rating on the stock with a target price of Rs 57 per share, citing a strong order inflow in the past nine months (up 124 percent).
The company reported a 28 percent growth in sales for the December-ended quarter. It reported a net profit of Rs75 crore after posting a loss of Rs 60 crore last year. No wonder then that its stock has shot up by almost 7 percent since its results were announced on Monday.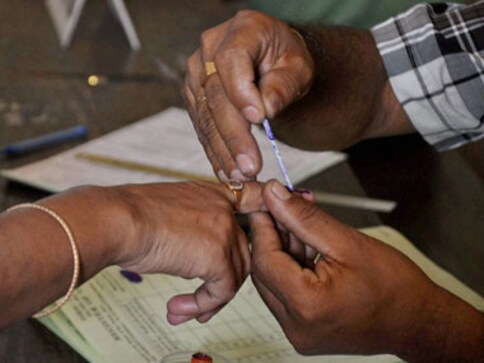 Politics
Don't have your Electors Photo Identity Card or EPIC or Voter's ID? Here's a list of documents that a voter can used a photo identity proof to cast their vote
Health
On World Liver Day, efforts are made to inform people about liver infections so that timely treatment from the preventable illness can be sought.