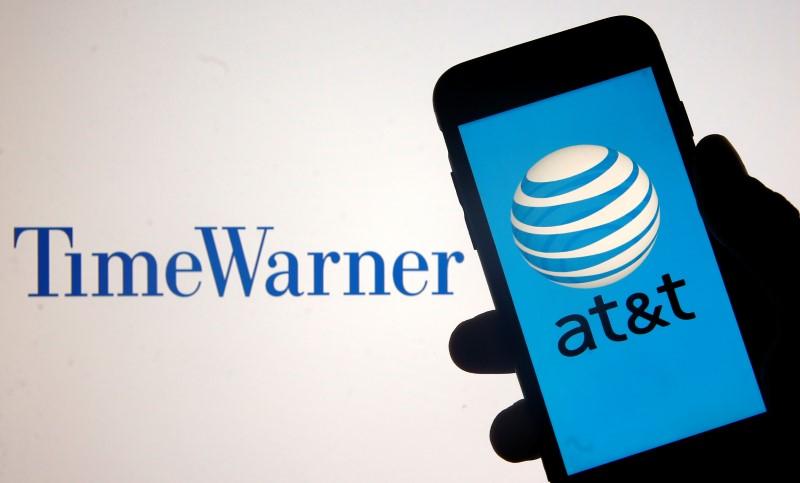 By Vibhuti Sharma and Sonam Rai
(Reuters) - The U.S. Justice Department has only a remote chance of overturning AT&T Inc's takeover of Time Warner, Chief Executive Randall Stephenson said on Friday, while warning the case could affect bidding for Twenty-First Century Fox Inc.
Shares of AT&T fell as much as 2.3 percent at $31.50 in afternoon trading, after U.S. officials signaled they would appeal a federal judge's approval last month of the acquisition of the media firm.
Speaking on CNBC on Friday, Stephenson said the original court decision was well reasoned.
"At the end of the day the law was on our side. We feel good about where we are and we think the appeal court will look at the merits of the law," he said. "We think the likelihood of this thing being reversed or overturned is really remote."
The $85.4 billion deal, first announced in October 2016, was opposed by President Donald Trump. AT&T was sued by the Justice Department on antitrust grounds, but won approval from a U.S. district court following a lengthy trial.
An AT&T spokeswoman declined to comment on whether the appeal affected the company's integration plans, but referred to Stephenson's comment that company will continue to execute its plans.
Makan Delrahim, the assistant attorney general in charge of the Justice Department's Antitrust Division, recently defended the decision to file its initial lawsuit last year, saying it was the "largest telecommunications merger in history."
"In AT&T-Time Warner, litigation was not the Division's first choice. The Division made multiple settlement offers involving divestitures, but the parties offered and would accept only so-called "behavioral" remedies involving promises to refrain from anticompetitive conduct," Delrahim wrote in an op-ed in the Washington Times on Thursday.
"The bottom line is this: The Division discharges its law enforcement duties faithfully and without regard to politics or the political affiliations of the parties," he wrote.
Judge Richard Leon's ruling concluded that the government had failed to show competitive harm from the deal and urged the Justice Department not to seek a stay of his ruling, saying it would be "manifestly unjust" to do so and not likely to succeed.
"Leon used strong language to make his ruling difficult to overturn, but he may have gone too far, leaving the government an inch of room to argue that he did not fairly consider the evidence," Professor Eric Gordon of the Ross School of Business at the University of Michigan said in an email.
The government's notice of appeal was filed in the U.S. District Court in Washington and did not disclose on what grounds it intends to challenge the approval.
"We're not as sure as everyone else that Judge Leon's ruling will be upheld on appeal," analysts from brokerage MoffettNathanson wrote in a note.
"None of this is to suggest that the DOJ will win on appeal, of course. One would have to assume that the odds are actually relatively low. But they are not zero."
The No. 2 U.S. wireless carrier is already using Time Warner's stable of content to promote its new video streaming service at a time when carriers have been struggling for growth.
Approval of the Time Warner deal also triggered further moves in a bidding war with Comcast Corp which has seen Walt Disney Co bid $71.3 billion for the bulk of Twenty-First Century Fox Inc's film and TV assets.
"In light of this news, I would think that Comcast may back away from Fox and double down on its efforts to acquire Sky," said Mary Ann Halford, senior adviser to OC&C Strategy Consultants.
(Reporting by Sonam Rai and Vibhuti Sharma, Additional reporting by Gaurika Juneja, Diane Bartz and Sheila Dang; editing by Patrick Graham)
This story has not been edited by Firstpost staff and is generated by auto-feed.
Firstpost is now on WhatsApp. For the latest analysis, commentary and news updates, sign up for our WhatsApp services. Just go to Firstpost.com/Whatsapp and hit the Subscribe button.
Updated Date: Jul 14, 2018 00:05:43 IST