At least nine dead after police fire on protesters at Indian copper smelter
By Sudarshan Varadhan NEW DELHI (Reuters) - At least nine people were killed in India's Tamil Nadu state on Tuesday when police fired at violent protesters calling for the closure of a copper smelter run by Vedanta Resources, authorities said. The state's chief minister, Edappadi K. Palaniswami, said police had been forced to act after the protests turned violent, and that nine people had been killed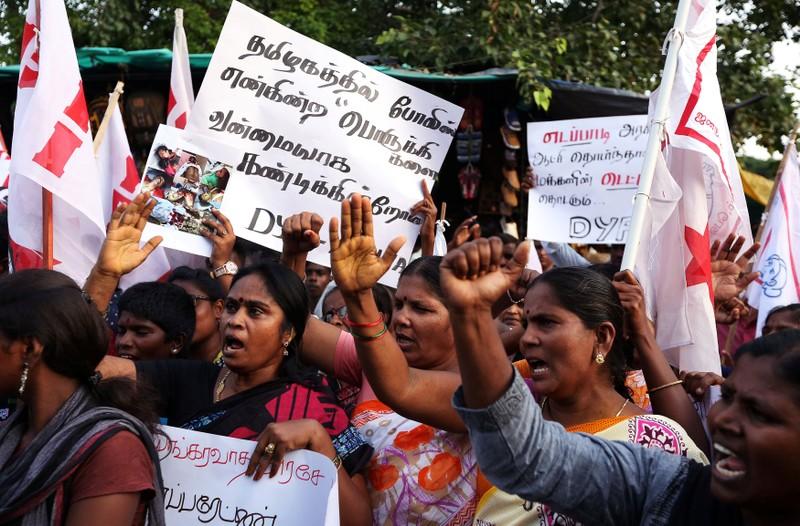 By Sudarshan Varadhan
NEW DELHI (Reuters) - At least nine people were killed in India's Tamil Nadu state on Tuesday when police fired at violent protesters calling for the closure of a copper smelter run by Vedanta Resources, authorities said.
The state's chief minister, Edappadi K. Palaniswami, said police had been forced to act after the protests turned violent, and that nine people had been killed. The state's governor put the death toll at 11.
The head of the national opposition Congress party, Rahul Gandhi, condemned the use of lethal force, calling it "a brutal example of state-sponsored terrorism".
Residents of the port city of Thootukudi, located at the tip of the Indian subcontinent, and environmentalists have been demonstrating for more than three months against the copper plant, one of India's biggest, alleging that it is a major source of pollution and a risk to fisheries.
On Tuesday, a crowd waving black flags stormed the district government headquarters and an apartment block for Vedanta employees, a company official said, declining to be named for fear of being targeted.
Protesters set vehicles on fire and threw stones at police, Palaniswami said in a statement.
He said police had been forced to act "since protesters disregarded a curfew, acted against the advice of police", and indulged in violence.
"MURDERED FOR PROTESTING"
Gandhi tweeted: "The gunning down by the police of nine people in ... Tamil Nadu, is a brutal example of state-sponsored terrorism. These citizens were murdered for protesting against injustice. My thoughts & prayers are with the families of these martyrs and the injured."
Local television showed police trying to disperse the crowd with tear gas and a policeman firing shots from the top of a van. Smoke rose from several parts of the city.
State Minister D. Jayakumar said in a televised address that it had been "unavoidable" for police to fire on protesters.
The plant, which can produce 400,000 tonnes of copper a year, has been shut for more than 50 days and will remain closed until at least June 6 because the local pollution regulator has said it is not complying with environmental rules.
Environmental activists and some local politicians want the government to shut the plant permanently.
"The inaction of the government has led to the people's protests, and police resorting to firing to control it. Action should be taken to shut down the plant immediately to address this issue," M.K. Stalin, leader of the main opposition group in Tamil Nadu, Dravida Munnetra Kazhagam, said in a Facebook post.
Vedanta says the protests are based on "false allegations", and that it plans to double capacity at the smelter to 800,000 tonnes per year.
"We would like to restart the plant as soon as possible, in a peaceful manner," P. Ramnath, chief executive of Vedanta Ltd's copper business, told Reuters.
The plant was shut for more than two months in 2013 by an environmental court after residents complained about emissions.
(Reporting by Sudarshan Varadhan; Editing by Kevin Liffey)
This story has not been edited by Firstpost staff and is generated by auto-feed.
Find latest and upcoming tech gadgets online on Tech2 Gadgets. Get technology news, gadgets reviews & ratings. Popular gadgets including laptop, tablet and mobile specifications, features, prices, comparison.
Business
By Howard Schneider WASHINGTON (Reuters) - A rebounding stock market and massive federal aid payments pushed the net worth of U.S. households back to pre-coronavirus levels in the second quarter, the Federal Reserve reported on Monday, with savings accounts and equity portfolios both rising sharply despite the pandemic
Business
By Rodrigo Campos NEW YORK (Reuters) - Stocks across the world hit their lowest in seven weeks and other risk assets sold off on Monday on concerns over renewed lockdown measures in Europe and Britain, as well as the United States' inability to agree on fiscal stimulus that would support millions of unemployed. Oil prices fell nearly 5%, the dollar rallied and an index of emerging market currencies fell by the most in six months. The MSCI world equity index , which tracks shares in 49 countries, touched its lowest since Aug.
Business
By Rodrigo Campos NEW YORK (Reuters) - Stocks across the world hit their lowest in seven weeks and other risk assets also sold off on Monday on concerns over renewed lockdown measures in Europe and Britain, as well as the United States' inability to agree on fiscal stimulus that would support millions of unemployed. Oil prices fell more than 3%, the dollar rose against a basket of peers and an index of emerging market currencies fell by the most in six months. The MSCI world equity index , which tracks shares in 49 countries, ended at its lowest since Aug