For Narendra Modi-government, eyeing for 8 percent growth this fiscal year, the April-June quarter GDP (gross domestic product) number comes as a clear disappointment. Not because the 7.1 percent number kills the fun of chasing a fancy GDP number--India continues to be the fastest growing major economy in the world beating China that grew at 6.7 percent in June quarter-- but given the fact that participation of private sector continues to be muted in the overall growth story.
The kind of GDP growth figures we see now is primarily on account of consumption and government spending, not fresh private investments that are critical for the long-term quality growth. That part remains weak.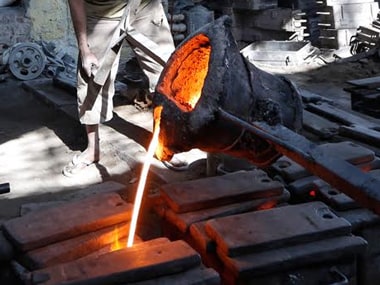 "Revival of private investments is critical for sustainable growth," said D K Joshi, chief economist at rating agency Crisil, the Indian subsidiary of Standard and Poor's. But Joshi is hopeful that private investment cycle will revive once the consumption-led growth sustains for some time backed by a good monsoon this year and pay hikes to government employees that'll act as a stimulus to the consumption demand.
In short, at this stage, India's growth is largely a consumption-led, government-funded story rather than triggered by fresh capital expenditure by companies. The evidence of this is available from the continuing contraction in the gross fixed capital formation (GFCF) numbers, which contracted further by 3.1 percent in the June quarter as compared with 1.9 percent contraction in the January-March quarter.
"Details of real GDP growth disappointed," Radhika Rao, economist at Singapore based DBS bank. "Defying expectations, consumption spending eased sharply to 6.7 percent year-on-year (YoY) from 8.3 percent, reflecting weak rural spending, while lead indicators had pointed to a good run for urban demand. Fixed investments extended its decline to -3.1 percent YoY from 1Q's -1.9 percent, weighed by the simultaneous pullback in private and public capex interests," said Rao.
Government consumption is what that has supported the June quarter growth with a jump of 18.8 percent Y-o-Y, up strongly from 2.9 percent in the first quarter, on efforts to frontload fiscal spending and higher subsidy disbursements, Rao said.
Overall, the lower-than-expected GDP numbers in the fist quarter would mean that there has to be substantial recovery in numbers in the approaching quarters to meet the 8 percent target for the full fiscal. The hopes would be primarily on the positives of a good monsoon and higher pays that'll help stimulate the consumption demand in the economy. The key point here is that consumption is set to become the core driver of growth, not private investments.
But, the continuing absence of revival in private investments offers reasons to worry for the Narendra Modi government. Economists point out the low capacity utilization in the economy as a drag. As Joshi of Crisil pointed out, private investments are a critical factor that'll help to achieve long-tem sustainable growth in the economy.
Despite attempts to create an investor-friendly image in the economy by various structural reforms and promise of ease of doing business being undertaken by the government in the last two years, private investments continue be weak. That's the reason why government is forced to be on a high spending mode to keep the momentum on. But, that has to be followed up by pick up in private investments sooner than later. In fact there are some early signs of investment intentions picking up in the fist half of this year going by a Care rating agency report, which cited government data. But, howmuch of it will translate into actual investments is something we need to wait and see.
Why private investors are still averse to come to India? The Modi-government is indeed aware about the lack of response from the private investors as reflected in the sense of urgency shown by the Prime Minister himself in reviewing the progress of decisions taken across ministries and departments so far. P M Modi has done at least two such review meetings till now.
The government has indeed progressed with several small and big reform steps to address the structural bottlenecks in the economy such as a fresh bankruptcy law, facilitating more foreign direct investments and progressing on indirect tax reforms. But, the timely implementation of the steps taken so far remains a challenge. Also, land and labour continue to be a major challenge for industries who want to set up factories in India. As we have seen in the Singur-episode in Bengal, acquisition of land continues to be a highly politically sensitive issue for industries. Similarly, a number of redundant labour laws in the country too continue to pose big challenge.
The need to have better road, rail and port infrastructure is also key to attract investments. When the world economy is passing through a slowdown phase, improving on these areas is critical for India to retain the 'sweet spot' it is in to position itself as the next big investment destination for international investors.
Unless private investments come in and new factories are built, employment generation will continue to be a problematic area for the country. Experts in the past have raised alarm bells on years of high growth with no new jobs being created in the country.
The counter argument here is that firms are focusing more on efficiency to maximize output with no major expansion on human resources. But, the revival of the small and medium enterprises could possibly accommodate a large number of people joining the workforce every year. But, here too lack of private investments creates a major problem. As the Reserve Bank of India (RBI) governor, Raghuram Rajan , pointed out in his foreword to the recent RBI annual report, one of the major reasons why banks aren't freely lending to small firms is weak investment scenario and high bad loan pile up.
The bottomline is this: A government spending, consumption-led growth can indeed help use to retain the fastest growing economy tag. But, the government has to make sure it is followed by private sector participation for obvious reasons. Reviving private investments is the only hope for India to improve its fortunes in the long-term. As of now, the absence of it shadows the high GDP growth.
(Data support from Kishor Kadam)
Updated Date: Sep 01, 2016 15:17 PM