Asia shares set to rise after S&P 500, Dow hit records on strong economic data
By Chibuike Oguh (Reuters) - Asian equities are poised to rise on Tuesday after the S&P 500 and Dow indexes set records as a streak of strong U.S. economic data fueled optimism even as a smaller-than-expected climb in 10-year Treasury notes eased inflation concerns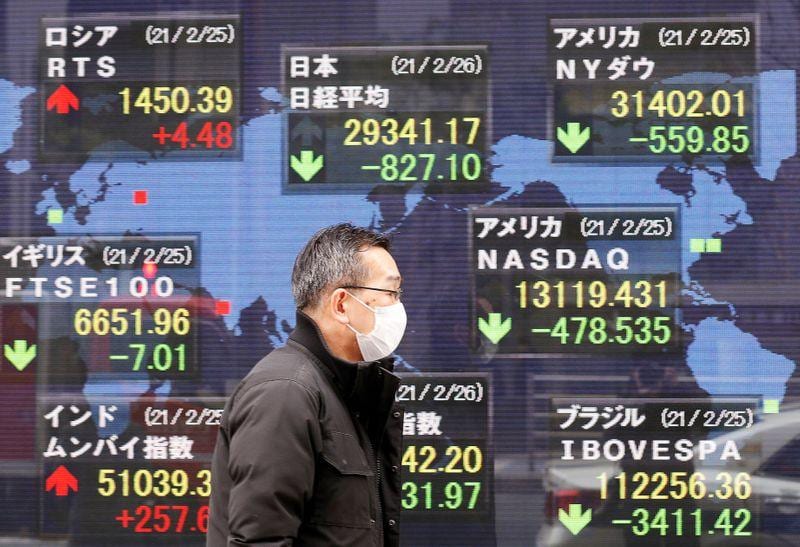 By Chibuike Oguh
(Reuters) - Asian equities are poised to rise on Tuesday after the S&P 500 and Dow indexes set records as a streak of strong U.S. economic data fueled optimism even as a smaller-than-expected climb in 10-year Treasury notes eased inflation concerns.
Investor sentiment was buoyed by a survey from the Institute for Supply Management (ISM) on Monday showing activity in the U.S. services industry reached its highest level on record in March. The data came after a jobs report on Friday beat forecasts with 916,000 added to the U.S. economy last month.
"The jobs report set the stage for what we're seeing today," said Thomas Hayes, chairman of Great Hill Capital LLC in New York. "It's not only that the report crushed expectations but it showed that wage inflation was subdued as people compete for labor."
Australian S&P/ASX 200 futures rose 0.34% in early trading, while Hong Kong's Hang Seng index futures rose 0.40%.
The S&P 500 and the Dow - the benchmark Wall Street indexes - have rallied in recent sessions as widespread vaccinations and an unprecedented government stimulus boosted investor confidence in an economic rebound and spurred demand for sectors, including energy, financials and materials, which are primed to benefit from economic reopening.
On Monday, gains were led by sectors that have underperformed recently, including communication services, consumer discretionary and technology, as the 10-year U.S. Treasury yield remained below a 14-month high hit last week.
"The rate of change with the 10-year yield has slowed and that has created a runway for some of the left behind sectors in recent weeks like tech and other yield sensitive areas like utilities," Hayes said.
On Wall Street, Dow Jones Industrial Average rose 1.13% to a record high of 33,527.19, the S&P 500 gained 1.44% to a record 4,077.91 and the Nasdaq Composite added 1.67%, to 13,705.59.
U.S. Treasury yields edged lower on Monday, as investors paused recent selling of government bonds and took profit from short positions, though the uptrend in rates remained intact following Friday's blockbuster jobs report.
Benchmark 10-year notes last rose 3/32 in price to yield 1.7127%, from 1.72% late on Friday. The yield curve steepened on Monday after flattening the previous session as the spread between U.S. 2-year and 10-year yields rose to 154 basis points.
Gold prices edged lower as the safe-harbour metal's luster was dimmed by rising global equity prices.
Spot gold declined 0.1% to $1,727.98 an ounce. U.S. gold futures settled little changed at $1,728.80.
Oil prices fell as increasing OPEC+ supply and rising Iranian output, along with the threat of a new wave of COVID-19
infections, offset hopes for a demand rebound driven by economic revival.
U.S. crude settled at $58.65 per barrel, down 4.6% on the day, while Brent shed 4.18% to end at $62.15 per barrel.
(Reporting by Chibuike Oguh in New York; Editing by Christopher Cushing)
This story has not been edited by Firstpost staff and is generated by auto-feed.
World
By Anton Zverev and Andrew Osborn MOSCOW (Reuters) - Jailed Kremlin critic Alexei Navalny went on hunger strike on Wednesday in an attempt to force the prison holding him outside Moscow to provide him with proper medical care for what he said was acute pain in his back and legs. The fate of Navalny, one of President Vladimir Putin's most prominent critics, is in focus after he said last week that being woken up by a guard every hour during the night amounted to torture and that his appeals for medical treatment had been ignored. In a handwritten letter addressed to the governor of his prison which was posted to social media by his team on Wednesday, Navalny said daily requests for a doctor of his choice to examine him and for proper medicine had been ignored
World
By Stephanie van den Berg THE HAGUE (Reuters) - The International Criminal Court on Wednesday upheld its 2019 acquittal of former Ivory Coast President Laurent Gbagbo on charges of crimes against humanity during post-election violence and ordered all conditions of his release be removed. The decision may open the way for Gbagbo, 75, who has been living in Belgium, to return to Ivory Coast
World
SAINT-DENIS, France (Reuters) - The French stadium that hosted World Cup finals in soccer and rugby is taking on a new role in response to the COVID-19 pandemic: it is becoming a vaccination centre. Workers at the Stade de France venue were on Wednesday putting up tents for use as vaccination cubicles inside a hall in the bowels of the stadium that in pre-pandemic times was used to host conferences and VIP receptions. The Stade de France is due to host the French soccer cup final in May, the final of the domestic rugby competition in June, and a concert by U.S.