Ashok Leyland to grow electric vehicle business, ramp up production
The city-based heavy commercial vehicle maker last year introduced the first 'Made in India' electric bus 'Circuit.'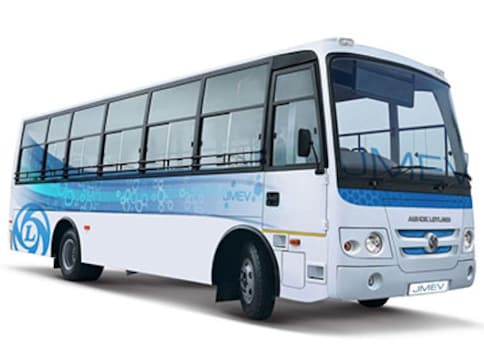 Chennai: Hinduja Group flagship Ashok Leyland has undertaken a "three-pronged strategy" for developing its electric vehicle business and was significantly ramping up production in this regard, a top official said today.
The city-based heavy commercial vehicle maker last year introduced the first 'Made in India' electric bus "Circuit."
The bus is equipped with a minimum seating capacity of 35 to a maximum of 65. It can run upto 120 kilometres on a single recharge under standard test conditions.
"We have three-pronged strategy to our electric vehicle business and are significantly ramping up production," Ashok Leyland MD, Vinod K Dasari told reporters here.
"Strategy one, you can have a product similar to Circuit (bus), strategy two is a battery swapping technology and European based strategy which requires high battery
levels," he said.
Declaring the annual performance for the financial year 2016-17, Dasari said the company has earmarked Rs 500 crore as capital expenditure for 2017-18.
The company has also undertaken an exercise to focus on other verticals rather than "depending on truck sales."
From the current sales of trucks which accounts for 60-62 percent of the total business, "we want to bring it to 50 percent may be in next three to five years," he said.
On the company's power solutions business, Dasari said, it grew by 6 percent in 2016-17 as compared to previous year.
"Our aftermarket revenue were up by 31 percent and as far as our Defense business is concerned we have got nearly 19 (government) tenders," he added.
To a query on light commercial vehicle business, Dasari said, "It is a very important business for us. We are planning to launch one new model every quarter."
Referring to the sales of vehicles under BSIII variant, he said, nearly 10,664 vehicles that are BSIII variants were being converted into BSIV variants.
"Around 2,000 vehicles may be sent to overseas and remaining will be converted into BSIV variants with our iEGR technology," he said.
For 2017-18, Dasari said the company was "bullish" and was hopeful of surpassing the industry growth expected to be around 10-15 percent in Medium and Heavy Commercial Vehicle segment.
On the status of setting up factories in Andhra Pradesh and Telangana, he said the company was waiting for the approval from the respective governments.
Find latest and upcoming tech gadgets online on Tech2 Gadgets. Get technology news, gadgets reviews & ratings. Popular gadgets including laptop, tablet and mobile specifications, features, prices, comparison.
Investing
Today we have chosen: Yes Bank, Patni Computers, Patel Engineering, Century Textile, Orchid Chemicals, Reliance Communications, Idea Cellular, Ashok Leyland and United Phosphorus.<br /><br />
Fwire
The downward revision shows that the incremental catalysts for India's second-largest commercial vehicle stay sluggish. What is particularly of concern is a firming diesel price and weaker freight growth.
Biztech
The companies intend to work together to deliver solutions that will focus on transportation management, incident & emergency medical response as well as mobile security targeted initially at Government and Defence sectors.