Arvind Panagariya's exit throws up a puzzle: Where is India headed, more reforms or protectionism?
If Arvind Panagariya's exit has to do with making NITI Aayog a more happening place, then there's some hope; if it has anything at all to do with the swadeshi lobby being unhappy, it doesn't augur well
Is Arvind Panagariya's exit from the post of vice-chairman of NITI Aayog or the National Institution for Transforming India, as non-controversial as it is being made out to be? That he was faced with having to choose between Columbia University and the Government of India and he chose the former?
Much as Panagariya and the government may want everyone to believe this, this line is not going to sell – and one doesn't have to be a Modi-government hater or a perennial conspiracy theorist to be skeptical. Some news reports have hinted at problems within the NITI Aayog and others between the Aayog and the government.
Why should the reasons for Panagariya's exit matter at all? Because those reasons will determine who his successor will be and the direction that the Aayog takes.
There is no denying that the NITI Aayog replacing that anachronism called the Planning Commission and Panagariya being chosen as its first head had raised hopes. Initially the role of the Aayog was not clear and there was expectation that this role would evolve under Panagariya who ticked all the right boxes of an economic reformer. But two and a half years after it was set up, this clarity had just not emerged. In many ways it appeared to be like the old Planning Commission minus its resource allocating powers.
It was pushing a few good ideas but was hardly coming across as a vibrant hub of new thinking, as it should have been. Sometimes it appeared to be doing what the programme implementation department should have been – tracking the progress of various projects and schemes.
The 15-year vision document that was supposed to be under preparation sounded very much like what the perspective planning division of the erstwhile Planning Commission did and the three-year action agenda that was unveiled a few months back read very much like the earlier Five-Year Plans. Let us not be misled by the reformist suggestions in those – they were not very new and earlier Plan documents were also full of such recommendations, which the government always ignored. This January 2016 article in Business Standard sums up all that has been wrong with the Aayog.
So it is quite possible that Panagariya's exit has to do with making the Aayog a more happening place. Or it could do with the Aayog falling foul of the swadeshi lobby within the Sangh Parivar. It was well-known that the Swadesh Jagran Manch was not happy with the push for genetically modified (GM) crops and the Bharatiya Mazdoor Sangh was unhappy with the push for labour law reforms. In January, the SJM had openly criticised the working of the Aayog. Panagariya, incidentally, had not attended that meeting, which could have been taken as a snub.
If Panagariya's exit has to do with making the Aayog a more happening place, then there's some hope. Prime Minister Narendra Modi could end up choosing some other economist of eminence and with the right reformist credentials. There are many out there (within the Aayog and outside) who will make the Aayog more vibrant than it currently is. But along with this, the Prime Minister also needs to bring in clarity on the role of the Aayog and the interface between it and other ministries/departments as well as state governments. The Aayog needs to interact far more than it is currently doing with them as well as stakeholders/ideological groups (of all persuasions) in various sectors.
If Panagariya's exit has anything at all to do with the swadeshi lobby being unhappy, then someone of that ideological persuasion will be brought in.  And then it will be goodbye to more reforms. The country can forget about even trials of genetically modified (GM) crops or even allowing farmers choice. It can forget about privatisation or even agricultural reforms.
But this need not be just about change in the NITI Aayog alone; it could be part of other changes in the coming days. An economist in the know says this is just a small part of a jigsaw. Will the big picture that emerges when the jigsaw is completed be one of a more reform-oriented policy environment or one that will put the economy back behind protectionist walls? That is the crucial question.
Find latest and upcoming tech gadgets online on Tech2 Gadgets. Get technology news, gadgets reviews & ratings. Popular gadgets including laptop, tablet and mobile specifications, features, prices, comparison.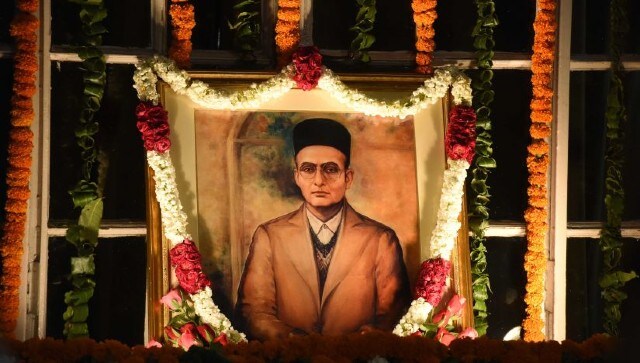 Politics
Deepak Singh said Savarkar's photo is an insult to all freedom fighters who continued to bear torture and kept fighting for Independence
India
Comparing India's case to Pakistan's, it becomes clear that the mainstreaming of religious politics is having the same kind of effect here that Pakistan has already undergone.