Arun Jaitley says extreme poverty falling, to end by 2031
NEW DELHI (Reuters) - India's finance minister said on Monday fast economic growth and rapid urbanisation would slash the number of people in extreme poverty by 2021 and end it completely in the decade after that. More than 21 percent of India's 1.3 billion people lived on less than $1.90 a day in 2011, when the last census was taken, according to the World Bank. The economy is a major issue in a staggered general election that began on Thursday and will end on May 19, with the main opposition Congress party rejecting a rosy picture Prime Minister Narendra Modi's Hindu nationalist Bharatiya Janata Party (BJP) has been presenting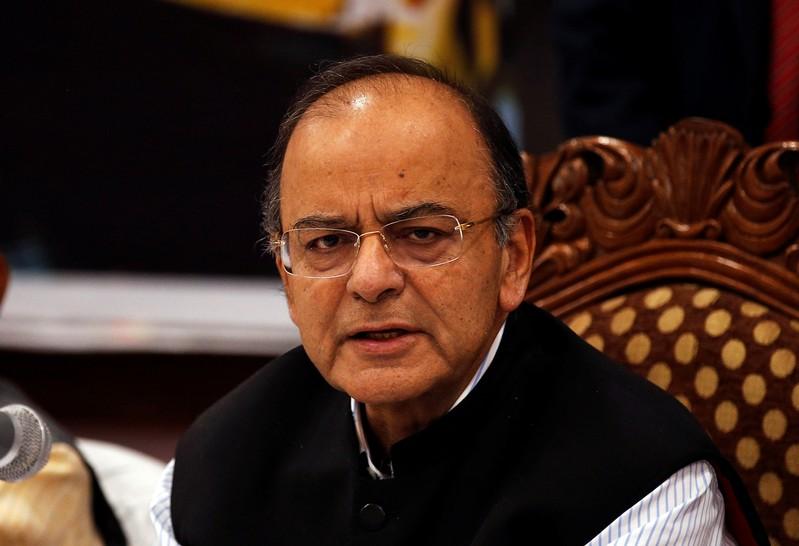 NEW DELHI (Reuters) - India's finance minister said on Monday fast economic growth and rapid urbanisation would slash the number of people in extreme poverty by 2021 and end it completely in the decade after that.
More than 21 percent of India's 1.3 billion people lived on less than $1.90 a day in 2011, when the last census was taken, according to the World Bank.
The economy is a major issue in a staggered general election that began on Thursday and will end on May 19, with the main opposition Congress party rejecting a rosy picture Prime Minister Narendra Modi's Hindu nationalist Bharatiya Janata Party (BJP) has been presenting.
Finance Minister Arun Jaitley, who heads the BJP's publicity department in the election, said the number of people who live in poverty would drop to below 15 percent in the next three years and to a negligible level in the 10 years after that.
"Urbanisation will increase, the size of the middle-class will grow and the economy will expand manifolds," Jaitley said in a Facebook post https://www.facebook.com/notes/arun-jaitley/why-jammu-and-kashmir-and-new-approach-to-terrorism-will-remain-a-key-political-/995970470591501.
"These will add to the number of jobs, and as the experience of the past three decades have shown in the liberalised economy, every section of citizens will benefit."
Economic growth in recent years had generated enough revenue for states to work more on poverty alleviation, job creation and improving healthcare and education, he said.
But the Congress has taken issue with such assertions, in particular, pointing to leaked government data that showed unemployment rose to its highest level in at least 45 years in 2017/18.
Jaitley said economic problems could be addressed as India remained the world's fastest growing major economy.
But he said restoring peace in the insurgency-hit state of Jammu and Kashmir was the most important issue facing the country.
"The issue of Jammu and Kashmir and terror continues to remain the biggest challenge before India," he said.
"It relates to our sovereignty, integrity and security."
Modi has won public praise by taking a tough line on neighbouring Pakistan, which India accuses of backing separatist militants in Muslim-majority Kashmir. Pakistan denies that.
(Reporting by Munsif Vengattil; Editing by Robert Birsel)
This story has not been edited by Firstpost staff and is generated by auto-feed.
Find latest and upcoming tech gadgets online on Tech2 Gadgets. Get technology news, gadgets reviews & ratings. Popular gadgets including laptop, tablet and mobile specifications, features, prices, comparison.
World
OTTAWA (Reuters) - Canadian Prime Minister Justin Trudeau on Friday said he will continue to stand up against China's "coercive diplomacy" and its human rights abuses in Hong Kong and Xinjiang after being rebuked by Beijing for similar comments earlier this week. "We will stand up loudly and clearly for human rights all around the world, whether it is talking about the situation faced by the Uighurs, whether it is talking about the very concerning situation in Hong Kong, whether it's calling out China for its coercive diplomacy," Trudeau said in a news conference. (Reporting by Steve Scherer and Julie Gordon, Editing by Franklin Paul)
World
By Caroline Pailliez PARIS (Reuters) - Solene Tissot, a 19-year-old student in Paris, will obey the curfew imposed to fight COVID-19, but she has one request for her country's leaders: don't blame young people for the second wave of the virus. "There's been this kind of assigning guilt to young people," she said on Friday, hours before the new curfew was to come into force in Paris and major French cities. "I reject that." After a lull over the summer, the rates of transmission of coronavirus are going up in many parts of Europe and officials have identified social interactions between young people as a source of the resurgence.
World
By Adrian Portugal and Eloisa Lopez MANILA (Reuters) - Jailed Philippine activist Reina Mae Nasino wanted to hold her three-month-old daughter for the last time before she was laid to rest on Friday but she could not. Heavily armed prison officials guarding her refused to uncuff her despite pleas from her family and human rights supporters, who have decried what they described as inhumane treatment of Nasino and other mothers in Philippine jails.