Argentina central banker's resignation amid IMF talks hits peso
By Jorge Otaola and Scott Squires BUENOS AIRES (Reuters) - Argentina's central bank governor resigned on Tuesday in the midst of negotiations with the International Monetary Fund, dealing a blow to President Mauricio Macri's efforts to shore up investor confidence and sending the peso sliding. Luis Caputo's surprise resignation after just three months in the role came as a nationwide strike by unions, called to protest Macri's handling of the economy, shuttered public transit and ports across the country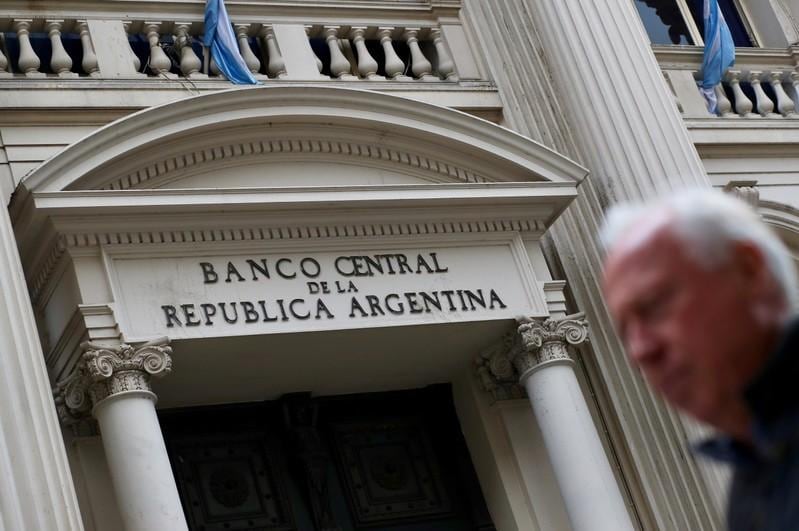 By Jorge Otaola and Scott Squires
BUENOS AIRES (Reuters) - Argentina's central bank governor resigned on Tuesday in the midst of negotiations with the International Monetary Fund, dealing a blow to President Mauricio Macri's efforts to shore up investor confidence and sending the peso sliding.
Luis Caputo's surprise resignation after just three months in the role came as a nationwide strike by unions, called to protest Macri's handling of the economy, shuttered public transit and ports across the country.
Former Economic Policy Secretary Guido Sandleris, who holds a doctorate in economics from Columbia University, was named as Caputo's replacement, a statement from the presidency said.
Argentina has been at the centre of emerging market jitters in recent months. It has seen its peso currency lose more than 50 percent of its value so far this year amid concerns that a recession could impact the government's ability to pay its foreign debts.
Caputo, a former finance minister whose appointment three months ago was supposed to restore investors' faith in monetary policy, is the second Argentine central bank president to resign this year. A hike in central bank benchmark interest rates to 60 percent has failed to stem a slide in the peso.
His departure came a day after Macri said that a renegotiation of Argentina's $50 billion standby agreement with the IMF was nearly concluded and would lay out a clear direction in monetary policy. Local media have reported the government is considering introducing a trading band for the peso.
"This resignation is due to personal reasons, with the conviction that a new agreement with the International Monetary Fund will reestablish confidence in the fiscal, financial, monetary and exchange rate situation," the central bank said in a statement.
The peso recovered much of its early losses after the central bank intervened in the currency futures market, closing down 3 percent at 38.50 to the dollar, traders said. It had slipped nearly 7 percent in the morning, with trade thin due to the national strike.
The Merval stock index <.MERV> rose more than 2 percent, led by energy stocks that price their sales in dollars.
ALLY OF ECONOMY MINISTER
Sandleris is a close ally of Economy Minister Nicolas Dujovne, who was at odds with Caputo in recent weeks over how to handle monetary policy during the crisis, according to Argentine media reports.
Sandleris was involved in the negotiations to strike the original IMF financing deal in June, and was in New York negotiating an extension of that credit when he was unexpectedly promoted to central bank president.
Sandleris did not immediately respond to a request for comment. Speaking from New York, Dujovne threw his support behind him.
"Just as in the finance ministry we have been working to overcome the fiscal deficit ... now in the central bank under Sandleris' leadership we will begin to defeat inflation," he said.
Macri's government has struggled to tame inflation expected to top 40 percent this year, driven by the slide in its currency. The country's economic woes have been exacerbated by a severe drought this year that crippled the grain export sector.
"The timing could not be worse for Argentina," said Paul Greer, Portfolio Manager, Fidelity Emerging Market Debt Fund. "Negotiations with the IMF about an expanded and revamped programme have taken longer than expected, and Caputo's resignation will only add to investor uncertainty."
The Treasury Ministry estimated that Tuesday's strike - which closed businesses, schools and public offices across the country - would wipe 0.2 percent off growth this year.
A government source told Reuters on Monday that a deal with the IMF was likely in the coming days and could include some $3-5 billion in additional financing. Nomura said in a research note on Tuesday that investors had been hoping for an additional $10-$20 billion to allay concerns over debt servicing.
The IMF said in a statement that it looked forward to working with Sandleris and was seeking to conclude talks with Argentina "in very short order."
But the peso's volatility would continue until there was greater clarity on policy, said Delphos Investment in its daily report.
"Caputo's resignation could mean a reconfiguration of monetary and exchange rate policy in the framework of negotiations with the IMF," it said.
(Reporting by Jorge Otaola, Scott Squires, Eliana Raszewski and Nicolas Misculin; Writing by Daniel Flynn; Editing by Rosalba O'Brien)
This story has not been edited by Firstpost staff and is generated by auto-feed.
India
The Pulitzer prize winner, who was in Kandahar covering operations against Taliban, was killed when he was riding along with the Afghan Special Forces
India
Siddiqui had also covered the 2020 Delhi riots, COVID-19 pandemic, Nepal earthquake in 2015 and the protests in Hong Kong
India
Danish's photographs were not just documentation, but the work of someone who went down to eye-level, as they say in photographic parlance.