Anand Mahindra says Fiat-Chrysler complaint against firm is 'baseless, without merit'; co not served notice
The petition is against Mahindra Automotive North America, Mahindra's North American arm, which was planning to import the Roxor-its big bet for the US market.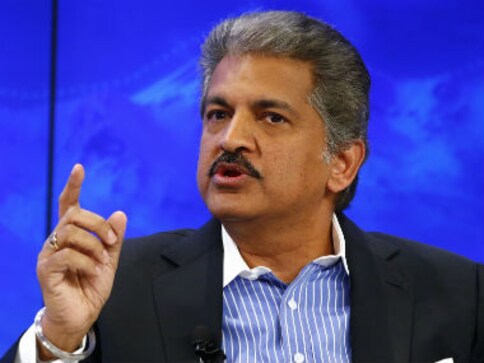 Mumbai: Mahindra group chairman Anand Mahindra termed the complaint that American auto major Fiat-Chrysler had filed against it as "baseless and without any merit" and that they are yet to be served with a notice on the matter.
It can be noted that last week, foreign media had reported that Fiat-Chrysler Automobiles (FCA) had moved the US International Trade Commission seeking to prevent Mahindra from selling its off roader Roxor in the US alleging infringement on the designs of its subsidiary Jeep.
The American firm further alleged that the Roxor (based on M&M's Thar) infringed key characteristics of Jeep's signature design such as the boxy body shape with flat vertical sides and rear body ending at about the same height as the hood, making it nearly an identical copy of the Jeep.
It also said the Roxor was modelled after the original Willys Jeep, which M&M used to make in the country earlier under an agreement.
It can be noted that Mahindra had a historic relationship with FCA and its predecessors dating back to over 70 years when the original agreement with Willys was signed and which still continues. Its most recent agreement was executed with FCA in 2009. Mahindra has co-existed with FCA (and the Jeep brand) for over 25 years in India and in many other countries, the company said.
The petition is against Mahindra Automotive North America, Mahindra's North American arm, which was planning to import the Roxor-its big bet for the US market.
"We have had agreements with Chrysler in the past, and we have an extent agreement that is currently operative and based on this we believe their case is without merit," Mahindra told shareholders on Tuesday. "We went into the US market with a very clear picture of what we were entitled to do, so we are very confident that this case is without any merit," he added.
Refusing to speak more saying they are yet to get a notice from FCA, he said, "I can assure you that, we did not go in there without looking at all possible issues that we might face."
On the future of internal combustion engines (ICE) or diesel engines, he said, "nobody thinks ICE engines are going to go away. People are underestimating how much money is being put into upgrading ICE engines and I think there will be enough room for both.
"At the same time, there is no question that electric vehicles are going to make much better inroads into the market than before," he said, adding M&M is also is working on he said M&M is also working on hydrogen and fuel cells.
He further said, "EVs are inevitable, and we intend to be in it. We believe strongly in plug-in EVs. Although we were the first one to come out with hybrid, I think the future is fully electric. Battery costs are coming down. There will be a greater adoption of EVs going forward."
Mahindra dismissed some shareholders' concerns about the company losing market share saying, "market share goes up and down. As a company we are more determined to be profitable, so we focus first on financial efficiency, making money.
"If we decided that profit is secondary, then market share would be very easy to gain. It is a matter of pricing also that determines market share," he said.
Replying to some shareholders' concerns on the overall profitability, Mahindra noted that M&M was listed on the BSE in 1956. Since then GDP has grown over 1,700 times, while Mahindra's revenue has grown over 9,500 times and is now exceeds Rs 1.33 trillion.
"While the aggregate market capitalisation has grown 10,000 times since the listing, our aggregate m-cap has grown 200,000 times and it is now over Rs 2 trillion," he said.
Find latest and upcoming tech gadgets online on Tech2 Gadgets. Get technology news, gadgets reviews & ratings. Popular gadgets including laptop, tablet and mobile specifications, features, prices, comparison.
Photos
NASA's mix of Earth-observing satellites and instruments on the ISS have captured some views of the Earth during the year 2020.
Entertainment
In a 5 January social media post, Dr Dre said he was "doing great and getting excellent care from my medical team."
Sports
Belarus had been due to co-host the event with Latvia in May and June, but ice hockey's governing body, the IIHF, said the decision to move the world champs from Minsk was "unavoidable... due to safety and security issues that are beyond the IIHF's control".