Analysis: Oil investors still on edge, waiting on OPEC's word
By Devika Krishna Kumar NEW YORK (Reuters) - Global oil markets are nervously eyeing OPEC's upcoming meeting for clarity on future supply as the dust settles after a full-fledged rout in crude markets over the last several weeks. So far, there is no clear view if production will be cut or remain steady, and that uncertainty raises the risk of more volatile trading after mass selling caused oil to drop by more than 30 percent in little over a month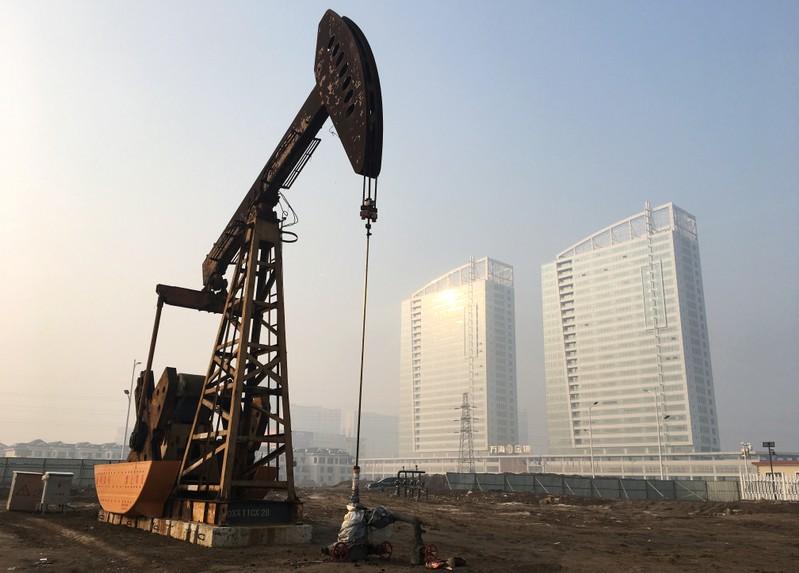 By Devika Krishna Kumar
NEW YORK (Reuters) - Global oil markets are nervously eyeing OPEC's upcoming meeting for clarity on future supply as the dust settles after a full-fledged rout in crude markets over the last several weeks.
So far, there is no clear view if production will be cut or remain steady, and that uncertainty raises the risk of more volatile trading after mass selling caused oil to drop by more than 30 percent in little over a month.
Participants generally expect OPEC will trim production at its Dec. 6 meeting by about 1.4 million barrels per day (bpd), but there is enough uncertainty to make traders defensive.
Speculators, once betting on $100-a-barrel oil, are now going the other direction, having boosted short positions in oil to their biggest in more than a year. The options market currently shows a record number of open positions in U.S. oil falling to $45 or $40 a barrel by the end of 2019, though bullish bets have also edged higher.
"Getting some resolution around the intent of the Saudis and OPEC ... would go a long way to helping the market feel better," said Greg Sharenow, portfolio manager at PIMCO, who co-manages more than $15 billion in commodity assets.
He added that if OPEC does not reduce production, prices could tumble to $40 a barrel.
The signals from the Organisation of the Petroleum Exporting Countries and its leader, Saudi Arabia, have been mixed. Officials familiar with Saudi plans told Reuters they expect it to trim production, but an industry source also said Saudi oil output exceeded 11 mln bpd for the first time in November.
The cartel's deliberations have been compounded by the growing influence of Russia, whose production has climbed to a post-Soviet era high, and by the United States, which is now producing at a record 11.7 million bpd. Russian oil executives and officials have been skeptical of the need to cut output.
Meanwhile, the U.S. decision to reimpose sanctions on Iran, only to grant waivers to major importers of that nation's oil, threw the market for a loop.
Macro-focused and commodity trading advisory funds (CTAs) had bet on a further rally ahead of renewed U.S. sanctions on Iran, but instead were caught wrong-footed after waivers were announced and U.S. production surged faster than expected. Wall Street banks looking to protect against exposure from selling options to oil producers intensified that selling, market sources said.
Implied volatility, a gauge of options demand, soared, with U.S. crude implied volatility hitting its highest level since February 2016 last week.
The price swings hit funds hard. Among renowned oil bulls, the Andurand Capital Commodities Fund lost 4.1 percent for the month through Nov. 16, putting it down 15.7 percent for the year, according to HSBC data.
Open interest in bearish bets on U.S. crude falling to $45 or $40 a barrel by the end of 2019 are at record levels but bets on U.S. oil rising to $80 a barrel by end-2019 are also high , as some see the sell-off as having gone too far, too fast.
"As sharp as the falloff has been, I think the market is poised to have as sharp a comeback," said Shawn Reynolds, portfolio manager of the VanEck Global Hard Assets Fund in New York.
In recent weeks, both OPEC and the International Energy Agency cut their demand forecasts due to sagging fortunes in developing economies. The forward Brent futures curve - the market's primary indicator of expectations for supply and demand - now signals a potential glut through mid-2019.
CME Group's OPEC Watch Tool, which uses option-market activity to predict the probability of OPEC's decision, currently puts a 70 percent chance on a small OPEC production cut and a 30 percent chance of little to no change in output.
This uncertainty is in part due to U.S. President Donald Trump, whose decision not to punish the Saudis for the killing of journalist Jamal Khashoggi has raised the possibility that the kingdom will be less inclined to cross Trump by cutting output dramatically.
"President Trump's tacit support of Crown Prince Mohammed bin Salman (known as MbS) in the wake of the Khashoggi murder seems to have provided him with significant leverage over the Saudi leadership," Capital Economics analysts said in a note.
(Reporting by Devika Krishna Kumar in New York; Additional reporting by Lawrence Delevingne; Editing by Tom Brown)
This story has not been edited by Firstpost staff and is generated by auto-feed.
World
Reports suggest that they captured President Alpha Conde and dissolved the government, bust the ground situation remains unclear
News & Analysis
NEW YORK (Reuters) -The price of cryptocurrencies plunged and crypto trading was delayed on Tuesday, a day in which El Salvador ran into snags as the first country to adopt bitcoin as legal tender. Shares of blockchain-related firms also fell as crypto stocks were hit by trading platform outages. But the major focus was on El Salvador, where the government had to temporarily unplug a digital wallet to cope with demand.
News & Analysis
By Joseph White and Sanjana Shivdas (Reuters) -The head of Apple Inc's car project, Doug Field, is going to work for Ford Motor Co to lead the automaker's advanced technology and embedded systems efforts, a hiring coup for Ford Chief Executive Jim Farley.